Crispy Waffles Without Milk
In this article, we will be discussing how to make a crispy waffle without milk. A waffle is a batter-based bread that has its origins in the Nordic countries of Europe, and it is a dish that was brought to America by Dutch settlers.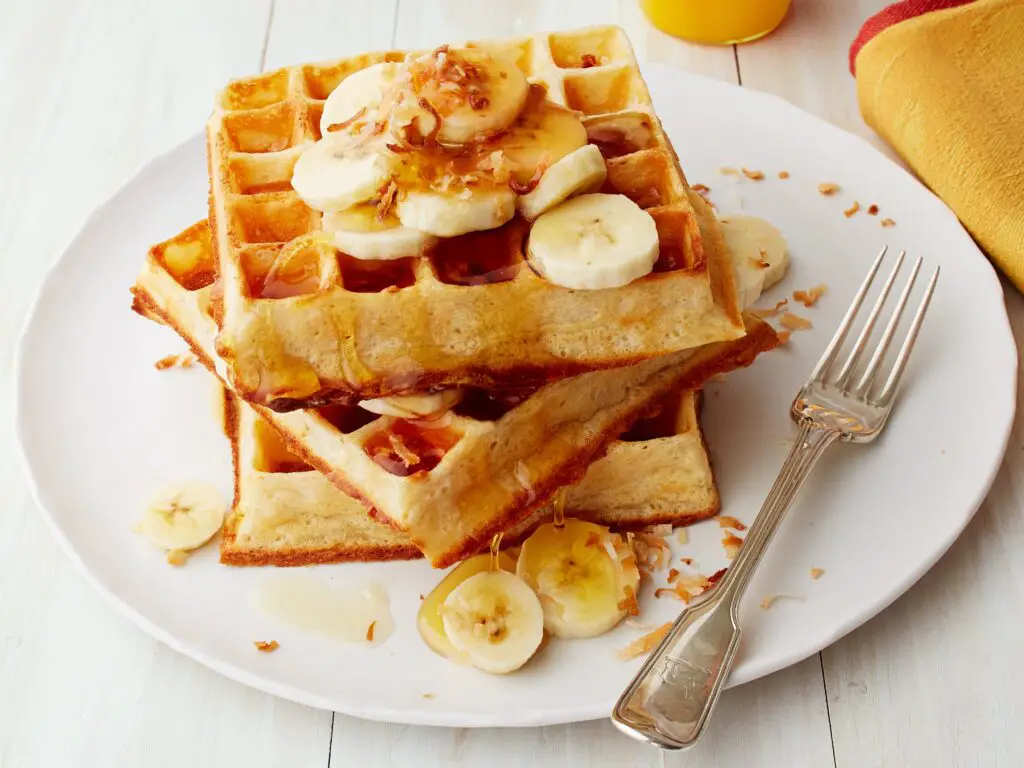 Dairy-free waffles can be served as a breakfast dish with syrup, butter, whipped cream, or accompaniment to salads or other dishes served for lunch or dinner. In addition, waffles can be served as dessert with ice cream or fruit, and the batter used in making them must not contain milk.
The post may contain affiliate links. For more information, check my disclosure.
What Can You Substitute For Milk In Waffles?
Many people enjoy milk in their waffles, but what if you don't have any milk in the house or are simply looking for a different option? Below, we take a look at some of the most common substitutes for milk that can be used in waffles, as well as those that would not work so well.
To be exact, there are 40+ different milk substitutes that you can make at home that can replace milk with more healthful alternatives. I'll go over what these alternatives are and some of the benefits they offer you as well as those who consume them. With this information in mind, your choice of milk substitutes will be easy to make!
Almond Milk
Almond milk is one of the best choices for a healthy milk substitute. The need for almond milk has been rising in recent years due to the high demand for healthier alternatives. This goes hand and hand because more people watch their fat intake and try to stay away from cow's milk. 
Although most products labeled as almond milk have very little almonds in them, they offer many health benefits you might be looking for, including an adequate amount of calcium and vitamin D, low calories, helps in weight loss, and much more. However, if you are not a fan of almonds, almond milk does not offer a lot of flavor options. The best substitute for this is rice milk.
Rice Milk
Rice milk has many advantages over soy and dairy milk, including it's easy on the stomach, it's safe for people with lactose intolerance, and most children like the taste of it. Although many brands produce rice milk and all deliver different results, one brand that has been developing over the years to be an affordable yet healthy substitute for those who suffer from lactose intolerance is Rice Dream.
Soy Milk
Soy milk is significant in the United States right now. It is being touted as a healthier alternative to regular cow's milk because it contains less fat, cholesterol, and calories. However, some people claim soy milk has such a low calcium content that it offers no health benefits whatsoever. 
It does contain calcium but much more of it than cow's milk which has 11% of the recommended daily intake of calcium. Also, most soy milk nowadays is fortified with vitamin D, which helps with bone health and osteoporosis prevention; besides, taste-wise, it does pair well with recipes.
Flax Milk
This milk contains many Omega 3 fatty acids, good for your heart, brain, and other body parts. Unfortunately, not many brands produce flax milk, so it is hard to find in stores, but you can easily make it at home. 
To make your flax milk, all you need to do is grind up whole flaxseed and add water together; this will then turn into an emulsion-like substance in your blender which can then be poured into a container or be consumed on the go. The only downside of this substitute is that it has a very distinct smell and leaves an aftertaste in your mouth, so brewers beware.
Coconut Milk
When people think of the tropics, they often think of coconuts that are full of health benefits. For example, coconut milk is one of the best substitutes for those who suffer from lactose intolerance since it does not contain any lactose in the first place.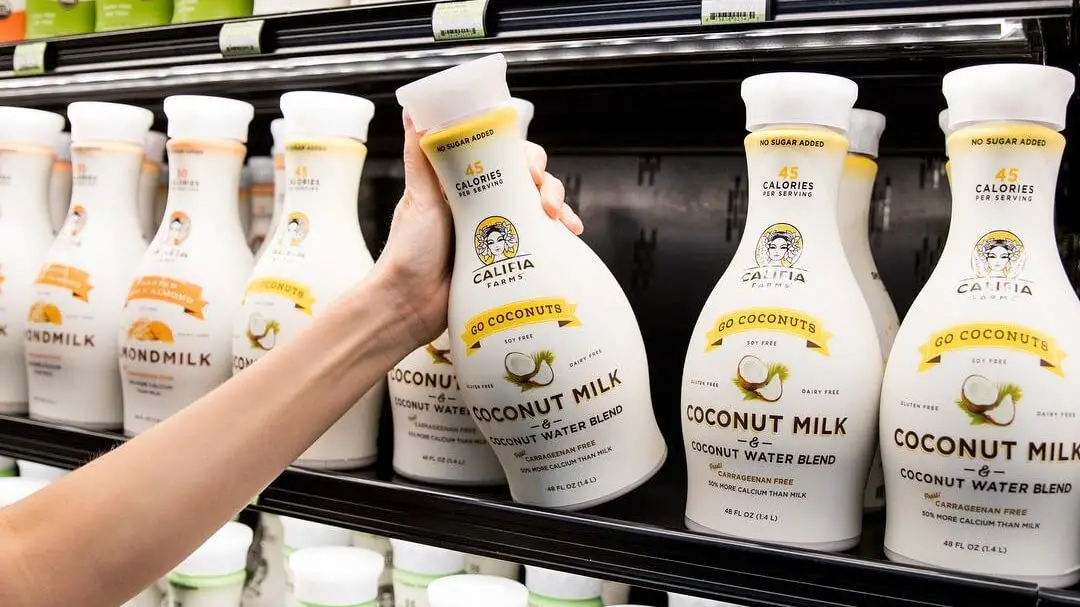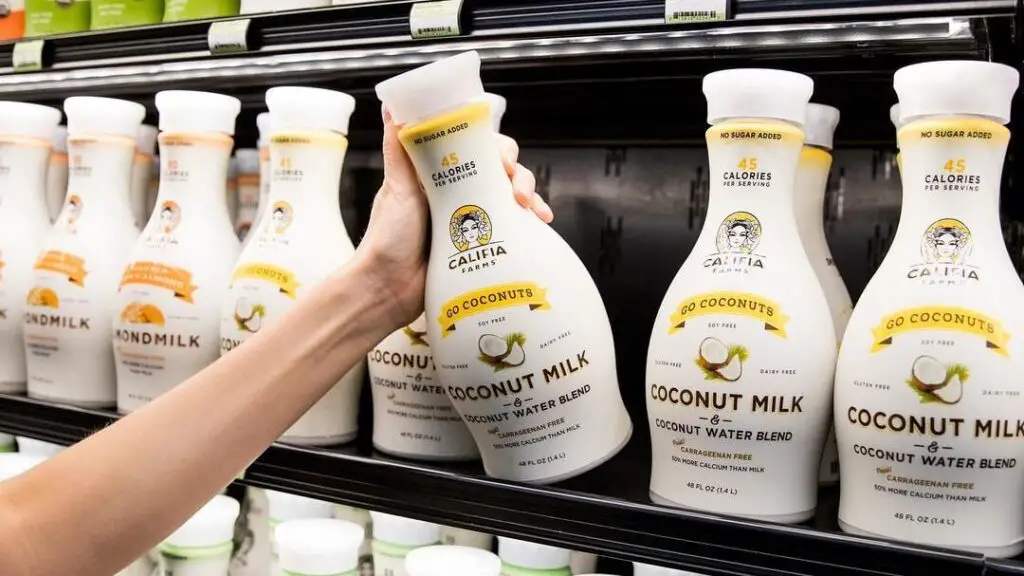 You can find coconut milk at any grocery store, and although it is expensive, a little goes a long way. In addition, coconut milk has much more flavor and taste than many other substitutes on this list and is worth a try.
Tips For The Perfect Crispy Waffle
To ensure that your waffles are crispy, do not let the batter sit around while you are waiting for your waffle iron to heat up, do not overload the waffle with toppings, and do not let it sit on your plate for too long before you start eating it. You should also find a way to get rid of the excess oil left on the surface of those waffles that have been deep-fried in oil as this will make them soggy and tasteless.
To make sure that your waffles are the perfect texture, make sure you let the batter rest for about 5 minutes before pouring it into your waffle maker. Then, add a little bit of baking soda or cream of tartar to the mix, do not overmix the batter as this will cause its structure to break down. It is also recommended that when making waffles, you add 2 teaspoons of baking powder along with 1/8th teaspoon of cream of tartar.
How To Serve Waffles
Many people want to eat waffles but don't know how to serve them properly. They can be served topped with raspberries and strawberries or any other kind of berries in season. They can also be served with various fruits like applesauce, peaches, pears, or bananas. They can also be made into turkey sandwiches. Some people even consider them the perfect snack to have with a cup of coffee in the morning.
What Toppings Are Best For Waffles
It is generally advised that you should add plenty of butter or syrup when making plain waffles and that when making ones that are accompanied by other toppings, you should still top the waffles up with plenty of butter and syrup as this will ensure they are not too dry. You can use any kind of toppings on your preferences.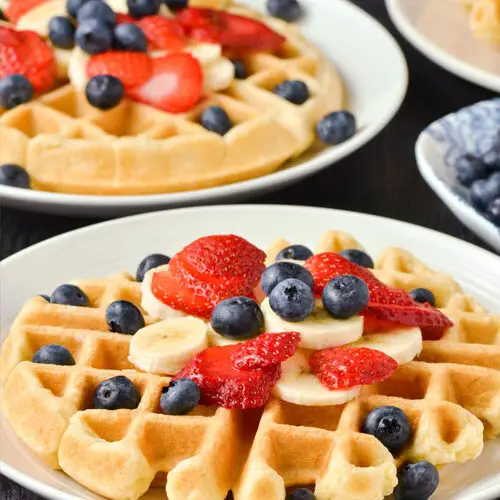 Waffles Without Milk Recipe
Every child dreams of eating a waffle with their favorite toppings. Now, it's time to make that dream come true without the dairy products!Waffles without milk not only taste delicious but are also good for you.
They have all the taste and sweetness people associate with waffles while still being healthy. The main ingredients are butter, vanilla extract, and all-purpose flour. Topping them with some fruit or berries is perfect for breakfast or dessert. This recipe has been tested out by my family, and we absolutely loved it.
Ingredients  
2

cups

all-purpose flour

2

tablespoon

white sugar

4

teaspoons

baking powder

1/2

teaspoon

salt

2

eggs

1 ¾

cups

water

1/2

cup

vegetable oil

1

teaspoon

vanilla
Instructions 
In a mixing bowl add flour, baking powder, sugar, and salt whisk.

Add egg, water, oil, and vanilla. Mix to combine until smooth lump-free batter forms.

Using a ladle pour the batter waffle iron. Cook according to the manufacturer's directions.

Serve with berries, honey, or another topping you like most.
FAQ – Frequently Asked Questions
What Is A Good Substitute For Milk In Waffles?
You can use any kind of milk like soy or almond to make waffles. The key is using a large enough quantity that the liquid spreads out evenly and doesn't result in soggy patches. Soy milk is more prone to sticking, so you may want to start with unsweetened almond milk for your first batch of waffles. Just mix it up with some water until it's the consistency of cow's milk.
What Can I Use If I Don't Have Milk?
There are many different types of milk you can use if you don't have milk for waffles, including things like almond milk, rice milk, soy milk, and mocha frappé.
Why Are My Waffles Not Crispy?
It could be one of the following reasons:
– The waffle iron is not hot enough
– The waffle batter is too thin or too thick 
– Not enough fat for flavor 
– Too much sugar in the batter