Vegetarian Stuffed Mushrooms Recipe
Quick and easy appetizer recipe which will suit for any dinner and any occasion. Try this vegetarian stuffed mushrooms recipe for your family and friends.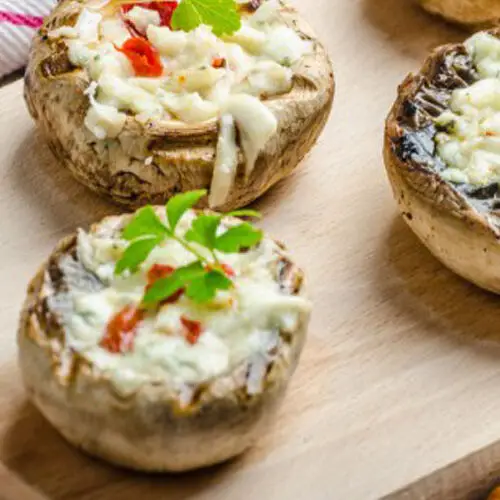 Vegetarian Stuffed Mushrooms Recipe
Ingredients  
1

pound

white button mushrooms or cremini mushrooms

⅓

cup

chopped onion

1

teaspoon

finely chopped garlic

1

tablespoon

olive oil

¾

teaspoon

crushed black pepper

½

teaspoon

dried basil

¼

teaspoon

dried oregano

Salt to taste

Grated processed cheese or cheddar cheese or mozzarella cheese

Spring onion greens or garlic greens

chives for garnish or parsley or coriander leaves
Instructions 
First rinse and wipe dry white button mushrooms. Slice off a bit of the muddy part of the stalks and discard them. Then just break stalk from each of the mushrooms.

Chop off all the stalks finely.

Heat 1 tablespoon olive oil in a pan. Add 1 teaspoon finely chopped garlic. Saute the garlic for some seconds on a low flame. No need to brown them.

Then add 1/3 cup chopped onions. Begin to saute the onions on a low to medium flame, till they become light golden or golden.

Now add the finely chopped mushroom stalks. Mix well and saute on a medium flame. The mushrooms would first release some moisture or water. Saute till the mushroom mixture is dried and there is no water or moisture.

Add crushed black pepper, dried basil and oregano. You can also use your choice of dried herbs or add fresh herbs. Season with salt. Mix very well and switch off the flame. Let the mushroom stuffing become warm or cool down. Taste and if required add more herbs, black pepper or salt.

Now with a small spoon place the stuffing in each mushroom cap. Before you begin stuffing the mushroom caps, preheat your oven at 350 degrees F for 15 to 20 minutes.

Top up with some grated cheese.

Grease a baking tray with some olive oil. You can also use butter instead of olive oil for greasing the baking tray. Place the stuffed mushroom caps on a baking tray.

Keep the baking tray in the preheated oven. Bake for about 15 to 20 minutes, until mushrooms shrink a bit in size and water starts releasing from them. The cheese will also melt and the color of the mushrooms will darken.

Allow to cool for a few minutes and then serve stuffed mushrooms with any dip or chutney or sauce. Do not serve after the mushrooms cool down as they become too soggy and soft. So they are best had when they are hot.

You can garnish with some spring onion greens or chives or fresh herbs while serving.
Thank you for visiting my blog! Hope you will enjoy this recipe. If you have any questions or ideas just drop a line and I will answer quickly. You can also check other Appetizer and Snack Recipes for home cooking.
I hasten to inform that I collect most interesting recipes and publish them in easy to follow recipe books. Please check my cookbook collection and choose the books you like the most.