Vegetable Nachos Recipe
The post may contain affiliate links. For more information, check my disclosure.
Some people like traditional nachos with cheese and jalapenos, but veggie lovers will have a hard time convincing themselves to go for that dish because of how simple it sounds. On the other hand, vegetable nachos seem like an intimidating dish that looks way too difficult to make, but they are actually super easy to make!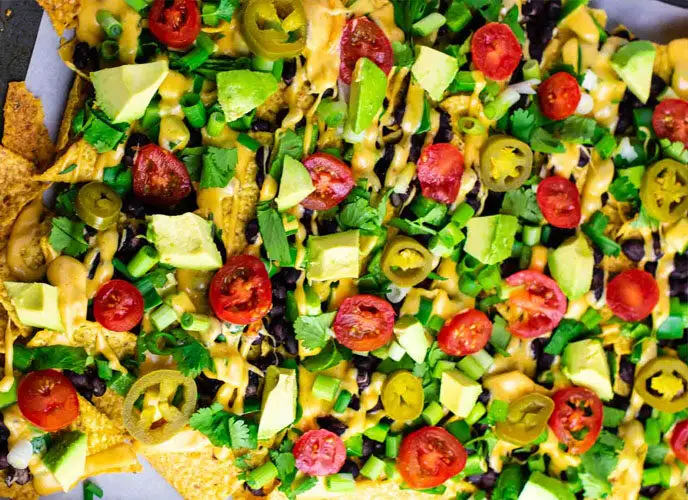 All you need are some veggies, beans, tortilla chips, taco seasoning, salsa verde sauce, and some spices like onion powder and cayenne pepper. You could even have fun by making some nachos that combine veggies and meat on top!
Related: How To Fold A Burrito
For the vegetable component, you can choose to add some sweet potatoes or zucchini for color, but otherwise, it's best to stick with beans. Cooked beans work so well because you don't want the salsa to be too watery. If you aim for a crispier texture, those varieties would be more appropriate. If you want the salsa runnier, then tomatoes or corn cubes would work well.
As for the tortilla chips component, even though I would never say no to a classic tortilla chips, you could always make these vegetable nachos with corn or potato chips instead if you are looking for something different.
For the taco seasoning, you could use a mix of spices like cumin and chili powder or even oregano and paprika. The main thing is to get something that will taste good on top of veggies so that your nachos aren't completely bland, but they don't have to be spicy either. Below you can find the easiest and most delicious oven-baked vegetable nacho recipe.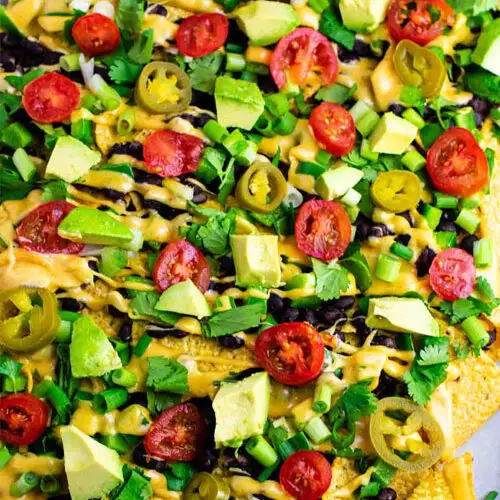 Vegetable Nachos Recipe
Ingredients  
8

ounces

tortilla chips

1

can (15 ounces)

pinto beans, rinsed and drained, or 1 ½ cups cooked pinto beans

1

cup

Cheddar cheese

shredded

1

cup

Monterey Jack cheese, or additional cheddar

shredded

1

medium red bell pepper

finely chopped

⅓

cup

crumbled feta cheese

Pickled jalapeños

to taste

Avocado dip

thinned with water until it reaches a drizzly consistency, or guacamole

⅓

cup

green onions

chopped

2

radishes

chopped

2

tbsp

cilantro

chopped

Your favorite salsa
Instructions 
Preheat oven to 400 degrees Fahrenheit. Line a baking sheet with parchment paper. Place handfuls of chips on the baking sheet and distribute evenly, minimizing the gaps between chips. Set aside.

Sprinkle the prepared pan of chips generously and evenly with the beans, followed by the shredded cheese, bell pepper, crumbled feta and pickled jalapeños. Bake until the cheese is melted and bubbling, about 9 to 13 minutes. Remove the nachos from the oven and set aside.

While the nachos are baking, make the avocado sauce and prepare the garnishes.

Once the nachos are out of the oven, drizzle avocado sauce on top as shown—any extra can be served on the side.

Sprinkle the nachos with chopped green onion, radish and cilantro. Serve immediately, with salsa on the side.
The Bottom Line
Thank you for visiting my blog! Hope you will enjoy this recipe. If you have any questions or ideas just drop a line and I will answer quickly. You can also check other appetizer and snack recipes for home cooking.
I hasten to inform that I collect most interesting recipes and publish them in easy to follow recipe books. Please check my cookbook collection and choose the books you like the most.
FAQ – Frequently Asked Questions
Are Nachos Good For Health?

Vegetable nachos are delicious to enjoy vegetables in a tasty and filling dish but are not known for their health benefits. But that doesn't mean that they are bad for you – they can actually be very healthy when prepared right.

How Do You Make Nachos So They Don't Get Soggy?

This is a very common question for those who make these tasty treats. The answer is simply to use fresh tortilla chips, quickly cook them, and top them with the tomato salsa sauce, which will not make them soggy. The other tip is to use good quality ingredients to avoid sogginess in the first place.

If you are using "junk" food products, your nachos will likely be soggy no matter what you do because they are loaded with preservatives, which makes their product less expensive for the company but not so good for you!

What Are The Best Things To Put On Nachos?

The best things to put on nachos are your favorite vegetables and any kinds of cheese that you like. For example, you can use sweet potato chips or tortilla chips, then top them with black beans, black olives, jalapeños, avocado slices, bell pepper pieces, tomatoes, and red onion. Make sure to heat the chips in a pan before putting them on the nachos so that they stay crisp and crunchy.