Vegan Rice Paper Bacon Recipe
Rice paper bacon is one of the most popular vegan dishes here in the USA. This dish has just the right balance of salty and savory with a little bit of smokey flavor. It's one of the few dishes I can say I like, and this recipe is a great addition.
Rice paper is a very unique ingredient. The Vietnamese say rice paper can be eaten while steamed and served just like tofu or rolled in soup but it's known to be brittle and crumbly when raw, best eaten fresh. This means that many people have no idea how to prepare vegan rice paper bacon for the purpose of cooking like you would feel at home cooking with tofu. Even I started learning about cooking rice paper when I was in high school.
Related: Best Air Fryer For Small Spaces
Related: Best Air Fryer For One Person
And if you're using rice paper bacon for garnishing soups and salads, you can make it ahead of time to save time during a meal. You can put it on the serving plate next to the bowl or on top of the bowl of soup and let your guest do it themselves. This way you have more room for other dishes. It's actually a very popular dish in Vietnam; where people eat while drinking beer at night after a long day at work or school. Below you will learn how to make vegan rice paper bacon in the air fryer.
How To Make Vegan Rice Paper Bacon Recipe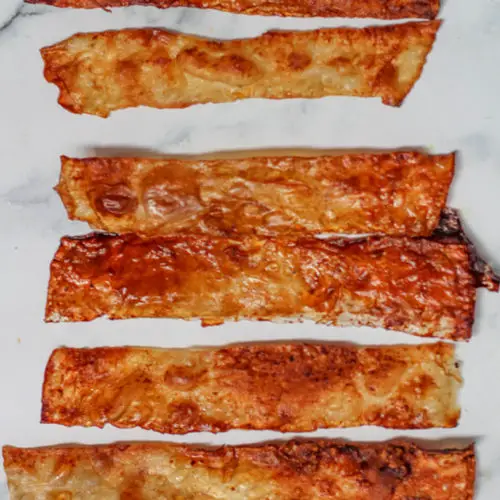 Vegan Rice Paper Bacon Recipe
Try this crispy rice paper "bacon" which is suitable for vegans and those who doesn't eat meat. Easy and delicious meal is perfect for breakfast or as a snack.
Ingredients  
3

tbsp

soy sauce or tamari

2

tbsp

cashew butter

2

tbsp

liquid smoke

2

tbsp

water

4

pieces

rice paper

cut into 1-inch thick strips
Instructions 
Preheat the Air Fryer to 350F.

In a large mixing bowl, combine together the soy sauce, cashew butter, liquid smoke, and water.

Soak the white rice paper for 5 minutes.

Place the rice paper in the Air Fryer making sure that they do not overlap.

Air fry for 15 minutes or until crispy.

Serve with steamed vegetables.
The Bottom Line
I wrote a short review about best air fryer recipes for begginers in my own opinion. Hope that not only begginers but advances Air Fryer users will find something interesting to cook!
If you still have no Air Fryer in your kitchen it's highly recommended to check the list of Top-10 best air fryers every kitchen needs.

But if you are already have this wonderful and helpful appliance, maybe you'll be interesting in 16 air fryer tips every fryer owner should know. I'm sure some of them you didn't even hear about!
FAQ – Frequently Asked Questions
Is There A Vegan Alternative To Bacon?

The world is full of many interesting and unique food instances. Rice paper bacon, for instance, is a very popular food that has been around for more than a decade. It's common to use it as a vegan alternative to bacon, but it can also be used as an ingredient in other dishes.

Is Vegan Bacon Any Good?

Vegan bacon does not contain any animal products. This food product mimics the appearance and flavor of real bacon but without cholesterol or saturated fat. Vegans love this bacon substitute.

What Is The Best Tasting Veggie Bacon?

Bacon made from green beans, and spinach. The flavor of these two vegetables is spicy, which makes the bacon quite a bit different from real bacon. However, they taste great and can provide many different health benefits to those who eat them.