Vegan French Fries Recipe
The post may contain affiliate links. For more information, check my disclosure.
A crispy and delicious French fries is one of life's great pleasures. It's an ingredient in almost every dish in the world, and you just can't say no to its salty goodness. There are three main methods for frying fries: deep-frying, pan-frying, and air frying. Air-frying French fries tend to be less oil-heavy than deep or pan-fried alternatives, so they can be considered a vegan option for people seeking meatless food options.
Related: How To Bake A Potato
There are many ways to make French fries, but air-frying is one of the best ways to prepare healthy French fries. The method involves baking the potatoes in a special air fryer instead of deep or pan-frying them. Air fryers have gained popularity over recent years due to their ability to reduce the amount of oil used in cooking by replacing it with hot air that circulates around the food, making it crispy on the outside and soft on the inside.
Related: How To Choose An Air Fryer
Related: Best Air Fryer For Large Family
To make this easy and delicious snack recipe, you'll need Russet potatoes, flour, onion and garlic powder, chili powder, and some paprika. Toss all the ingredients in a ziplock bag and cook in the air fryer. Below you'll find the list of ingredients and a step-by-step recipe on how to make vegan French fries with no fuss.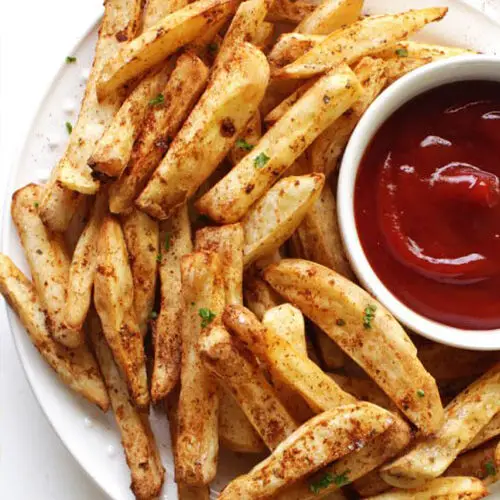 Vegan French Fries Recipe
Learn how to make pure vegan French fries at home. Easy and delicious French fries with crispy skin.
Ingredients  
2

pound

Russet potatoes

peeled and rinsed

1

tbsp

soy sauce

1

tbsp

flour

1

tsp

garlic powder

1

tsp

onion powder

1

tsp

paprika

1

tsp

chili powder

A pinch of black pepper to taste
Instructions 
Slice peeled potatoes into 1/2″ French fry strips. You can use a Mandoline Slicer with the julienne blade.

Place fries into a large ziplock baggie and add soy sauce. Shake well to distribute.

Add flour and seasoning to bag and shake to distribute.

Preheat the air fryer to 390 F. Load the appliance with potatoes and cook for 20-25 minutes, depending on potato thickness. Shake couple times during cooking.

Serve with dipping sauce you prefer.
The Bottom Line
I wrote a short review about best air fryer recipes for begginers in my own opinion. Hope that not only begginers but advances Air Fryer users will find something interesting to cook!
If you still have no Air Fryer in your kitchen it's highly recommended to check the list of top-10 best air fryers every kitchen needs.

But if you are already have this wonderful and helpful appliance, maybe you'll be interesting in 16 air fryer tips every fryer owner should know. I'm sure some of them you didn't even hear about!
FAQ – Frequently Asked Questions
How Are French Fries Vegan?

French fries are vegan because of the ingredients. French fries are traditionally made from potatoes. The main benefit of French fry is that it can be cooked quickly in an air fryer or oven without using animal products like butter or milk.

What Are Vegan Fries Made Of?

Vegan fries make a potato base, coating the fries with a vegan alternative to milk and freezing them. The final step is to cook the vegan French fries in an air fryer at 400°F for 10 minutes.

Are Vegan French Fries Healthy?

We know you know that vegan French fries are not healthy. However, you can make them so much healthier by using an air fryer. They will turn out crispy, brown, and yummy! When fried in a traditional deep-fryer for a long time, the oil is at a high temperature and contains a lot of saturated fat that could increase your risk of heart disease.