Sugar Cookies Without Butter
There are many different ways to make sugar cookies without butter, but they all have one thing in common: they taste delicious. In this article, we will talk about how to make sugar cookies without butter. This can be a great way to add some healthy ingredients to your favorite recipes.
The post may contain affiliate links. For more information, check my disclosure.
Jump to Recipe
Are Sugar Cookies Without Butter Healthy?
If you are looking for a healthier baked good for the holidays, it may be worth considering making sugar cookies without butter. This can be a great way to avoid added fat and cholesterol in your diet and is still delicious!
Related: Oatmeal Cookies Without Brown Sugar
Related: Banana Oatmeal Cookies Recipe
Related: Breakfast Banana Cookies Recipe
Is It Difficult To Make Sugar Cookies Without Butter?
It is not usually difficult to make sugar cookies without butter, and many recipes still taste great. Some people choose to use alternative fats rather than butter as a healthier alternative, but these fats do not always work as well as butter and may require altering your normal recipe to achieve great results. Keep reading to learn what ingredients you can use to make no butter sugar cookies.
No Butter Sugar Cookies Ingredients
Ingredients for sugar cookies without butter are similar to those for the original recipe. You will often find that you need to alter the amounts of some ingredients and that some things may not work as well as the original. However, you can use these with confidence and have a healthy little treat ready for your next batch of cookies.
There are a few different ingredients that you will want to make sure you have on hand before you begin making sugar cookies without butter. The first two are traditional flour and baking powder. The third ingredient is butter replacement. These three ingredients, along with all other food needed to make sugar cookies without butter, form the base of your recipe.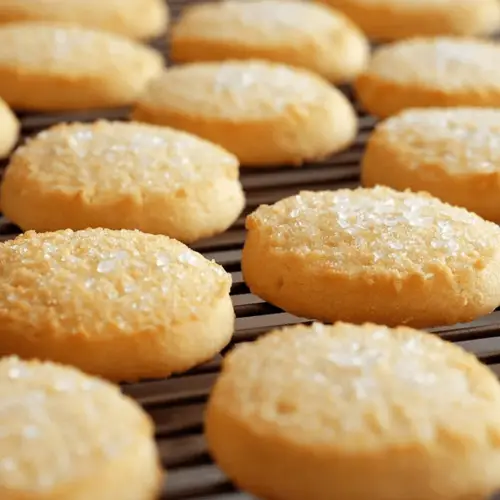 Sugar Cookies Without Butter Recipe
Ingredients  
2

cups

and 1 tablespoon of all-purpose flour

1/2

teaspoon

baking powder

1/4

teaspoon

salt

3/4

cup

coconut oil

3/4

cup

granulated sugar

1

egg

1

teaspoon

vanilla extract
Instructions 
Whisk together flour, baking powder and salt in a medium-sized bowl.

In a larger bowl, use a wooden spoon or mixer to cream the oil and sugar.

Add the egg and vanilla and mix until combined.

Gradually add the dry ingredients to the wet ingredients until dough forms. Add more flour if the dough is too sticky or thin.

Chill dough for 30 minutes

Preheat oven to 350 F

Roll dough into 1.5 inch balls and place on a cookie sheet, flatten with your hand or a pint glass to create a flat circle.
How To Store Sugar Cookies Without Butter
Sugar cookies that are made without butter can be stored in the same way as other cookies. They can be kept in an air-tight container at room temperature for 10-12 days. The main way is to keep them out of direct sunlight and not exposed to extreme temperatures.
The Bottom Line
If you are looking for an alternative to traditional sugar cookies, it may be worth considering making sugar cookies without butter this holiday season. These cookies are usually healthier and can still be very delicious. I hope this guide gave you vast information about how to make sugar cookies without butter at home.
FAQ – Frequently Asked Questions
What Can I Use Instead Of Butter In Sugar Cookies?
You can use any of the following to replace butter in your sugar cookies: unsweetened applesauce, pumpkin puree, or fat-free Greek yogurt. However, for best results, you should use a combination of two or more different substitutes.
Can You Substitute Oil For Butter In Sugar Cookies?
The answer is yes, but you should use a different type of oil. Canola oil is a healthier choice than most oils, as it has a high smoke point and low saturated fat content. You can find canola oil in your local grocery store or buy it online. In addition to using vegetable oil, you should also use unsweetened coconut flakes instead of granulated sugar and reduce the amount of sweetener you use by 30%.
What Happens If You Leave Out The Butter In Cookies?
If you leave the butter out of your sugar cookies, you'll need to replace it with some other type of fat. The most common ingredients used are margarine and oil. For a healthier cookie, try using applesauce.