Sugar Cookies Without Baking Soda
If you love sugar cookies, but you can't find baking soda in the store, don't worry. You don't need baking soda to make a batch of sugar cookies. With just a little patience and some buttery dough, you can whip up some delicious sugar cookies at home. Keep reading to learn how to make sugar cookies without baking soda powder.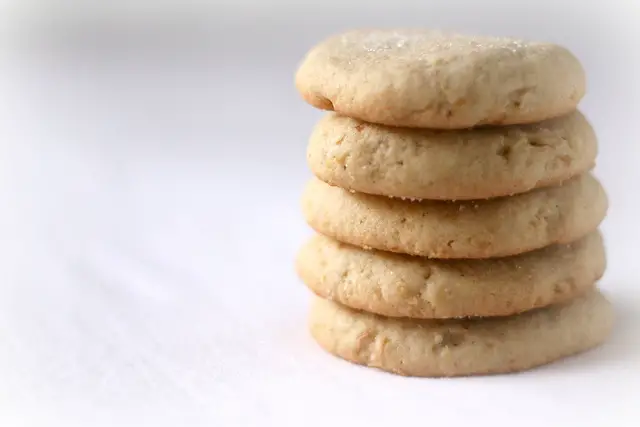 The post may contain affiliate links. For more information, check my disclosure.
Jump to Recipe
Can I Make Sugar Cookies Without Baking Soda Or Powder?
Baking soda is an important leavener, which helps your cookies rise. Without it, your cookies won't rise up and will be flat and dense. However, you can easily cook sugar cookies without baking soda or baking powder. Below you can find the list of ingredients and directions about how to make these cookies with no fuss.
Related: Chocolate Chip Cookies Without Vanilla
Related: Peanut Butter Cookies Without Brown Sugar
How To Prevent Cookies From Spreading Apart
If you are thinking about how to make no baking soda cookies, another important point is how to prevent your cookies from spreading apart. If you are using baking powder because it contains baking soda. Baking powder has several components, including sodium bicarbonate and an acidifying agent the former helps cookies rise up, and the latter prevents them from rising too much.
If you are using only flour, sugar, butter, and eggs for your sugar cookies without baking soda, mixing a little bit of salt into the dough will also cause your cookies to rise nicely.
No Baking Soda Cookies Ingredients
If you are wondering how to make sugar cookies without baking soda, here is a list of ingredients that you should follow.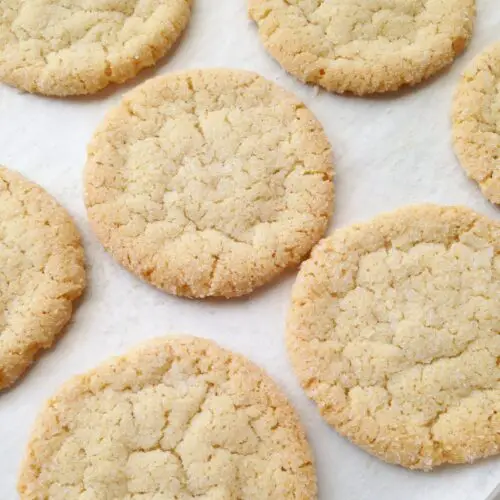 Sugar Cookies Without Baking Soda Or Powder
Ingredients  
1 ¼

cup

all-purpose flour

½

cup

butter

room temperature

½

cup

sugar

1

small egg

1

tsp

vanilla extract

1

pinch

salt
Instructions 
In a mixing bowl, beat butter and sugar until fluffy.

Add egg and vanilla. Beat until smooth.

Add flour and salt. Stir until the dough comes together.

Cover the dough with a plastic foil and refrigerate for 1 hour.

Preheat oven to 350F. Line a cookie sheet with parchment paper.

Roll out the dough and cut out using a cookie cutter. I use a 2-inch cookie cutter.

Arrange the cookies on a baking sheet and refrigerate for 15 minutes.

Bake the cookies for 8-12 minutes.

Cool the cookies on a wire rack before serving.
Related: Sugar Cookies Without Butter
Related: Oatmeal Cookies Without Brown Sugar
The Bottom Line
If you are a cooking enthusiast and looking for a simple recipe with basic ingredients, this is it. Follow the directions and bake your sweet, buttery, melt-in-your-mouth cookies in no time. Don't forget to share your cooking experience in the comments below.
FAQ – Frequently Asked Questions
What Happens If You Make Cookies Without Baking Soda?
Cookies without baking soda are slightly denser than the traditional variety, which means they're better for serving with ice cream or milk. They don't spread apart as much, either – so if you're looking to make a batch of cookies without baking powder, this is the recipe for you!
What Can I Use Instead Of Baking Soda In Cookies?
Yes, you can make sugar cookies without baking soda. There are a few things that you can use instead of baking soda in order to take the place of the chemical leavening agent. The most common replacement for baking soda is cream of tartar, and beating egg whites (whites only) will also work.
Does Baking Soda Make Cookies Crispy?
The answer is yes. Baking soda gives the cookies a light, crisp, and fluffy crumb. But you can easily make your sugar cookies without baking soda or powder, and these cookies will definitely be worth it.