Slow Cooker Turkey Thighs Recipe
The post may contain affiliate links. For more information, check my disclosure.
Perhaps you've had a tough day and need something to come home to that's just ready and waiting for you. Or maybe you're the type of person who wants to cook but still needs something that can be on its own for hours without supervision.
Whatever your reason, these turkey thighs are perfect! And all it takes is a frozen package of skinless, boneless frozen turkey thighs or legs from the grocery store's meat section or an online retailer.
Related: The 5 Best NuWave Pressure Cookers To Buy
Related: How Long To Thaw A Frozen Turkey
The turkey thighs in the slow cooker have never looked better. So much so that they disappear before they even hit the table! This is a really easy and delicious recipe with many flavors packed into it. Herbs, dry wine, and cayenne pepper make this dish some serious flavor while adding a bit of complexity to an otherwise simple dish.
Related: How Long to Cook a Turkey
Turkey thighs are also perfect for winter, especially on days when you're feeling hungry but have forgotten to plan anything for dinner yet again! With this recipe, you'll be cooking up these delicious turkey thighs in no time at all!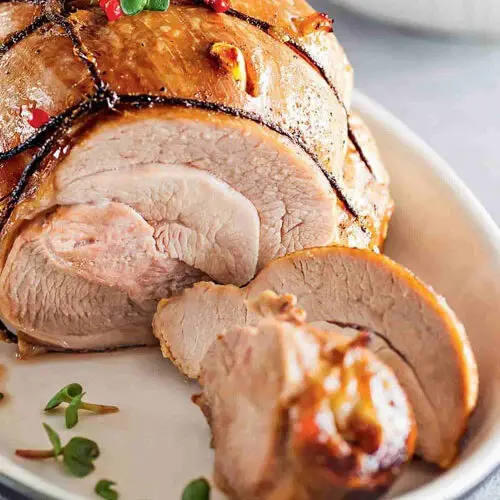 Slow Cooker Turkey Thighs Recipe
Mouth-watering turkey thighs sauted in onion-garlic sauce to make your dinner perfect and delicious. Try this real family dinner recipe.
Ingredients  
4

large sized skinless turkey thighs

4

medium-sized onions

sliced

6

garlic cloves

chopped

¼

cup

dry white wine

¼

teaspoon

cayenne pepper

½

teaspoon

salt
Instructions 
Lay sliced onions and chopped garlic on the bottom of your slow cooker pot. Season with salt and cayenne pepper and pour in white wine.

Transfer turkey thighs over wine mixture and close the lid.

Cook on high for 5 hours.

Remove the turkey and shred it using forks. Discard bones and return meat to a slow cooker.

Stir to combine and serve hot.
Thank you for visiting my blog! Hope you will enjoy this recipe. If you have any questions or ideas just drop a line and I will answer quickly. You can also check other dinner recipes for home cooking.
I hasten to inform that I collect most interesting recipes and publish them in easy to follow recipe books. Please check my cookbook collection and choose the books you like the most.
FAQ – Frequently Asked Questions
How Long Should I Cook Turkey Thighs In A Slow Cooker?

Cooking a turkey thigh in a slow cooker will take anywhere from 3-6 hours, depending on the size of your slow cooker and your desired level of doneness. When cooking a turkey thigh in the oven, it is recommended that you cook at 350 degrees Fahrenheit for about an hour or until it reaches an internal temperature of 165. If you are cooking a large turkey thigh in the oven, check with your meat thermometer approximately every 20 minutes to ensure that it is not overcooking.

Are Turkey Thighs Good In A Slow Cooker?

The answer to this question is unequivocal yes. In fact, it is an excellent choice for slow cookers in general, as they tend to be inexpensive and relatively easy to find. Though not as flavorful as thighs that are baked or roasted whole, the moist turkey thighs cooked in a slow cooker will hardly disappoint your taste buds.

Is It Difficult To Make Turkey Thighs In A Slow Cooker?

No, particularly if you are following our recipe! A slow cooker is a godsend for anyone with time or mobility restrictions or anyone who wants to enjoy the rich flavor of turkey without having to spend hours in the kitchen.