Slow Cooker Chicken Wings Recipe
The post may contain affiliate links. For more information, check my disclosure.
Back in the day, getting chicken wings was a dinner-time event. They were finger-licking good with loads of intense flavors and thought time-consuming.
That is until someone came out with slow cooker chicken wings, turning this dish from something that's considered a treat to something you can easily make at home. The tangy sauce will have your taste buds singing hallelujah, while the sweet and spicy notes are sure to please all of your guests!
Related: How Long To Thaw A Frozen Turkey
You won't need much other than an oven-safe dish, some sauce ingredients, a little bit of onion powder, pepper flakes, and seasonings for these slow cooker chicken wings. Keep reading to learn how to make slow cooker chicken wings at home.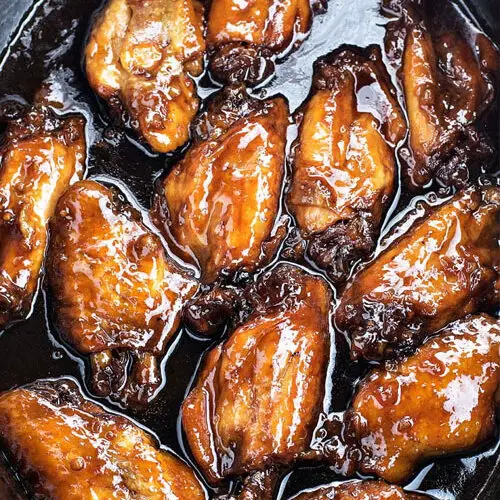 Slow Cooker Chicken Wings Recipe
Tender honey and lemon chicken wings cooked in crock pot. Perfect combination to make delicious snack for any occasion.
Ingredients  
2

pounds

chicken wings

3

tablespoons

freshly squeezed lemon juice

4

tablespoons

honey

¼

cup

water

½

tablespoon

garlic powder

½

teaspoon

ground ginger

Salt and pepper

to taste
Instructions 
Mix honey, lemon juice, water, garlic powder, ground ginger, salt and pepper in a bowl.

Place chicken wings to a slow cooker. Pour honey mixture over wings and stir to combine.

Cover and cook on high for 3-4 hours, until cooked and tender.

Serve and enjoy.
The Bottom Line
Thank you for visiting my blog! Hope you will enjoy this recipe. If you have any questions or ideas just drop a line and I will answer quickly. You can also check other dinner recipes for home cooking.
I hasten to inform that I collect most interesting recipes and publish them in easy to follow recipe books. Please check my cookbook collection and choose the books you like the most.
FAQ – Frequently Asked Questions
Can You Put Chicken Straight Into Slow Cooker?

Yes, you can put chicken or single chicken wings into the slow cooker. Just cut it up and place it in the pot and start cooking. This is one of the best recipes ever! Everyone loves these spicy, tasty slow cooker chicken wings that can be taken a right off the stove to the table for quick and easy cooking. The best part is that the recipe makes 8-10 servings if you use a real big crockpot to have plenty of leftovers for lunch or dinner later on in your week.

Do You Have To Use Liquid In A Slow Cooker For Chicken?

Yes, but it doesn't have to be water. Chicken is moist meat, and the liquid will provide moisture for the wings as they simmer in the slow cooker. It can be chicken stock, broth, beer (try a dark lager like Guinness), white wine (pinot grigio or chardonnay), fruit juice (orange or apple), or even just some half-and-half cream to keep things nice and rich.

How Long Does Chicken Take To Cook In Slow Cooker?

You can cook a 6 pound chicken breast in about 3 hours when cooking on low heat. This chicken breast recipe is one of the delicious creations you can make in your slow cooker. As with all recipes, there are some things you must do to get the most flavor from your dish.

One way to achieve this is through marinating the chicken beforehand, which will help tenderize it before cooking and infuse it with maximum flavor. A great marinade for this recipe would be a mixture of one part soy sauce, one part white wine vinegar, and two parts vegetable oil.