Pumpernickel Bread Healthy Recipe
Pumpernickel bread is an interesting, hard textured yeast bread originally from Germany and also found in a few Jewish communities. It is not like other loaf loaves of bread, which are soft and have a fine crumb. Pumpernickel bread has a dry, dense texture and a dark-colored crust contrasting with the light-colored interior.
It can be eaten as a whole or sliced into pieces. When steamed, it can be served with butter as a bread roll. It is also eaten toasted, with butter or marmalade.
Related: Best Small And Compact Toaster
In addition to its interesting texture and pleasing appearance, pumpernickel bread has many health benefits. This yeast bread contains high amounts of beta-carotene, which gives the bread its characteristic dark color, iron, and fiber. Pumpernickel bread has been known to help the body fight against cancer, heart disease, and it can help regulate blood pressure.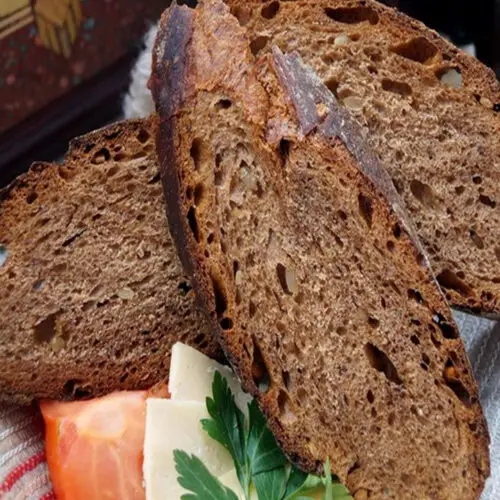 Pumpernickel Bread Healthy Recipe
Try this amazingly delicious dark bread. Any rye flour works in this pumpernickel-rye bread recipe, but I recommend a dark rye. If you can find a coarsely ground rye or pumpernickel flour – often available in health-food and specialty baking stores – by all means use it here. Flavorful bread with coffee, molasses, covered with caraway seeds.
Ingredients  
1⅓

cup

strong coffee

¼

cup

vegetable oil

¼

cup

molasses

1

cup

whole wheat flour

1

cup

rye flour

2

cups

bread flour

3

tsp

caraway seeds

2

tbsp

unsweetened cocoa

1½

tbsp

brown sugar

1

tsp

salt

2½

tsp

active dry yeast
Instructions 
Fill bread machine and bake according to bread machine manufacturer's directions.

To make a free-form loaf, use the dough cycle. Remove the dough and shape on a parchment-paper-lined baking sheet.

Cover the bread with a kitchen towel and let it rise for about 45 minutes to 1 hour in a draft-free place.

Bake in a preheated 400 F oven for 25 to 35 minutes. The loaf should sound hollow when tapped on the bottom.
I Hope this recipe was helpful to you in your pursuit of a solution to your party menu list. If you loved it just drop a line in the comment section – I will get back quickly.
If you want to learn more about Bread Machines and choose really helpful kitchen applieance, pleace kindly my article about the 5 best bread machines to buy.
FAQ – Frequently Asked Questions
Is Pumpernickel The Healthiest Bread?

Pumpernickel bread is often touted as the healthiest bread because of its high water and fiber content. However, not all toast is created equal. It can be dense, decreasing the number of nutrients absorbed by your body if eaten without other foods or with too much butter.

Why Is Pumpernickel Bread Good For You?

A slice of bread can give your body many essential nutrients such as fiber and B vitamins. With that said, this type of bread is made from dark rye flour, which contains higher antioxidants than traditional white flour. This makes it a more nutritious choice than the typical white bread you might think of in the grocery store. Pumpernickel is also high in protein and low in sugar, making it an ideal snack.

What Is The Difference Between Rye Bread And Pumpernickel Bread?

Rye bread is made with white rye flour, while pumpernickel bread is made with whole rye grains.