Pressure Cooker Beef Brisket Recipe
The post may contain affiliate links. For more information, check my disclosure.
Beef brisket is one of those meat cuts that are difficult to prepare if you cook it the conventional way. It often becomes dry or tough, so this pressure cooker beef brisket recipe can help you avoid this problem.
When cooked following these detailed instructions, the beef brisket will come out tender and tasty, ready to serve with vegetables or even some mashed potatoes for a complete meal.
Related: The 5 Best NuWave Pressure Cookers To Buy
The dish was created by combining American Indian cooking techniques with elements from French cuisine. People living on the North American continent have consumed it for generations.
Cooking it the pressure cooker means that you can prepare it without heating your whole kitchen! Pressure cooker beef brisket is perfect for quick family meals or an easy dinner party dish that impresses your guests.
There are different ways of preparing beef brisket. The recipe you can find below is easy to follow and can be prepared in a couple of hours. Moreover, it contains easy-to-find ingredients from the nearest online or offline store. So let's start cooking!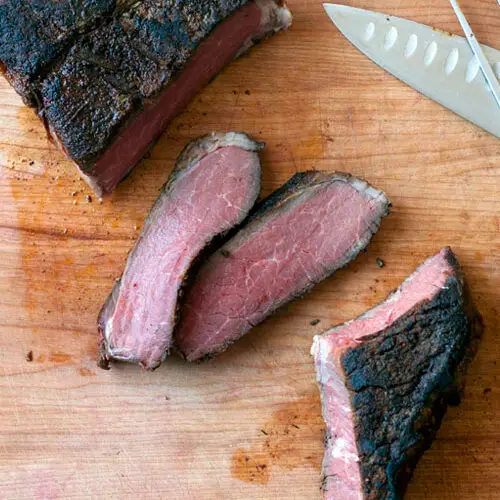 Pressure Cooker Beef Brisket Recipe
Learn how to make easy pressure cooker beef brisket at home. Perfect Chipotle beef brisket with chopped cilantro is what you need for holiday dinner!
Ingredients  
3

tbsp

bacon fat

2

pound

beef brisket

2

tsp

fine sea salt

2

tbsp

chipotle powder

1

cup

water

¼

cup

chopped cilantro

for the garnish
Instructions 
Slice the brisket into four pieces.

Prepare the Instant Pot using the saute function.

Coat the brisket with the chipotle powder. Cook the meat in two batches.

Add the fat to the pot and sear 2-3 minutes on both sides. Once all of the beef is cooked, just add it back into the pot with the water.

Secure the lid and use the meat/stew function. Cook 1 hr. 40 min.

When the timer buzzes, just quick release the built-up pressure. Slice after a few minutes, and garnish with the cilantro and a sprinkle of sea salt.
Thank you for visiting my blog! Hope you will enjoy this recipe. If you have any questions or ideas just drop a line and I will answer quickly. You can also check other dinner recipes for home cooking.
I hasten to inform that I collect most interesting recipes and publish them in easy to follow recipe books. Please check my cookbook collection and choose the books you like the most.
FAQ – Frequently Asked Questions
How Many Hours Does It Take To Cook A Brisket?

Different briskets take different amounts of time. Whole beef brisket can take anywhere between 8-12 hours to cook in a pot of boiling water on the stove. But if you're cooking beef brisket in the pressure cooker, it can be completely cooked in 2-3 hours, depending on its size.

Can You Overcook The Meat Pressure Cooker?

You can't overcook meat in a pressure cooker. A pressure cooker cooks food at a higher temperature and higher pressure than other cooking methods. This means that the cooking time is cut in half, so whatever you cook will be tender and moist.

Does Brisket Get More Tender The Longer You Cook It?

Beef brisket is a tough cut of meat. It can take up to 10 hours to cook the whole thing, and if you're not careful, it can lead to overcooked meat. But pressure cooking your brisket in a pot can make it tender and flavorful in just 60 minutes. The key is finding the right time for cooking – the longer it cooks, the more tender it will be. But not all of us have 10 hours to spare! Pressure cooker cooking allows you to get beef brisket that's as moist and succulent as oven-roasted beef without all the fuss or long waiting time.