Pork Satay With Peanut Sauce
The post may contain affiliate links. For more information, check my disclosure.
I love Thai food. There is so much variety in the dishes created by this country that even just trying one dish can be an enjoyable experience. Recently, I've been experimenting with cooking Thai food at home. This way, I can create dishes as delicious as any restaurant, but without paying restaurant prices! The best part is that you don't have to be a professional chef to do it.
One thing that I have tried is making satay. Satay is a traditional Thai dish often made with meat, fish, or chicken. The meat is placed on a skewer and then covered in a rich, savory peanut sauce before cooking over an open fire.
Recently I have been trying to find a way to make this delicious dish in our air fryer. I was a little hesitant as it is incredibly easy to burn meat using an air fryer. There isn't a lot of room for error, so if you do manage to burn your meat you can't just replace it! I've finally managed to find an alternative, though, and I am so excited about it! But before we start, let's know more about Thai cuisine.
Related: How To Choose An Air Fryer
Related: Best Air Fryer For Large Family
What Is Satay?
Satay means "grilled" in Thai, and this dish originated from the Malayang people in Malaysia. People often make their own satay by cooking skewers of either chicken or duck on a stick over an open fire. Satay is usually eaten with peanut sauce, a thick, savory sauce made of toasted peanuts and spices.
How Do You Make Satay In An Air Fryer?
Air frying has changed the way we cook a lot over the years. We now use it for cooking all kinds of meat and vegetable dishes, including chicken satay! I've used a straightforward method to make chicken satay in an air fryer: I added the meat skewers to the basket and popped them into 380 degrees Fahrenheit for 20-30 minutes. This gave us perfectly cooked, tender chicken without burning or drying it out.
I also added some sliced veggies to the basket to be cooked alongside the satay. You can add slices of onion, carrot, and pepper, as well as some broccoli florets. The vegetables all took around the same time to cook, which was under 10 minutes. Once the meat and vegetables were cooked, we popped them onto plates and drizzled them with peanut sauce. Keep reading to learn a step-by-step guide on how to make pork satay with peanut sauce at home.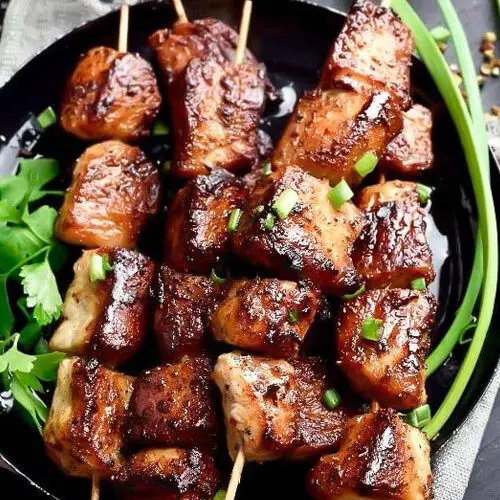 Pork Satay with Peanut Sauce
Traditional Indonesian pork satay recipe made at home. Perfect meal for party dinner or any other occasion. Tender and savory – worth trying recipe.
Ingredients  
1

pound

pork chops

cut into 1-inch cubes

2

garlic cloves

minced

1

tablespoon

fresh ginger

grated

2

teaspoons

chili paste

2-3

tablespoons

sweet soy sauce

2

tablespoons

vegetable oil

1

shallot

finely chopped

1

teaspoon

ground coriander

½

cup

coconut milk

4

oz

unsalted butter
Instructions 
Mix half of the garlic in a dish with the ginger, 1 teaspoon hot pepper sauce, 1 tablespoon soy sauce, and 1 tablespoon oil. Add the meat to the mixture and leave to marinate for 15 minutes.

Preheat the air fryer to 380 F. Put the marinated meat in the air fryer basket cook for 12 minutes until brown and done. Turn once while cooking.

Meanwhile, make the peanut sauce. Heat 1 tablespoon of the oil in a saucepan and gently sauté the shallot with garlic. Add the coriander and cook for 1-2 minutes more. Mix the coconut milk and the peanuts with 1 teaspoon hot pepper sauce and 1 tablespoon soy sauce with the shallot mixture and gently boil for 5 minutes, stirring constantly.

Serve the meat with sauce and enjoy!
The Bottom Line
I wrote a short review about best air fryer recipes for begginers in my own opinion. Hope that not only begginers but advances Air Fryer users will find something interesting to cook!
If you still have no Air Fryer in your kitchen it's highly recommended to check the list of Top-10 best air fryers every kitchen needs.

But if you are already have this wonderful and helpful appliance, maybe you'll be interesting in 16 air fryer tips every fryer owner should know. I'm sure some of them you didn't even hear about!
FAQ – Frequently Asked Questions
Is Satay Sauce Made From Peanuts?

Satay is a dish made with meat, most commonly chicken or beef. Satay sauce is a dipping sauce that can be served alongside these dishes. The sauce typically consists of coconut milk, ground peanuts or peanut butter, garlic, thickener such as corn starch. 

Is Peanut Sauce And Satay The Same?

No, they are not the same. Satay is a traditional Southeast Asian dish consisting of grilled meat on a skewer, usually chicken or beef. And peanut sauce is a condiment that is usually served with satay.

What's Satay Sauce Made Of?

Most satay sauces are made of peanut butter, soy sauce, lemon juice, and palm sugar (sometimes dark brown sugar). Satay is typically skewered with grilled meat. The flavor of the sauce depends on the type of meat skewered. For chicken or lamb, curry leaves are often added to the marinade. Pork satay is usually served with a peanut sauce – typically made by heating oil in a pan and stir-frying crushed peanuts until they turn a light brown color.