Peanut Butter Cookies Without Brown Sugar
Peanut butter cookies are great for any occasion. You can use them for a party, family gathering, or just because you want to treat yourself after a long day at work. But rather often, people find no brown sugar peanut butter cookies recipe.
The main problem with this recipe is brown sugar which is made from the extraction of a lot of other ingredients. So, while there may be no actual nutritional difference between this and white sugar, the potential health risks due to inflammation and GMOs present in sourcing brown sugar make it a less-than-ideal choice for those wishing to avoid additives when baking.
The post may contain affiliate links. For more information, check my disclosure.
Jump to Recipe
Are Peanut Butter Cookies Healthy?
Like any other kind of cookie, these weight-gainers are not a good option for the health-conscious individual. They may be one of the few foods in the world considered both fat and sugar. But, they are still delicious and come with so many wonderful flavors like peanut butter, chocolate chips, or oatmeal raisins, to name a few.
On another side, peanut butter is a healthy meal and contains beneficial ingredients like fatty acids, carbohydrates, etc. So if you wouldn't overeat these cookies, you can make it with no sacrifice.
Related: Sugar Cookies Without Butter
Related: Oatmeal Cookies Without Brown Sugar
Related: Breakfast Banana Cookies Recipe
Ingredients For Peanut Butter Cookies Without Brown Sugar
All you need to make your own healthy version of peanut butter cookies is:
You can also add other ingredients like chocolate chips, butterscotch chips, or nuts, depending on the occasion.
Substitutes For Brown Sugar
The substitution of brown sugar depends on which ingredient you prefer most. All of these alternatives are less sweet than brown sugar.
Granulated Sugar
This is a very plain sugar you can find at any store. It's easy to find and is the most commonly used type of sugar. Granulated sugar is commonly known as table sugar because it's used on the average tabletop.
Confectioners' Sugar
This is an edible, finely ground powder that's approximately 10% to 20% less sweet than standard granulated sugars. This form of white refined cane sugar comes in various types, including powdered and icing varieties. And it's treated with cornstarch to reduce lumps.
Molasses
This is the liquid leftover after sugar crystals are removed from sugar cane. Molasses have a bitter and slightly salty taste because they are high in iron, calcium, and magnesium. It's also a good source of vitamins B6, thiamine, niacin, riboflavin, and phosphorous. Its energy value is about 50% that of table sugar.
Stevia
This is an herbal sweetener made from the leaves of stevia plants native to South America. It's usually sold in extract or powdered forms. Like other natural sweeteners, stevia doesn't affect blood sugar (glucose) levels or cause tooth decay. And it doesn't have calories, fat, or sodium like other sweeteners.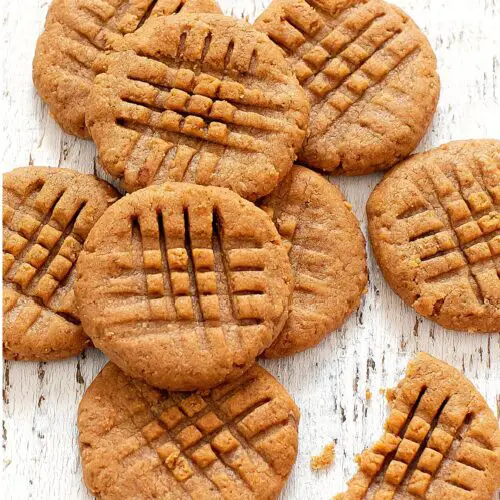 Peanut Butter Cookies Without Brown Sugar Recipe
Ingredients  
1

cup

creamy peanut butter

1/2

cup

milk

1

cup

white sugar

1

egg

1 ½

cup

all-purpose flour

1

tsp

baking powder

pinch

of salt
Instructions 
Preheat the oven to 350 ° F.

Using an electric mixer, mix the peanut butter, milk, and sugar for 2 minutes at high speed. Add the egg and mix well for another minute.

Mix the flour and baking powder and add to the previous mixture. Mix until homogeneous.

Using your fingers or an ice-cream scoop, form small balls and slightly flatten the top with a fork. Place on a cookie sheet covered with parchment paper or a silicone mat.

Bake for about 10 minutes or until lightly browned.

Let cool at room temperature.
The Bottom Line
With so many cookie recipes to choose from today, you can't go wrong with a good peanut butter cookie recipe. You may find some that nutritionists recommend, but plenty of peanut butter cookie recipes are available that don't contain any special ingredients. They're just cookies made with peanut butter and other ingredients you may already have in your pantry or kitchen.
FAQ – Frequently Asked Questions
Is Brown Sugar Necessary For Cookies?
No, but it does add a nice flavor. Brown sugar gives the cookies a sweet and buttery taste that many are looking for. However, without brown sugar, the cookies will be super sweet and will taste more like cake than a cookie. Some substitutes to use instead of brown sugar are granulated sugar or confectioners' sugar since they can make your cookies sweeter while still keeping them similar in taste to regular cookies.
Can You Substitute Brown Sugar For White Sugar?
Yes, it's possible to substitute brown sugar for white sugar. In fact, erythritol (a carbohydrate) and fructose in brown sugar are added nutrients with health benefits. White sugar can also be used as a substitute in recipes.
Can I Replace Brown Sugar With White Sugar In Cookies?
You are definitely able to replace brown sugar with white sugar in cookies. This is the easiest way to replace brown sugar, which can be found in most grocery stores.