Oatmeal Cookies Without Brown Sugar
Oatmeal cookies are a popular classic homemade cookie, often found in well-stocked grocery stores and fruit stands alike. They are usually made with butter, brown sugar, eggs, flour, and oatmeal. These ingredients typically make oatmeal cookies moist and chewy.
However, it is possible to make oatmeal cookies without brown sugar! This article will explore this question by examining the keys to making a delicious and healthy oatmeal cookie without brown sugar. This recipe has been developed to be as healthy as possible with fiber-rich oats and whole grains.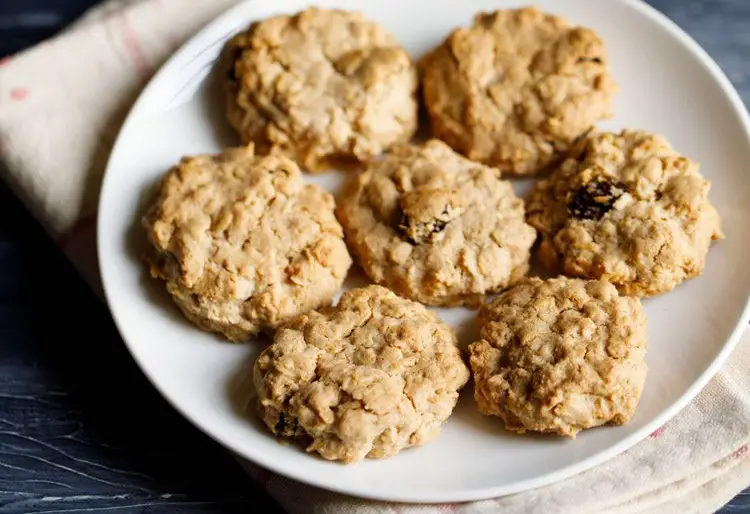 The post may contain affiliate links. For more information, check my disclosure.
Do Oatmeal Cookies Healthy?
Oatmeal is a potent source of plant protein when combined with other high-protein foods such as meat or eggs, while flour provides necessary carbohydrates for energy production. Oatmeal cookies are usually a healthy choice, yet people often complain that oatmeal cookies taste too "dry" and "nutty."
Related: Banana Oatmeal Cookies Recipe
Related: Breakfast Banana Cookies Recipe
Oatmeal Cookies Ingredients
Oatmeal cookies without brown sugar are packed with powerful nutrients and easy to make! Below you can find information about the key ingredients in this recipe.
Oatmeal
A typical oatmeal cookie is made from about a cup of instant oatmeal, providing about 150 calories. Instant oats also provide 4 grams of protein and 4 grams of fiber per serving.
White Sugar
White sugar sweetens the cookies and gives them their signature chewy texture. Sugar is not healthy in large amounts, yet a little bit won't do any harm! Also, if you use brown sugar instead of white sugar, you will get additional calories in each cookie.
Flour
Whole grain flour is much healthier than white flour. It provides a nutritious and filling snack while providing carbohydrates that give the body energy. White flour is not healthy in large amounts and can lead to obesity, diabetes, and other health problems.
Eggs
Eggs provide a high amount of proteins that build muscle mass, help prevent fat storage, and may lower cholesterol in the body. They are also packed with vitamins and minerals such as folate, B12, and choline for healthy brain development in children.
White Vs Brown Sugar In Baked Goods
Examine the differences in health and taste.
Brown Sugar
Brown Sugar is packed with more nutrients than white sugar. Its natural molasses content gives it a distinctive flavor and adds in some flavorings such as ginger and cinnamon that otherwise would not be present in the cookies.
The additional nutrients may also improve the texture of brown sugar-based cookies, making them moister and chewier than their white sugar-based counterparts. Brown sugar is healthier for people who want to increase carbohydrate consumption but wish to limit calorie intake.
It has a lower glycemic level than white sugar yet still provides carbohydrates for energy production. If you want to replace the brown sugar in the cookie recipe with honey or maple syrup, you will have a more nutritious and satisfying cookie.
White Sugar
White sugar is often used in baking recipes because of its versatile taste. It is a simple and quick substitute for brown sugar in cookies because it is less moist (closer to evaporating fast) than brown sugar, which means that it does not absorb all the moisture during baking and serves as a dryer ingredient for cookies.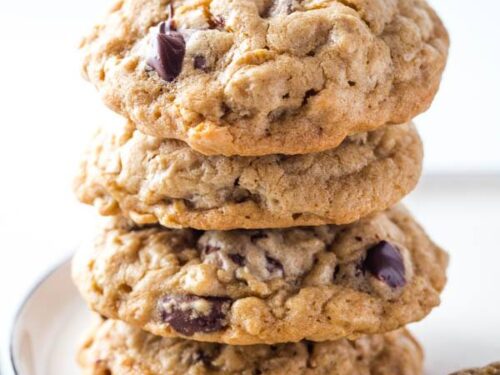 Oatmeal Cookies Without Brown Sugar Recipe
Ingredients  
1½

cups

all-purpose flour

3

cups

old-fashioned oats

1

teaspoon

baking soda

½

teaspoon

salt

1

teaspoon

cinnamon

1

cup

white sugar

1

stick

unsalted butter

at room temperature

½

cup

shortening

at room temperature

2

eggs

1

teaspoon

vanilla extract

1

cup

mix-ins of choice: raisins

chocolate chips, walnuts, coconut, etc.
Instructions 
Preheat the oven to 350°F.

Mix the flour, oats, baking soda, salt, and cinnamon in a medium mixing bowl.

In a separate bowl, beat sugar, butter, and shortening until light and fluffy. Add the vanilla and eggs, one at a time, blending thoroughly between additions.

Add the dry ingredients gradually to the creamed butter mixture until dough forms.

Fold the mix-ins into the dough.

Use a cookie scooper or your hands to drop rounded balls of dough onto a cookie sheet.
How To Store Homemade Oatmeal Cookies
Just put them in a container, and they're good to go! Store in a dry and cool place, preferably between 55-65 degrees Fahrenheit. At higher temperatures, oatmeal cookies will keep for up to three days, while at lower temperatures, the shelf life of oatmeal cookies will be extended by several days.
The Bottom Line
If you want to make a healthier version of your favorite oatmeal cookies, try this recipe for oatmeal cookies without brown sugar. They are packed full of nutrients and vitamins to provide your body with energy and satisfaction. These cookies are also simple to make to enjoy a tasty, healthy treat in a matter of minutes. I hope this recipe gave you vast information about how to make oatmeal cookies without brown sugar at home.
FAQ – Frequently Asked Questions
What Can You Substitute For Brown Sugar In Oatmeal Cookies?
There are a variety of ingredients you can use instead of brown sugar in oatmeal cookies – sugar, honey, maple syrup, molasses – they all work just fine.
Can I Use Regular Sugar Instead Of Brown Sugar For Oatmeal Cookies?
Yes, you can use regular sugar for oatmeal cookies. You can also try using honey instead of brown sugar. Honey is sweeter than most sugars and less granulated, so it mixes better with other ingredients like butter or yogurt when used in recipes.
Is It Necessary To Use Brown Sugar In Cookies?
Brown sugar is often considered healthier because it has a lower glycemic index and less refined sugar than regular white sugar. Nevertheless, many people think brown sugar will magically add an improved health benefit to baked goods. The truth is that any type of sweetener will alter the unhealthy properties of cookie dough. So it's unnecessary to use brown sugar in cookies.