Mushroom And Potato Recipe
The post may contain affiliate links. For more information, check my disclosure.
Mushroom and potatoes are the best of friends. They've been together for centuries because their flavors complement one another well, making these two vegetables an essential addition to any meal. But mostly make it easier to elevate simple dishes like this creamy mushroom potato recipe into something truly special. Keep reading to learn how to make mushroom and potato recipe in air fryer at home with no fuss.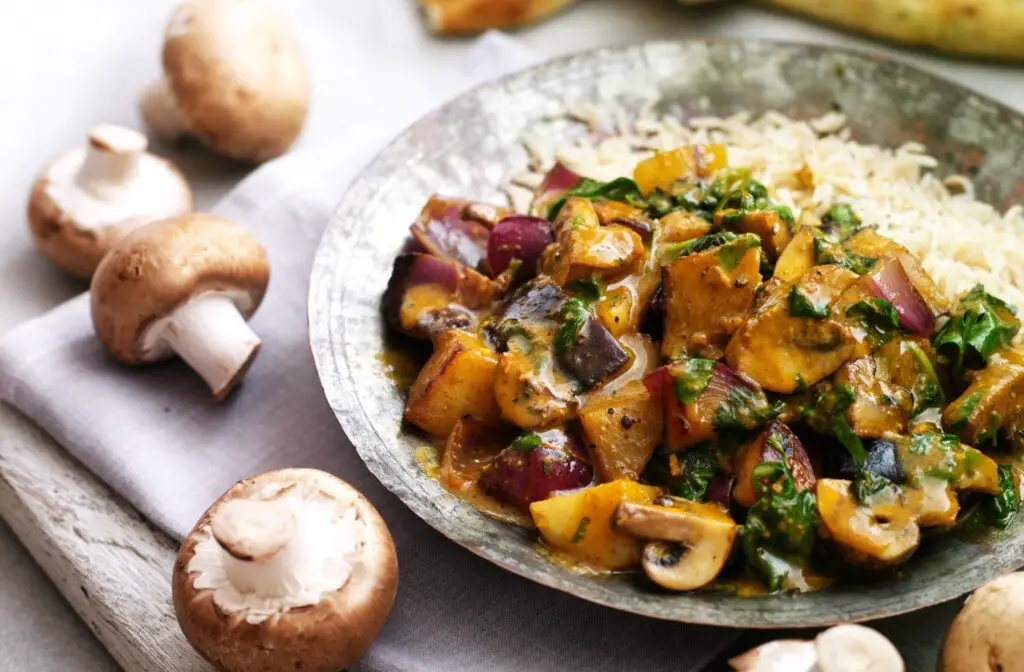 Mushroom And Potato Recipe In Air Fryer
It is impossible to overlook the fact that the air fryer has been one of the most popular kitchen appliances in recent years. It is a machine that promises fast and healthy cooking at a fraction of conventional methods.
The one good thing about having an air fryer is that you do not have to dirty your stove or oven as much as other conventional cooking methods. Apart from that, there are numerous benefits to using an air fryer such as:
It preserves so much more than traditional frying and grilling, and it saves more calories, too. Air-fried food does not contain any trans fats or saturated fats, unlike fried food, so you can eat more of it without worrying about the risk of weight gain, either.
There are numerous cooking methods out there that use an air fryer. Yes, you can fry using an air fryer, but there's more to it. You can also roast, steam, roast/bake, or even boil foods in it. Whatever you want to cook with your air fryer, just make sure that the recipe will taste good and that the food cooked here is not dry or tasteless.
Related: Best Air Fryer For One Person
Related: Best Air Fryer For Large Family
Although you can cook most types of food in an air fryer, the best choice with the mushroom and potato recipe is to use it for baking rather than frying.
Mushroom And Potato Curry
The mushroom and potato curry is a simple dish that features two of the most popular vegetables in the world. It's not difficult to make thanks to its many variations. You can use different types of potatoes, cooked or uncooked, to make it gluten-free.
You can serve your mushroom and potato curry with vegetable chutney or any other side dishes, depending on what you prefer to eat with your meal. However, I choose to garnish the mushrooms with cooked onions for this recipe, so there is no need for vegetable corns or other garnishes.
Related: Easy Stuffed Mushrooms Recipe
Creamy Mushroom Potatoes
This recipe is a simple but filling side dish for a roast. The potatoes are boiled and then mashed while a cream sauce with mushrooms, salt, and pepper is prepared separately. When the potatoes are tender, they are mixed with the sauce and hot milk. This recipe can be made without an air fryer, but you'll have to use a conventional oven or stovetop for cooking it. Carefully read the recipe before making the creamy mushroom potatoes.
How To Make Mushroom And Potato Recipe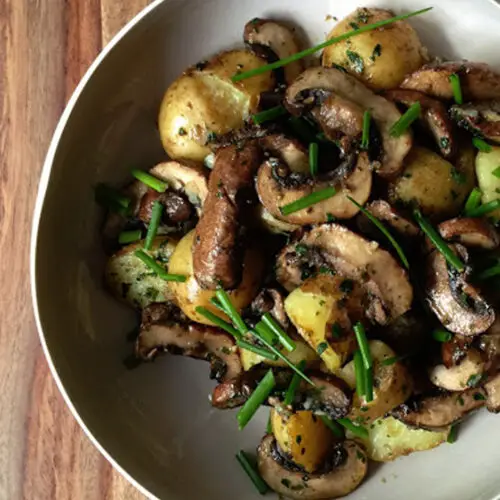 Mushroom And Potato Recipe
Mouth-watering dish in the air fryer of mushrooms and potatoes with onions. So simple and very easy to make with elegant results that make for a delicious side or appetizer.
Ingredients  
2

pounds

potatoes

washed and peeled

10

oz

chestnut mushrooms

10

oz

onions

finely chopped

1

tbsp

olive oil

extra virgin

⅛

tsp

salt

⅛

tsp

freshly ground black pepper
Instructions 
Wash and rinse potatoes well. Then cut potatoes into nearly 1-inch cubes.

Wash and cut mushrooms into quarters.

Heat the olive oil in the air fryer and cook the finely chopped onion in 2-3 minutes.

When the onion starts to become transparent, put potato cubes to the cooking basket.

Preheat the air fyer to 350°F.

Cook for 10-15 minutes, until potato cubes are nearly cooked.

Add mushroom quarters to an air fryer and cook for 2 minutes.
The Bottom Line
I wrote a short review about best air fryer recipes for begginers in my own opinion. Hope that not only begginers but advances Air Fryer users will find something interesting to cook!
If you still have no Air Fryer in your kitchen it's highly recommended to check the list of Top-10 best air fryers every kitchen needs.

But if you are already have this wonderful and helpful appliance, maybe you'll be interesting in 16 air fryer tips every fryer owner should know. I'm sure some of them you didn't even hear about!
FAQ – Frequently Asked Questions
What Do You Need To Make Mushrooms With Potatoes?

Cook the potatoes in boiling water until tender, about 10 minutes. Drain well and set aside. Melt butter in a large skillet over medium heat; add mushrooms. Cook, stirring occasionally until they release their liquid, about 5 minutes. Add in the potatoes and season with salt and pepper to taste. Serve hot or cover with foil to keep warm for up to 15 minutes before serving.

Does It Easy To Make Mushrooms With Potatoes?

Mushrooms and potatoes are a classic pairing, and for a good reason. Both vegetables have a meaty texture that complements one another, and they cook in the same amount of time. Plus, these two ingredients can take on any flavor you throw at them, so it's hard to go wrong when you're cooking with such versatile ingredients.

How To Make Mushrooms With Potatoes At Home?

Potatoes and mushrooms are a great combination in any dish. Not only does this dish have a lot of flavors, but it is easy to make. There are many ways you can add mushrooms to your dishes – from adding them into soups or stews to making side dishes with them. The best way is to air fry potato with mushrooms and onions.