Milk And Honey Bread Machine Recipe
The post may contain affiliate links. For more information, check my disclosure.
It is amazing how people can make bread without all the equipment and even electricity needed to make it by hand. Bread machines take care of all this for you, not only allowing you to put in your ingredients but also kneading and baking them into an edible loaf of bread that's perfect every time. All this helps make perfect milk and honey bread in a bread-making machine.
Related: The 5 Best Bread Machines To Buy
When using a bread machine, there are simply too many options to list. Very little work is actually required by you – when it's time to knead, the machine takes over, and then when you later choose to bake the loaf of bread, merely inserting the right bread pan in place automatically starts it baking without you having to lift a finger.
Related: Best Small And Compact Toasters
If you're looking for a convenient way to bake large amounts of fresh bread easily, the Milk And Honey Bread Machine Recipe makes this possible. Below you will find, I think, the easiest way to cook perfect milk and honey bread loaf in a bread-making machine.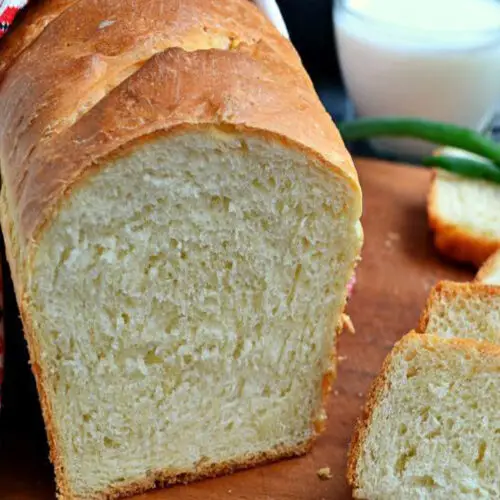 milk and honey bread machine recipe
Milk and Honey Bread Recipe – is a basic bread recipe for the bread machine. It's easy to bake and tasty to eat. It is slightly sweet, perfect for toasts and sandwiches.
Ingredients  
1

cup

plus 1 tbsp milk

3

tbsp

honey

3

tbsp

melted butter

3

cups

bread flour

1

tsp

salt

2

tsp

active dry yeast
Instructions 
Add the ingredients to the bread machine pan in the order recommended by your bread machine manufacturer.

Choose the basic or white bread setting and the medium crust setting. Press Start Button.

Remove the hot loaf as soon as it is finished. Place it on a wire rack to cool completely.

Once cooled, slice the bread and serve.
FAQ – Frequently Asked Questions
Can You Use Milk In A Bread Machine?

Yes, you can use milk in a bread machine, but it will change the texture of your bread. Bread cooked with milk will be better than bread made without milk because of the proteins found in this dairy product which bind with water molecules to produce more flavor and taste during baking.

What Does Honey Do For Bread Dough?

Honey is a powerful ingredient that contains natural sugars that react with yeast to create an airy, fluffy texture in bread. It also brings out other flavors in the dough by breaking down other ingredients, producing complex flavors and sweet aromas. Honey can replace sugar, syrup, or molasses in bread recipes because it has a similar consistency and does not alter the taste of bread as much as sugar does.

Is It Better To Make Bread With Milk Or Water?

Water is better than milk for bread. As bread dough rises, the yeast in the bread creates bubbles of carbon dioxide gas. When too much liquid gets into the dough, it will create holes in your bread because there's not enough gluten to hold it together (the proteins that form when you mix flour and water) to make a sturdy loaf.