Meatloaf Without Breadcrumbs Recipe
Meatloaf is a traditional dish made with ground beef, onions, and breadcrumbs bound together with an egg. It is traditionally served in a loaf or mold that has been shaped into the shape of a meatloaf.
But some people don't like breadcrumbs in this recipe. Today, I'm going to share my recipe for a traditional meatloaf without breadcrumbs. This recipe is nourishing and filling, but it'll also please your taste buds with a flavor-packed topping. Keep reading to learn how to make meatloaf without breadcrumbs with no fuss.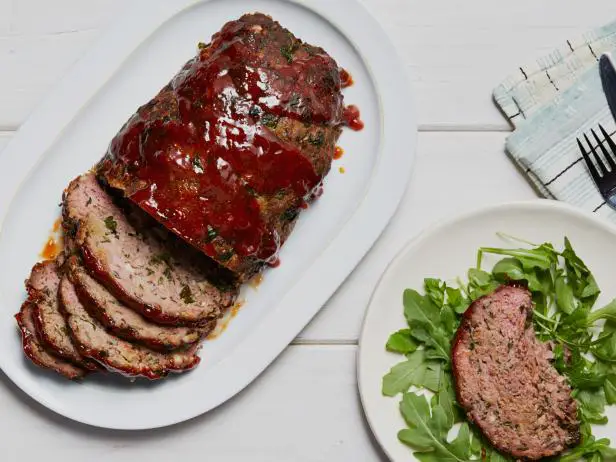 The post may contain affiliate links. For more information, check my disclosure.
Jump to Recipe
What Is Meatloaf?
Meatloaf is formed by combining ground beef, onions, and breadcrumbs. Traditionally, the tomato sauce was also added to the mixture, but today this ingredient is avoided as most people do not find it appetizing.
Meatloaf may be placed in a mold or loaf to unify the meat and vegetables into distinct pieces. Then it is baked or served with the topping on top. It presents differently in different parts of the world. For example, you can find meatloaf in Filipino cuisine, where it consists of small patties made with rice flour.
Related: Easy Meatloaf Recipe
Tips To Make The Best Meatloaf
The most important part of making meatloaf is to use quality ingredients. For example, never mix low-quality ground beef with onions and breadcrumbs to make meatloaf. Instead, use the best cuts of beef you can find.
Choose The Right Meat
When making meatloaf, using the best quality beef is important. Select a cut of beef with a lot of fat in it, such as chuck or blade steak. This is an essential component for a tasty and tender meatloaf. You can also use chicken or turkey in place of beef to produce similar results.
Choose The Right Vegetables
Vegetables like onions and celery should be finely minced to evenly distribute throughout the meat mixture when cooking it together on the stovetop. Other vegetables that may be used include potatoes, carrots, bell peppers, broccoli, and mushrooms, depending on your preference and availability of ingredients in your home kitchen.
Add Spices And Condiments
Spices are a great way to make your meatloaf taste terrific. Some of the most common spices that may be used are ginger root, oregano, thyme, dried basil, and rosemary. As you can see, I prefer Simply Organic spices & seasonings you can easily find on Amazon.
Condiments include different sauces such as ketchup, mustard, and horseradish. Also, remember to fully season your meatloaf before serving it for best results.
To enhance the flavor of your dish, you may also add other condiments such as Worcestershire sauce or soy sauce in addition to the spices already used. After cooking, you can also add other condiments like parsley if you want the extra herb flavor to stick with the final product.
Make The Classic Meatloaf Sauce
The last step to making your meatloaf is adding the classic meatloaf sauce. The sauce that goes well with a good meatloaf is tomato sauce mixed with ketchup and brown sugar. This mixture can be spread on top of your meatloaf before being placed in the oven to finish cooking or served separately like gravy.
Bake It Properly
After you have mixed all your ingredients, you should ensure that your meatloaf has been baked properly for about 45 minutes so the juices can come to a full boil. This will ensure the consistency of your meatloaf and that the texture is not too dry. If you notice that it is getting done early, you can always cover it with some aluminum foil to keep its shape.
Meatloaf without breadcrumbs should be eaten with a side of vegetables soaked in sauce and mashed potatoes or rice. It tastes best when served with ketchup or natural herbs such as parsley and rosemary. If you want to make it spicy, serve it with hot sauce and shredded cheese on top.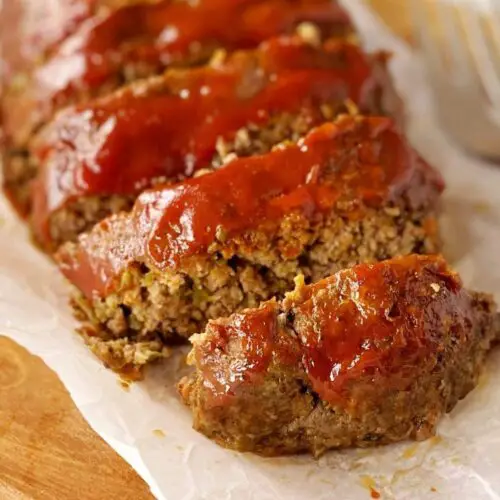 Meatloaf Without Breadcrumbs Recipe
Ingredients  
Meatloaf
1

medium onion

1

medium red chili

3

garlic cloves

A handful of parsley

A handful of coriander

¼

cup

full-fat-milk

2

tbsp

of all-purpose wheat flour

2

tbsp

of cornstarch

1

egg yolk

1

tsp

black pepper ground

1

tsp

oregano dried

1

tbsp

of mustard sauce

1

tbsp

of ketchup sauce

1 ½

tsp

of salt

2

pounds

ground beef with 9% fat
Sauce
¾

cup

of ketchup sauce

2

tbsp

of sugar

2

tbsp

of Worcestershire sauce

1

tbsp

vinegar

optional

1

tsp

of black pepper
Instructions 
Preheat oven to 180 °C / 360 °F.

Prepare the meatloaf pan. Cover it with a thin layer of butter or oil. We use an 11-inch rectangular pan.

Prepare the vegetables.

Peel the onion, and cut it finely, as small as possible.

Peel the garlic and crush it with the mortar.

Finely chop the pepper, parsley, and coriander.

Place the ground beef in a mixing bowl.

Add the finely chopped vegetables, oregano, pepper, ketchup, mustard, salt, and pepper.

Using a large spoon, stir very well until all meat is well combined with vegetables and seasonings.

In a small bowl, mix together the cornstarch and wheat flour. Then sprinkle the mixture over the meat.

Add the egg yolk. Knead until a completely homogeneous mixture is formed.

Place the meatloaf inside the greased pan and flatten with your fingers.

Mix all the sauce ingredients in a small mixing bowl. With the help of a silicone pastry brush, spread about 3 tbsp of sauce on the meatloaf.

Take it to the oven covered with aluminum foil and cook for half an hour.

Remove from the oven, add the remaining sauce and cook for 15 more minutes, completely uncovered so that it is browned on top.

Wait for it to cool for about 20 minutes, then place it on a cutting board and slice it.

To serve, you can sprinkle some chopped parsley on top.
The Bottom Line
I hope you appreciate this dish, and its taste will always be as appealing as ever with the right ingredients and preparation methods used. So get on board today and learn how to make delicious, juicy, and tender meatloaf without breadcrumbs.
FAQ – Frequently Asked Questions
What Can I Use Instead Of Breadcrumbs In Meatloaf?
Breadcrumbs are used as a binding agent in almost every meatloaf recipe. When you cook the meat, it will shrink and release liquids, which will make it difficult for the loaf to keep its shape. This is where breadcrumbs come into play to soak up any excess liquid and give the meatloaf its structure. But if you're looking for a gluten-free alternative to bread crumbs, try using mashed potatoes or rice in place of them.
Why Do You Need Breadcrumbs In Meatloaf?
Breadcrumbs are tiny pieces of bread mixed into ground meat to create a web-like crust. This creates an even, attractive sandwich-like texture that is spongey and tender in the center with a crunchy crust. This will help prevent the meat from falling apart when cooking because it becomes very difficult to escape its own juices.
Can I Use Flour Instead Of Bread Crumbs For Meatloaf?
It is not recommended that you use flour instead of bread crumbs for meatloaf because a lot of the moisture and binding agents will be on the outside surfaces. Flour absorbs too much grease and can also make meatloaf tough rather than juicy. Bread crumbs are great because they have a lot more surface area in contact with the meat than if you used flour.