Macaroni Hamburger Soup Recipe
The post may contain affiliate links. For more information, check my disclosure.
Macaroni hamburger soup is a simple and hearty meal for those who want something quick and easy, especially if you are in a rush on a weeknight. It's also inexpensive to make and can be made with ingredients that you might already have in your pantry or refrigerator, so it's very versatile. It's great comfort food for winter.
Macaroni is a kind of pasta characterized by its hollow cylindrical shape. It originated in Italy and is eaten all over the world. It comes in different shapes, including twists, elbows, and shells.
Related: The 5 Best NuWave Pressure Cookers To Buy
Related: Best Soup And Stew Recipes
Hamburger soup is a kind of soup that uses hamburger meat (ground beef) as the main ingredient. It's often combined with other types of meat, such as chicken or pork, and vegetables and pasta or rice.
The mixture is then cooked in water or broth to create the soup. There are many variations in mixtures used to make hamburger soup, ranging from being heavy on the vegetables to light on water and more like a stew. It has its roots in the United States and was heavily influenced by German and Eastern European immigrants who loved using their ground beef in various dishes. Keep reading to learn how to make Macaroni Hamburger soup at home.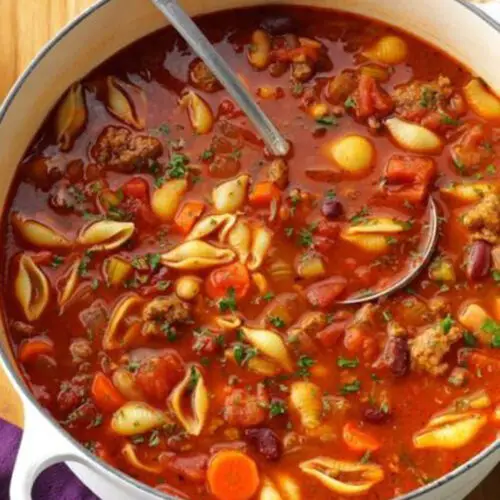 Macaroni Hamburger Soup Recipe
Beefy Tomato Soup is a comforting soup loaded with beef and noodles in a creamy tomato broth!
Ingredients  
1

pound

lean ground beef

4

oz

small pasta

½

tsp

salt

1

medium-sized onion

diced

1

stalk

celery

diced

1

medium-sized carrot

diced

1

can (28 oz)

diced tomatoes

32

oz

beef broth

1-2

bay leaves

grated Parmesan cheese

to taste

freshly ground black pepper

to taste
Instructions 
Preheat the pressure cooker using the "Sauté" button and cook ground beef with salt and black pepper, until brown. Don't forget to break the meat up to small pieces while cooking. When browned, add onions, carrots, celery and sauté another 3-5 minutes, until veggies become tender.

Add the tomatoes, beef stock and bay leaves, secure the lid and cook at high using "Soup" button. Cook for about 35 minutes.

When ready, use quick release to lower the pressure. Open the lid and add pasta. Stir well and cook additionally for 5-6 minutes.

Remove bay leaves, ladle to plates, sprinkle with Parmesan cheese and serve!
I Hope this recipe was helpful to you in your pursuit of a solution to your party menu list. If you loved it just drop a line in the comment section – I will get back quickly.
FAQ – Frequently Asked Questions
Do You Cook Macaroni Before Adding To Soup?

You do not have to cook the macaroni before adding it to the soup. Just add it directly into the pressure cooker for heat and immediate cooking.

Can You Pressure Cook Soup Too Long?

While pressure cooking time varies based on the ingredients you use, overcooking is always possible. Keep track of your time and taste test your soup periodically to avoid overcooking it.

Does Meat Get More Tender The Longer You Pressure Cook It?

No, meat doesn't get more tender the longer it's pressure cooked. The cooking process is intense enough to break down all of the connective tissue, making it more tender.