How To Make Omelet In Air Fryer
Air fryers are great for cooking delicious, healthy food in about half the time it takes in a conventional oven. That is why this kitchen appliance is often used to prepare breakfast. To make an omelet in an air fryer, you need only two things to do: combine all the ingredients and pour the mixture into the fryer basket. That's all!
Omelets are one of the most delicious and versatile dishes you can cook in your air fryer. Making them for breakfast, lunch, or dinner is a great way to get your family to eat healthier without sacrificing taste. An omelet is just an egg dish that consists of a mixture of eggs and other ingredients cooked in a short time without turning over.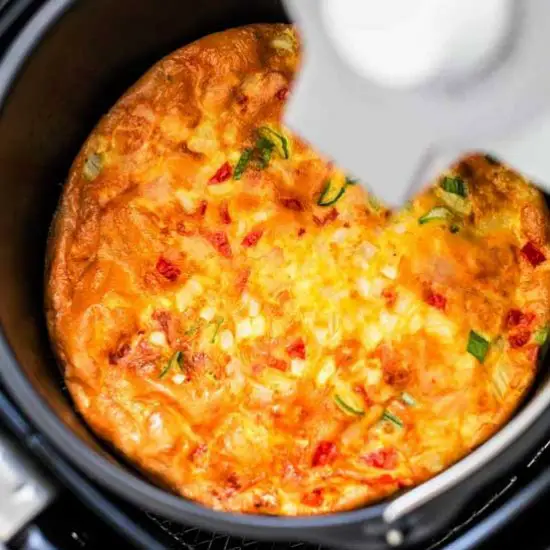 In this article, you will learn how to make an omelet in an air fryer with no fuss, how to reheat an omelet, and other tips and tricks to improve your cooking skills. We'll also go through everything you need to know about how to cook this dish so that it turns out perfectly every time. At the end of the article, you will learn how to make omelet in air fryer. Also, I'll provide a bonus recipe – Spinach And Cheese Omelette in Air Fryer. But before we start, let's deep into helpful cooking tips.
The post may contain affiliate links. For more information, check my disclosure.
Related: Easy Omelette Recipe
Related: Classic French Omelette Recipe
Related: Baked Oven Omelette Recipe
Reheating Omelet In Air Fryer
Omelets are one of the easiest and most versatile breakfasts around. A filling omelet can be made using any type of ingredient, and it's a good idea to use fresh ingredients over frozen foods because they taste better. This is a great meal when you're trying to save time in the morning by preparing breakfast on the weekends with items that don't require cooking first. If you want to heat cooked omelet, just keep on reading.
To reheat the omelet in the air fryer, you need to place the dish into the air fryer for 3-4 minutes at 330 F until heated through and golden brown on top. Remove from air fryer using oven mitts, then place onto a large bowl or plate to serve later with some toast or fresh fruit for breakfast.
Air Fryer Omelette Temperature
The average temperature for an omelet to be cooked in an air fryer is 360 degrees F. The perfect temperature for cooking an excellent omelet is through and through.
If you are making the omelet in your air fryer, it is recommended that you turn it on to 360 degrees for 5 minutes before adding the eggs and continuing cooking until the desired doneness. If you are using your oven, make sure your oven is set to 390 F before adding the eggs flat side up, as this will create a nice golden brown crust on the bottom of the egg without being too overcooked on top of them.
Related: Best Air Fryer For Small Spaces
Related: Best Air Fryer For One Person
Air Fryer Omelette Without Pan
The omelet is ideal for breakfast, brunch, lunch, or dinner because it can be served with vegetables and protein or as a side dish. With this recipe, you won't use any pans! 
I've always been a bit intimidated by frying, especially when you use a pan. The whole fiddling with oil and the mess that can happen on your stovetop is the last thing anyone wants to deal with. That's why I fell in love with an air fryer – it's faster, cleaner, and healthier than traditional methods. Here's the recipe:
Ingredients
2 eggs (whites only) beaten 
1 cup of milk, yogurt, or cream
¼ cup Salsa
1 tablespoon diced onion
½ tablespoon diced jalapeno chile pepper
½ teaspoon salt
Ground pepper to taste
2 tablespoons shredded Cheddar Cheese
Directions
Place the egg whites in a shallow dish, set aside.
Place the salsa, onion, and jalapeno pepper in a food processor and pulse until finely chopped.
Stir this mixture into the egg whites along with the salt and pepper.
Top with Cheddar Cheese. 
Preheat the air fryer at 360 F for about 5 minutes.
Place the mixture in an air fryer for 15 minutes at 360F or until the desired doneness of your liking.
Air Fryers are like magic! I am not a big breakfast person, but I love this recipe because it is quick and easy to make.
Related: How to Boil Eggs in a Perfect Way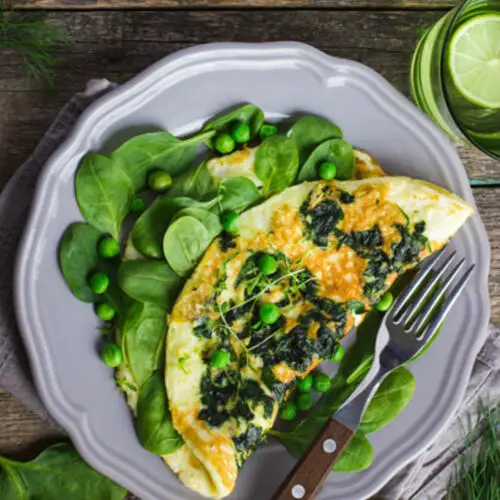 Spinach and Cheese Omelette Recipe
Vegetarian Gluten free meal. This Spinach & Cheese Omelette is seriously one of the best omelettes I have ever tasted. It has an incredible depth of flavors and it´s made with the most basic ingredients. You need only 10 minutes to cook this adorable omelette. Try it – it's DELICIOUS!
Ingredients  
4

large eggs

½

cup

Cheddar cheese

shredded

3

tbsp

fresh spinach

chopped

A pinch of salt

to taste
Instructions 
In the large bowl whisk the eggs. Place the eggsin a flat oven safe form. Stir in shredded cheese and spinach, and season withsalt.

Preheat the air fryer to 380 F and cook for about 7-8 minutes, until ready.
FAQ – Frequently Asked Questions
Can I Make An Omelette In My Air Fryer?

Yes! You should know that the answer to this question depends on the model of your specific air fryer. Among the best models from popular brands, both Philips and Delonghi claim that their air fryers work well for cooking delicate foods such as an omelet. But you'll need to consult your manual!

How Do You Fry An Egg In An Air Fryer?

The first step is to preheat the air fryer. The power of the air fryer should be set to 400 degrees Fahrenheit for a large egg and 300 degrees Fahrenheit for a small egg. Once it reaches the desired temperature, use cooking spray or oil to grease the bottom of your tray. Next, cut up your veggies if you like vegetables with your eggs, then cook them at 360-370 degrees Fahrenheit until they are just done before putting them on top of your now-fried egg. The final step is to cook the egg, which should take about 5 minutes.

Will Eggs Explode In Air Fryer?

The answer is that it depends on whether your eggs are raw or hard-boiled. Raw eggs are more likely to explode because they cook from the inside out, and hard-boiled eggs do not have any water to "boil out." Basically, if you want your egg to avoid exploding, then make sure it's hard-boiled!