How To Cook Cinnamon Rolls In The Air Fryer
Cinnamon rolls are a type of pastry consisting of sweet yeast-based dough, often flavored with cinnamon, spread with butter, milk, or cream cheese, and then rolled into a spiral. The dough is then cut into individual pieces, shaped into rounds, and placed in a pan with a sweet sauce or frosting.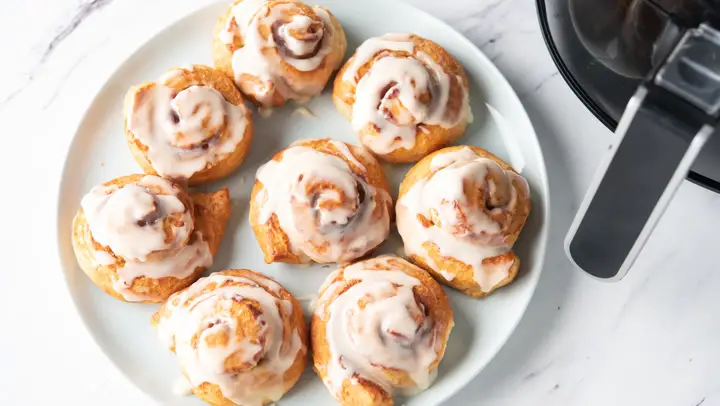 This treat is very popular in the United States, Canada, and Europe. So, if you are in search of how to cook cinnamon rolls in the air fryer, this is the right place! Here's a perfect air fryer cinnamon rolls guide.
The post may contain affiliate links. For more information, check my disclosure.
Ingredients For Cinnamon Rolls
Cinnamon rolls are one of the most delicious baked goods in existence. They've been around for hundreds of years, but today's recipes are a lot different than the ones your great-grandmother would have made.
The recipe below includes many of the ingredients that make cinnamon rolls so delicious, such as butter, brown sugar, and cinnamon. In addition to these ingredients, you'll also need some eggs, milk, flour, and yeast. But first things first. Here's the list of ingredients you'll need to make the perfect cinnamon rolls:
Brown sugar

– as a sweetener. You can use any other you prefer.
Butter – salted or unsalted butter, it's up to you!
Cinnamon – hope you know what for 🙂
Frozen bread dough
A pinch of salt
For the icing, you will need cream cheese, butter, vanilla extract, and powdered sugar.
What Tools Do You Need To Make Air Fryer Cinnamon Rolls
I collected some kitchen tools, appliances, and utensils to help you make perfect cinnamon rolls at home:
Air Fryer Cinnamon Rolls Recipe – Step-By-Step Guide
These air fryer cinnamon rolls are fluffy, warm, delicious, and easy to make. This recipe is very easy to follow, and it is a good recipe for beginners. It does not require you to be in the kitchen for a long time. The recipe is quick to make, and the rolls take only a few minutes to prepare and cook. The air fryer cinnamon rolls are easy to make, and everyone will enjoy the taste.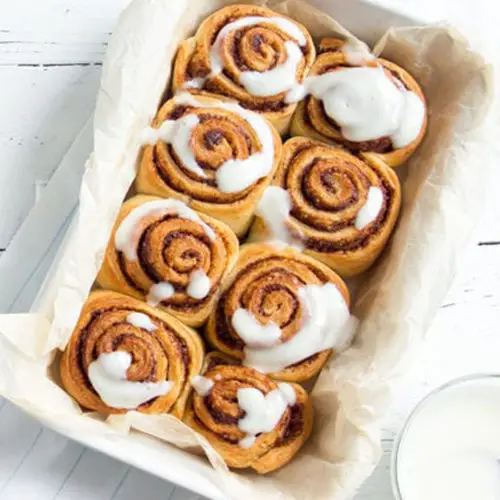 Homemade Cinnamon Rolls Recipe
Best cinnamon rolls you ever tried. Learn how to cook amazingly easy and delicious homemade cinnamon rolls. You will enjoy this dessert recipe.
Ingredients  
3/4

cup

brown sugar

1 ½

tbsp

ground cinnamon

1

lb.

frozen bread dough

thawed, room temperature

¼

cup

butter

melted and cooled
Cream Cheese Glaze
2

tbsp

butter

softened

½

tsp

vanilla

4

oz

cream cheese

softened

1 ¼

cups

powdered sugar
Instructions 
Dust your work surface with some flour and roll the dough into a 13″xl 1″ rectangle. The wider side should face you. Melt the butter and grease the dough with it, leaving a 1-inch border uncovered along the edge farthest away from you.

Combine brown sugar and cinnamon. Then cover the dough with this mixture and leave the same 1-inch border uncovered. Roll the dough tightly into a log, starting with the side that is the closest to you. Make sure it has no air pockets. Once you get to the uncovered part – press the dough onto the roll to seal it together tightly.

Cut the log into 8 pieces without flattening the dough. Turn the pieces on their sides and place them in the warmest part of the kitchen covering them with a towel. Let them rest and rise for about 2 hours.

Prepare the glaze: take the microwave-safe bowl and put in cream cheese and butter. Heat it in the microwave for 30 seconds. Now you can easily stir the mixture. Gradually add in powdered sugar stirring well. Then add in vanilla extract and stir once again to make a smooth cream cheese glaze.

Check the rolls: if they rose already, preheat the Air Fryer to 350F. Layer four rolls in the basket and cook for 5 minutes once the Air Fryeris pre heated. When time is up, flip them and cook for another 4 minutes. Repeat this with the other four rolls as well.

When ready, remove the rolls from the Air Fryer and set them aside to cool. Cover cinnamon rolls with the cream cheese glaze generously and serve.
How To Make Cinnamon Rolls In The Air Fryer Using Puff Pastry
Many people are curious how to make cinnamon rolls in the air fryer using puff pastry for their breakfast. The process is simple, but you have to make sure not to over-bake the rolls; otherwise, they will become too hard.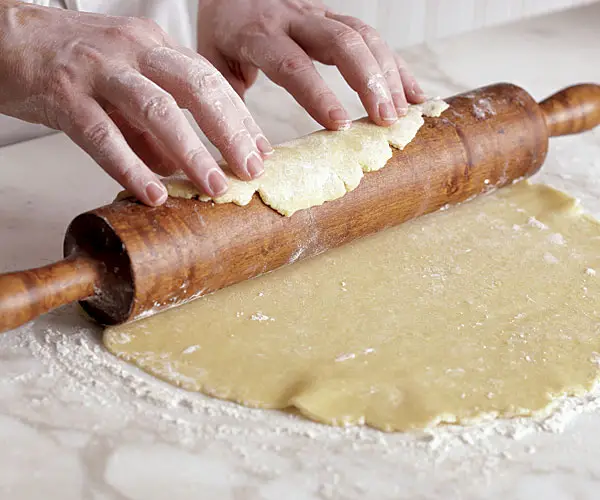 All you need is to combine all icing ingredients in the bowl and then spread the mixture with a spatula over the prepared puff pastry. Bake in the preheated air fryer until golden and ready.
How Long Do You Air Fry Cinnamon Rolls
Depending on the air fryer model and the size of your cinnamon rolls, usually, it's enough up to 6-9 minutes to make perfect Cinnabon at home.
How To Cook Frozen Cinnamon Rolls In The Air Fryer
Frozen cinnamon rolls are a great way to have a fresh-baked taste without the hassle of making the dough yourself. The only challenge is how to bake them in an air fryer. The result is a relatively easy way to make a delicious, warm cinnamon roll with minimal effort. The only caveat is that the frozen version doesn't have quite the same texture as a fresh-baked roll.
The cooking process is not different from regular cinnamon rolls. All you need to do is thaw the dough at room temperature and place it in an air fryer basket. Cooking time is also usual, about 6-9 minutes, and your frozen cinnamon rolls are perfectly done.
How To Make Icing For Cinnamon Rolls
You will need about 2 cups of powdered sugar, a dash of cinnamon, some vanilla extract, and about 4-6 oz cream cheese to make icing for cinnamon rolls. The measurements do not need to be exact. The icing is most commonly used to top cinnamon rolls but can also be used as a drizzle for any other kinds of cakes and pastries.
Tips For Making Cinnamon Rolls In The Air Fryer
Don't forget to preheat the air fryer before cooking.
Defrost the dough properly. Follow the package instructions for that.
Try not to use oil or other spays in the air fryer basket. It doesn't require.
Roll the pastry evenly.
The cooking time of cinnamon rolls may differ and depends on the rolls' size and air fryer manufacturer.
More Air Fryer Recipes
FAQ – Frequently Asked Questions
How do you tell if your cinnamon rolls are done?

The most reliable is to test the cinnamon rolls' internal temperature with a thermometer after 4-5 minutes of baking. The internal temperature of the cinnamon rolls should reach 210 degrees Fahrenheit. If you don't have a thermometer, you can also look for other signs of doneness, such as the rolls' edges being browned and the dough is firm to the touch.

Can air fryer be used for baking?

This perfect kitchen appliance can work well for a few specific kinds of baking: you can make cookies, brownies, and even a tender loaf of bread that's crisp on the outside and soft inside. If you want to make anything with a smoother texture, like muffins or cupcakes, the surface will likely be tough. 

How do you roll the perfect cinnamon rolls?

One "secret" technique you can use to keep your cinnamon rolls looking professional is to use two different kinds of flour: all-purpose for the dough and bread flour for the outside. This helps your cinnamon rolls keep their shape and gives them a beautiful golden brown color.