How To Choose An Air Fryer
Chicken drumsticks, French fries and even kebabs in the air fryer are cooked with only a spoon of oil. It turns grilled and juicy. Crispy crust like deep fryer, but it has 90% less fat. It is delicious and healthy. In other words it convenient and healthy appliance every kitchen needs. Today I'm going to learn about how to choose an air fryer. Let's find out what kinds of air fryer are available.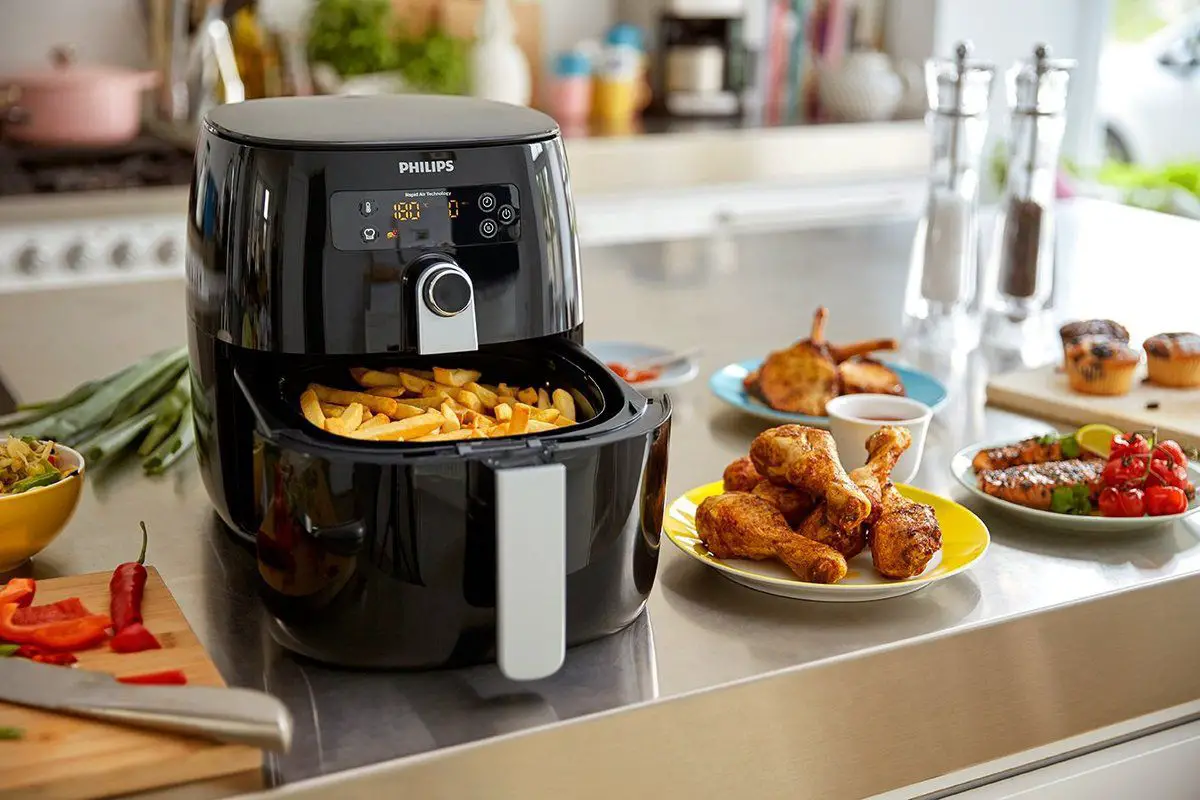 The post may contain affiliate links. For more information, check my disclosure
You know, I'm a BIG fan of air fryer cooking! My kitchen appliance I use at home in my mind is the best air fryer on the market. Moreover, I created great collection of air fryer recipes for any occasion and you can easily find most of them here.
Related: Best Air Fryer For Small Spaces
Related: Best Air Fryer For One Person
Every day I receive questions about how to choose an air fryer, what is the best air fryer to buy, and many other. My dear blog visitors ask me to share some tips and tricks about best deals on air fryers. So I decided to write this article and tell you everything I know about this amazing kitchen appliance – air fryer.
But before we begin…
A Few Simple Air Fryer Recipes For You
Some breakfast recipes
Some appetizer recipes
Some chicken recipes
Some More Seasoning For Delicious Meals
Some Kitchen Tools and Utensils You Will Need
Different Types Of Air Fryer
There are two main types of air fryer – mechanic and electronic. Both of them have the same cooking result, but their possibilities are different.
Mechanical air fryers have two switches. One regulates the cooking time and the other sets the temperature. There is only one fan speed. These devices are simple and reliable. They have an acceptable cost.
Air fryer with electronic control is more expensive. Because they are smart. When pulling the basket out of the unit, the device automatically turns off. As soon as you insert the basket back, the display lights up and the air fryer is ready for use. There are up to ten automatic programs in the menu with selected temperature and cooking time.

Capacity of an air fryer pot is a reasonable question from the category which one to buy?  There are capacities of 10 liters and less, and 11-18 liters. The larger the capacity, the more food you can cook at a time. But here you should approach the choice wisely:
For a small family, a large device is expensive. It uses a lot of electricity;
Bulky basket is uncomfortable to wash, and it's easy to drop it from your hands.
How Does Air Fryer Work
The heater heats the air inside the air fryer basket.  A fan on the lid of the device disperses air flows. The air like a tornado circulates from top to bottom and up to the fan. The products are heated up and reach the desired condition.
Heat and blowing intensity varies depending on the cooking mode selected. This gives the food a delicate texture and a crispy cover. The thermostat monitors the air temperature. According to its readings, the controller switches the heater on or off. Many models have an overheating protection.
The lid is not the last thing when choosing an air fryer. It has a built-in heater, which determines the quality of the device. To choose the right air fryer just take a look at the lid – it is removable or folding:
For a removable cover you need a place where to attach it when you take the lid off. It is massive and hot so there is no time for consideration.
Another thing – the lid fixed to the bracket. It is enough to open it and that is all.  But such models are less compact.
Which Is Better: Air Fryer Or Pressure Cooker
The pressure cooker is good – you can't say anything. Automatic modes help to cook quickly and not to follow the process. The dishes are stewed or steamed, and they are healthy. But the fat in the food remains. It may be not good enough for your weight loss diet.
Air fryer takes care about excess fat. It melts it and fat flows on the pallet. Steak or carcass is cooked on the grate and not drowned in its own juice, so it turns out to be dietetic and healthier.
Which Is Better: Air Fryer Or Oven
Chicken and potatoes in the oven are amazing, but fat and not useful. Air fryer wins in this matter. It evenly bakes and browns the food.  The meat is tender, no worse than in the oven. The only thing that is bad is that the basket obliges you to choose the appropriate shape and size of dishes.
Unlike the oven, the air fryer takes up little space in the kitchen. And it does not spread odors while baking. They are captured by a filter integrated into the device. Just kindly be noticed that the lid and air fryer basket are very hot! Beware of touching them carelessly. Looking under the lid be careful to throw off steam.
Best Air Fryer Manufacturers
Today the market has a large variety of air fryer for every taste. You can choose a device of any size, with mechanical or electronic control, with a wide range of functions. In addition, you can buy additional equipment for air fryer: baskets, racks, tongs, etc. The choice is not so easy. But I spent a few hours and did everything for you. Below is a list of the main air fryer manufacturers with their products, as well as the most necessary accessories for air fryer.
Each store contains numerous air fryers and other kitchen appliances and accessories to choose.
Get More Recipes On A Budget
Love home cooking and want to get more recipes? Then checkout this collection of easy everyday recipes on a budget!
Thank you for reading my OneDollarKitchen Recipe Blog! Hope you find out many interesting ideas for home cooking. Please visit my site again. Now I'm creating more interesting and delicious recipes for different kitchen appliances. By the way, most of my recipes are easy and budget friendly. Thank you for supporting, it's highly appreciated!
FAQ – Frequently Asked Questions
What Should I Look For When Buying An Air Fryer?

Whether it's for your home or your kitchen at the restaurant, you'll want to invest in a quality air fryer. But what should you look for when choosing an air fryer? Before buying, you should explore such things as cooking capacity, temperature control, safety features, etc.

Which Type Of Air Fryer Is Best?

The best type of air fryer for you will depend on what you plan on cooking. The key differentiating factor between air fryers is the level of control that they give you. If all you want to do is defrost and reheat, then an air fryer like the: Presto 03430 Air Fryer is an excellent option because it's not too expensive and simple to use. But if you plan on cooking something like fries or wings, you'll want an air fryer with greater temperature control, like the Cuisinart Air Fryer with Temperature Probe.

What Are The Disadvantages Of Air Fryer?

Air fryers are often a popular choice for cooks looking to cook their food quickly and without greasing. These machines, which heat food by circulating hot air around it, can cook anything from fish fillets to fries in mere minutes. However, some disadvantages of air fryers include the fact that they do not have the same cooking power as other ovens, that they sometimes don't have auto-shutoff capabilities like other cooking appliances, and sometimes require more frequent cleaning compared to other cooking appliances with different types of ovens.