How To Bake A Potato
You've probably heard that potatoes are one of the best and healthiest vegetables you can eat. But they also come in different shapes and sizes. There are also many different ways to bake a potato: in the air fryer, slow cooker, microwave, etc. There are numerous recipes to cook potatoes just for any occasion or family dinner.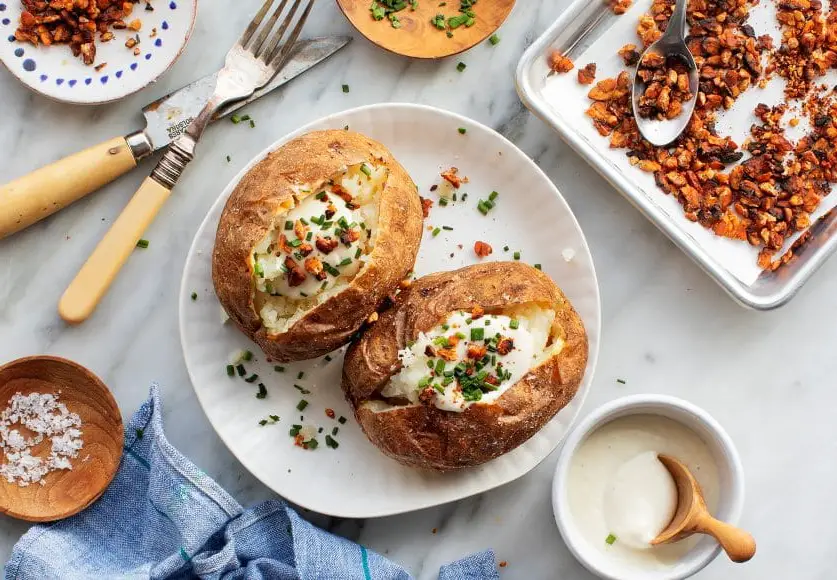 Whether you want to bake a potato in the microwave, oven, or air fryer, it's easy — just follow these guidelines, and you'll be on your way to delicious potatoes in minutes!
The post may contain affiliate links. For more information, check my disclosure.
How To Bake A Potato In The Microwave
Firstly, make sure that you use a large enough microwave for cooking potatoes. Then follow this step-by-step guide:
First, place your potatoes on a

microwave-safe plate

, then prick it with a fork 5 or 6 times – this will prevent it from exploding while cooking.
Cook for about 4 minutes on high power.
Remove from microwave and test by pressing it gently with your fingers – if there is any resistance, try again for another minute or two (or until soft).
Let cool before peeling off the skin for about 10 minutes.
Related: How To Bake Sweet Potatoes
How To Bake A Potato In The Oven
Baking a potato in the oven is one of the easiest ways to prepare a delicious, complete meal. Follow these instructions, and you will soon have a warm, fluffy potato ready for your favorite toppings.
Preheat the oven to 400 F / (200 C).
Place the potatoes on a baking sheet lined with

parchment paper

.
Cover the potatoes with

foil

and poke holes in them – this will help steam escape and retain moisture.
Bake for 45-55 minutes until the skins are crispy and puff up. 
Eat with butter and bacon or something.
How To Bake A Potato In An Air Fryer
Baking a potato in an air fryer is very easy. All you need to do is make sure the air fryer basket is clean and dry, then preheat it and sprinkle it with a cooking spray. A step-by-step guide below will lead you to a perfectly cooked baked potato in the air fryer.
Preheat the air fryer to 390 F.
Put your potato in the air fryer basket, sprinkle with salt, and

cooking spray

.
Cook on 390 F (200 C) for about 35-40 min, or until cooked through. Remove from the air fryer and let cool before peeling.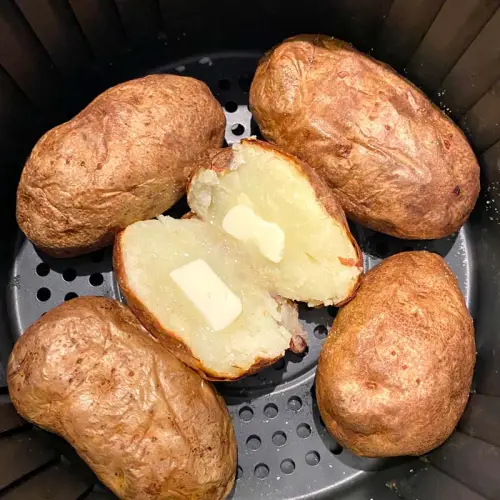 Related: How To Choose An Air Fryer
How To Bake A Potato In The Slow Cooker
Over the years I have seen many different ways that people try and make their meals without actually setting aside extra time for cooking. One of the most popular ways of saving time when cooking is by using a slow cooker.
This is one of my favorite ways to cook myself. It allows me to push a button and walk away from it while I do other things throughout the day. In the long run, it saves me more time than everything else that I have tried before it.
Place your potatoes on a slow cooker dish or pan, then cover with a lid.
Set to saute mode and cook for 2-3 hours, or until soft.
When ready, remove from slow cooker and let cool.
How To Bake A Potato On The Grill
The secret of cooking potatoes in this way does not need much oil. Potatoes don't need to be soaked in oil like French fries. They'll cook just fine with a little bit of oil drizzled on them.
Rub the potato with

olive oil

to prevent it from sticking to the grill.
Be sure your grill is properly heated before placing potatoes on it and be sure to flip them regularly until done. 
Remove from grill and let sit to chill.
How To Bake A Potato Fast
The main problem with most potato dishes is that they take time. Generally speaking, potatoes require hours in the oven or crockpot to break down. One of the quickest and easiest ways of making a delicious potato dish is to bake it in the oven – this can be done quickly within about 40 minutes in your kitchen.
Poke the potato with a fork to avoid explosion.
Place a whole potato in a

microwave

and cook it on high for 5 min. Take the potato out of the microwave, then cut it in half lengthwise. Place each half, cut side down, on an oiled baking sheet or

nonstick skillet

.
Bake at 400 F (200 C) for about 25 minutes, or until soft in the middle – check by pressing with your finger.
Remove from oven and let cool before serving.
Related: Best Nonstick Pans
How To Bake A Potato In Foil
It sounds strange, but it's a genius idea: wrap a potato in foil with some butter and seasoning, then bake it in the oven for 30 minutes. The result is a baked potato with crispy skin and tender flesh. Here's how to make one.
Preheat oven (preferably on top rack) to 400 degrees Fahrenheit.
Line baking sheet with parchment paper. Place baking sheet in the oven.
Wash potatoes thoroughly with water and shock under cold water. 
Place washed potatoes on a baking sheet.
Wrap potatoes using

aluminum foil

with butter and seasoning on your preference. The foil should be placed parallel from top to bottom so that the closest side of the potato is covered by foil.
Bake potatoes in the oven for about 30-40 minutes, until soft and done.
Serve with baked vegetables, grilled chicken, or steak and enjoy.
How To Bake A Potato Without Foil
If you're avoiding using aluminum foil for some reason and want to cook a potato, the best way is to place the potato on a sheet of parchment paper and then wrap it up like a present. The result will be a tasty, crispy skin and an evenly cooked potato inside. You'll also need an ovenproof dish that's big enough to hold the potato in one piece.
The key to this method is to use a potato that has filled out its skin (so make sure it's not too small) and spend the appropriate amount of time baking it. You take it out when a skewer inserted in the middle comes out clean.
To bake potato without foil, you need to place a baking sheet in the oven and then place the potato on it. Bake at 400 °F (200 °C) for about an hour until the skin is golden brown and cooked all the way through, turning halfway through.
How To Bake A Potato Quickly
I have always had a very long way of baking potatoes before. Maybe not the longest, but I would usually wait for the oven to be 350 degrees and then put them in there.  Now I see that some people just put them in the microwave for 6 minutes, and it seems much easier because you don't have to wait at all.  It also doesn't feel as wasteful because you're not heating your house with an oven when it's hot outside.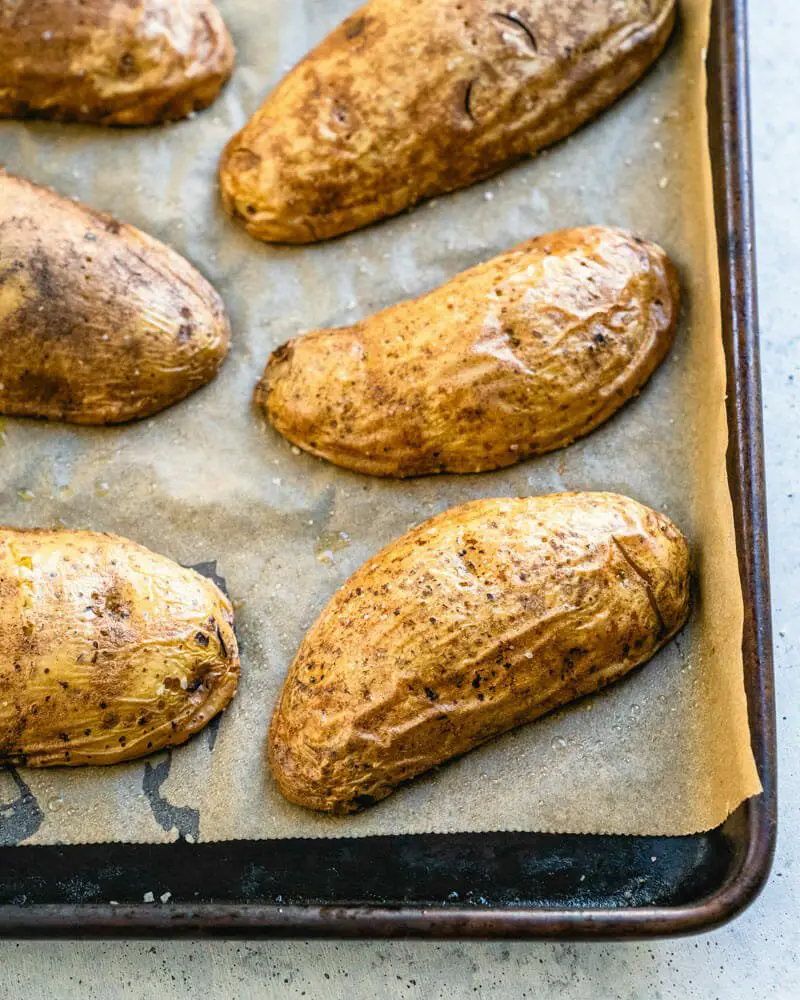 But the thing is, I feel like this type of cooking can be better or different than just using an oven, which I think is the best way to cook potatoes.
So I decided that today I would figure out how to bake a potato in my microwave and make it taste delicious. So far, so good! It's done! Yay! 
How To Bake Sweet Potatoes
Sweet potatoes have become one of the most popular vegetables for eating. They are delicious and versatile, but they are also nutritious, with high Vitamin A and potassium levels. Follow these easy steps to bake sweet potatoes.
Wash your sweet potatoes and prick them with a fork a few times. Place them on a pan lined with foil or parchment paper and bake them in the oven at 350 degrees Fahrenheit for 1 hour to 1 hour 15 minutes or until tender when poked with a knife or tested with a fork.
Let the potatoes cool for 5 minutes. If they are still very moist, let them cool longer before serving.
When you are ready to serve, prepare the toppings and seasonings that you want to use.
How Long To Bake A Potato
According to numerous recipes and suggestions, potatoes should be baked for about 45 minutes at 375 degrees Fahrenheit. This is an estimate since it depends on the type of potato and how well it is naturally cooked.
The point of cooking a potato this way is to get crispy, crunchy skin on the outside with a moist inside. This process works best if you pierce the skin before baking so that you can let steam escape and keep moisture in while cooking.
Can A Potato Explode In The Microwave?
A potato could explode in the microwave if it's not properly wrapped or it was microwaved for too long. It is also can explode in a microwave, if it is cut open leaving the inside exposed to air.
When microwaves heat up food, they do so unevenly. The outside of the potato will be heated much more quickly than the inside of the potato. This uneven heating causes pockets of hot gas to form in the food (think about how you see convection currents when boiling water on your stove). The potatoes skin cannot retain all this pressure and eventually explodes.
It's generally a good idea to put your potatoes whole into your microwave and give them 5 more minutes before poking at them with a fork or knife. That way they are probably cooked evenly throughout without exploding. It's also recommended that you poke a potato with a fork or wooden toothpick.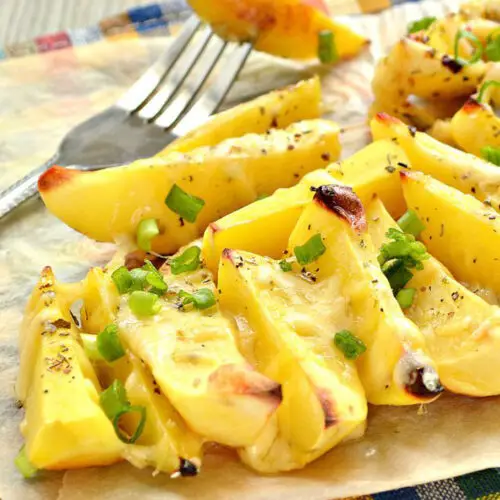 Jacket Potatoes Recipe
These easy Air Fryer baked potatoes are a creamy and cheesy side dish that is a perfect addition any meal. You can also use it like a snack. Hearty baked potatoes are topped with sour cream, cheese, and chives.
Ingredients  
4

medium-sized Russell potatoes

1

tbsp

unsalted butter

1

tbsp

sour cream

1

tbsp

chives

chopped

2

oz

cheese

grated

⅛

tsp

freshly ground black pepper

¼

tsp

salt
Instructions 
Prepare four medium-sized potatoes, wash themand dry with kitchen towels. Stab potatoes with a fork so that they canbreathe.

Preheat the Air Fryer at 370 F. Place potatoesinto the Fryer basket and cook for 15 minutes, until tender and golden.

Meanwhile, prepare your filling. In the medium mixing bowl combine sour cream with grated cheese and chives until it isequally mixed.

When the jacket potatoes are cooked open them upand spread with butter followed by your topping mixture.
The Best Potato Recipes
Below I gathered best potato recipes from my personal collection. Hope you'll find something interesting for your family:
FAQ – Frequently Asked Questions
Is It Safe To Bake Potatoes In Aluminum Foil?

Yes, you can bake potatoes in aluminum foil. You can also use it to make pot pies or steam vegetables for a healthy side dish. The foil retains heat and prevents the potatoes from drying out and acting as a natural barrier against burning skin during handling.

It's also reusable, which is always a bonus! However, avoid putting any other metal in the oven with aluminum because this will cause chemical reactions that could lead to serious consequences such as explosions.

Do You Have To Poke Potatoes Before Baking?

Yes, many people recommend it because it helps release the steam. Plus, if they're not poked, then they will explode when you bake them. If you don't want the potatoes to explode, then go ahead and poke them!

What Temperature Should A Baked Potato Be Cooked At?

A baked potato should be cooked in a hot or moderate oven at 425 degrees Fahrenheit.