Fried Chicken Wings Recipe
The post may contain affiliate links. For more information, check my disclosure.
Fried chicken wings is America's favorite comfort food, and it is also one of the most unhealthy foods on the planet. One of the reasons is that frying chicken in oil adds an incredible amount of fat and calories into what is already a high-calorie dish.
But you don't have to fry up your fried chicken wings anymore! The NuWave oven cooks tasty fried chicken without all the fat, calories, and messiness of frying.
Related: The 5 Best NuWave Pressure Cookers To Buy
Related: Best NuWave Recipes For Beginners
The first step to making fried chicken in your NuWave oven is to get chicken wings! The trick is to find a good deal on chicken wings. You can also use chicken breast, but the breast will not have that nice crunch that you expect from fried chicken.
The next step is to marinate your chicken wings or have the marinade ready for dipping the cooked wings after they come out of the NuWave oven. There are thousands of recipes for marinades, and it's up to you what you feel like making. Most recipes use soy sauce, sesame oil, and lemons with some garlic and ginger mixed in there as well. Keep reading to learn how to make fried chicken wings in the NuWave oven at home.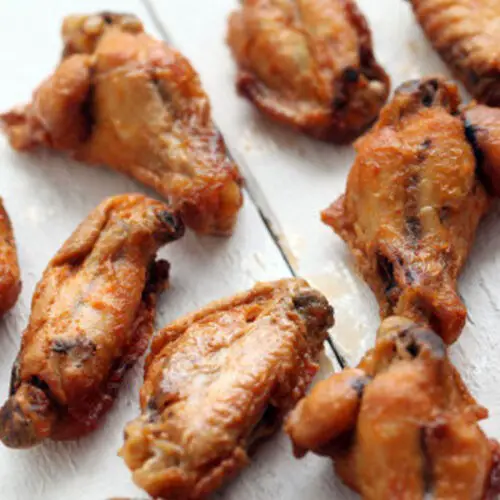 Fried Chicken Wings Recipe
This is a simple recipe for NuWave Oven crispy fried chicken wings. Get SO much flavor and cook tender, juicy wings that are perfect comfort food.
Ingredients  
1

pound

chicken wings

⅓

cup

grated Parmesan cheese

⅓

cup

panko breadcrumbs

⅛

tsp

powdered garlic

⅛

tsp

powdered onion

⅛

tsp

freshly ground black pepper

¼

cup

melted butter

¼

tsp

salt

cooking spray
Instructions 
In a baking sheet, spray with cooking spray.

In a large mixing bowl combine Parmesan cheese, garlic powder, onion powder, blackpepper, breadcrumbs and salt. Stir to combine.

Dip chicken wings one at a time into melted butter and then into bread mixture until thoroughly covered. Arrange wings in single layer on the baking sheet.

Place on 1-inch rack and cook on High power (350 F) for 10 minutes. Flip wings overand cook for another 10-12 minutes until no longer pink in centre and juices run clear. Remove promptly from NuWave Oven.

Serve with dipping sauce on your preference.
I Hope this recipe was helpful to you in your pursuit of a solution to your party menu list. If you loved it just drop a line in the comment section – I will get back quickly.
FAQ – Frequently Asked Questions
How Do You Air Fry Chicken Wings In A Nuwave Oven?

There are inevitably people who are skeptical about using an air fryer for cooking fried chicken wings. After all, something so heavily battered and fried is traditionally cooked in hot grease or oil. But the truth is, the Nuwave oven does not use any cooking oils whatsoever. Instead, it relies on infrared energy to cook your food with little to no added fat throughout the process. 

How Long Do Chicken Wings Take In Nuwave?

In a NuWave oven, it takes about 15 minutes for the wings to cook thoroughly. In a traditional oven, it may take up to 45 minutes if you're not cooking at a high enough temperature.

How Many Minutes Should You Air Fry Chicken Wings?

In the Nuwave oven, cooking frozen chicken wings will take about 45 minutes to an hour. If you're going to cook defrosted wings, it will take nearly 15-20 minutes, depending on their size and quantity.