French Toast Sticks Recipe
The post may contain affiliate links. For more information, check my disclosure.
French Toast Sticks are a classic way to start the day. While they may not be the most healthy breakfast option, they taste delicious and make for a quick and easy breakfast!
Not only that, but toast sticks are one of those recipes you can find on just about every website ever created – including here on OneDollarKitchen.com! That being said, today we're going to show you how to make them. 
Related: Top 10 Best Air Fryers To Buy
Related: 16 Air Fryer Tips Every Fryer Owner Should Know
They're easy to make, with ingredients that you probably already have on hand, and they can satisfy many people. Whether eaten for breakfast or as a snack, these little sticks are sweet, satisfying, and totally delicious. But how do you make them? Well, here's how!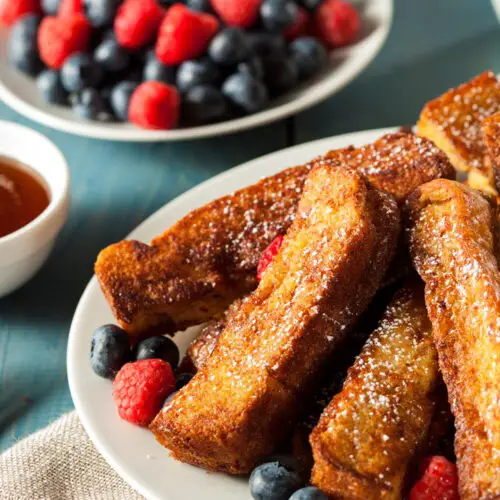 French Toast Sticks Recipe
Want something new and crispy in the morning? Then, try these amazing French Toast Sticks in the Air Fryer. You can apply any dipping on your preference, such as honey or so. Just try in now you you'll be hooked!
Ingredients  
4

pieced

white bread

sliced

2

tbsp

soft butter

2

large eggs

beaten

¼

tsp

cinnamon

¼

tsp

nutmeg

¼

tsp

cloves

ground

Icing sugar for garnish
Instructions 
It the bowl beat two eggs, sprinkle with salt,cinnamon, nutmeg and ground cloves.

Butter both sides of bread and cut into stripes.

Preheat the Air Fryer to 350-370 F.

Dip each bread strip into the egg mixture andthen put into the air fryer.

Cook for about 5-8 minutes until eggs are cookedand bread become golden.

Garnish with icing sugar and top with cream ormaple syrup (as for your desire).
I wrote a short review about best air fryer recipes for begginers in my own opinion. Hope that not only begginers but advances Air Fryer users will find something interesting to cook!
FAQ – Frequently Asked Questions
How Do You Make French Toast That's Not Soggy In The Middle?

This one is easy. The key to French toast that doesn't turn into a soggy mess around the edges is simple – you're cooking it too long. To avoid this, just cook your French toast for between two and four minutes on each side, depending on how thick you like your bread.

My preferred method for an absolutely perfect result? Just dip bread in egg mixture until it's completely coated (so the egg coats both sides) and then cook on one side until golden brown before flipping over and cooking on the other side until golden brown as well.

Should You Let Bread Dry Out For French Toast?

Yes, if you follow the instructions. If the bread is not completely dry, the batter will flow out of it and leave a sticky mess all over your pan.

How Long Do You Cook French Toast Sticks?

There are many different recipes out there for French Toast Sticks. Your cooking time will depend on whether you're using fresh or dry bread, the thickness of the bread, and the thickness of your sticks. To get evenly cooked French toast sticks, you should cook them at a 330-350 degrees Fahrenheit temperature for about 5-8 minutes.