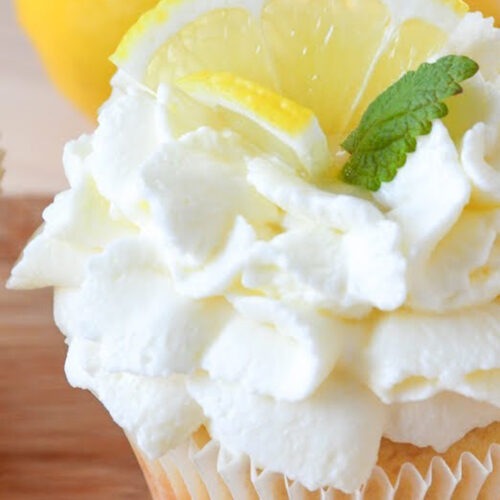 Flourless Lemon Cupcake Recipe
Vegetarian and gluten free. Moist and delicious this Flourless Lemon Cupcakes are very easy to make. Being a naturally gluten free lemon cupcake, this recipe is a true crowd pleaser and great for afternoon tea or holidays.
Ingredients  
1

cup

Greek yoghurt

8

soft cheese

2

large eggs

beaten

1

egg yolk

1

tsp

vanilla extract

1

large lemon

both juice & zest

¼

cup

caster sugar
Instructions 
In the large bowl mix together the Greek yoghurt and the soft cheese until they are nice and creamy and are like a mayonnaise. Use the wooden spoon or hand mixer. Beat the eggs and mix again. Add the sugar, vanilla extract and the lemon and mix again.

You need to get a creamy mixture and you need to fill 6 cupcake cases with the contents. Put the rest to one side for later.

Preheat your Air Fryer to 360 F and cook the cupcakes for 10 minutes. Then increase the temperature up to 390 F and cook for a further 10 minutes.

Meanwhile, the cupcakes are cooking remove the contents of your bowl into a cupcake nozzle and place in the fridge for 10 minutes.

When the cupcakes are done allow them to chill for 10 minutes.

When they are cool using the nozzle create the top layer of your cupcakes. Refrigerate for 2-4 hours so that your cupcake topping has time to properly set and then decorate with spare lemon.
I wrote a short review about Best Air Fryer Recipes for Begginers in my own opinion. Hope that not only begginers but advances Air Fryer users will find something interesting to cook!
If you still have no Air Fryer in your kitchen it's highly recommended to check the list of Top-10 Best Air Fryers every kitchen needs.

But if you are already have this wonderful and helpful appliance, maybe you'll be interesting in 16 Air Fryer Tips Every Fryer Owner Should Know. I'm sure some of them you didn't even hear about!