Easy Stuffed Mushrooms Recipe
This famous appetizer recipe is simple to make and tastes great! Easy stuffed mushrooms recipe will be perfect for family dinner or party. Easy and cheesy stuffed mushrooms specially for you!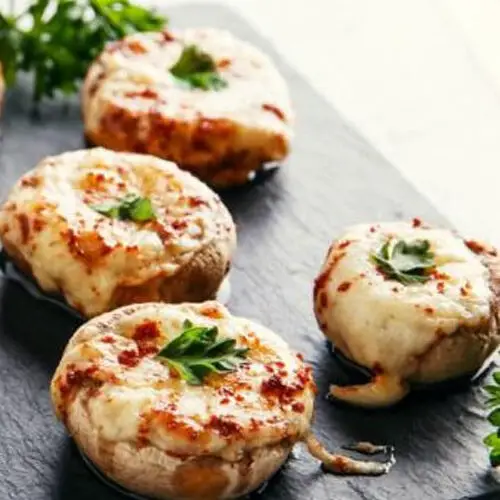 Easy Stuffed Mushrooms Recipe
Ingredients  
12

ounces

medium-sized white mushrooms

6

tablespoons

salted butter

divided

½

teaspoon

onion powder

½

teaspoon

garlic powder

1

teaspoon

dried thyme

½

teaspoon

paprika

A pinch of salt

¾

cup

breadcrumbs

⅓

cup

parmesan cheese

grated

1

tablespoon

fresh parsley

finely chopped
Instructions 
Rinse the mushrooms lightly to clean them, but don't use too much water. You don't want them to get soggy.

Carefully break off the mushroom stems (they should come off easily, or you can cut them). Set them aside and toss them into a vegetable stir-fry, vegetable stock, lo mein, or an omelette!

Pat the mushroom caps dry with a paper towel, and arrange them neatly on a sheet pan with the cap side up.

Heat 6 tablespoons of butter in a small saucepan over low heat until it's just melted. Remove from the heat.

Use a brush to lightly brush the mushroom caps with melted butter, turning them over afterwards so they are top-side down.

Preheat the oven to 375 degrees F. While the oven is preheating, make the stuffing. Stir ½ teaspoon onion powder, ½ teaspoon granulated garlic, 1 teaspoon dried thyme, ½ teaspoon paprika, and ¼ teaspoon salt (or to taste) into the butter until well combined. Use a rubber spatula to mix in ¾ cup plain or Italian breadcrumbs until all the breadcrumbs are saturated with butter.

Add 1/3 cup grated parmesan cheese and 1 tablespoon finely chopped fresh parsley, and stir to combine.

Stuff a spoonful of breadcrumb mixture into each mushroom cap but don't pack or compress the stuffing which will keep your stuffed mushrooms light and flaky, then bake them for 9-12 minutes. The mushrooms should be cooked through, but firm enough to pick up with your hands. You don't want to overcook them, or they'll be droopy and hard to handle.

Serve immediately and enjoy!
Thank you for visiting my blog! Hope you will enjoy this recipe. If you have any questions or ideas just drop a line and I will answer quickly. You can also check other appetizer and snack recipes for home cooking.
I hasten to inform that I collect most interesting recipes and publish them in easy to follow recipe books. Please check my cookbook collection and choose the books you like the most.
FAQ – Frequently Asked Questions