Easy Pork Tenderloin Recipe
The post may contain affiliate links. For more information, check my disclosure.
This recipe is easily delicious, and you can make the entire thing in one air fryer. I'm going to show you how to use your air fryer to create a quick, flavorful pork tenderloin that will be ready in minutes from start to finish. Yes, this dish is even better than the oven-roasted version!
You no longer need expensive culinary skills or a big kitchen for this one-skillet wonder. With simple seasonings and a few minutes of your time, you will have this tasty meal on the table in no time. This pork tenderloin recipe is so easy you can almost make it with your eyes closed. The meat is moist and flavorful, and the air fryer helps break down the connective tissue for faster cooking.
The tenderloin is called a "tender" for a reason: it's an incredibly healthy cut of meat with many health benefits. This easy pork tenderloin in an air fryer is made with one of the healthiest cuts of meat you can find. It has a healthy dose of fat and protein but no carbs.
Related: How To Choose An Air Fryer
Related: Best Air Fryer For Large Family
It's also extremely high in muscle-building protein, and this cut is naturally low in sodium and packed with dietary fiber to help keep you feeling fuller for longer. You might even lose weight since it's so satisfying! Keep reading to learn how to make easy pork tenderloin in an air fryer.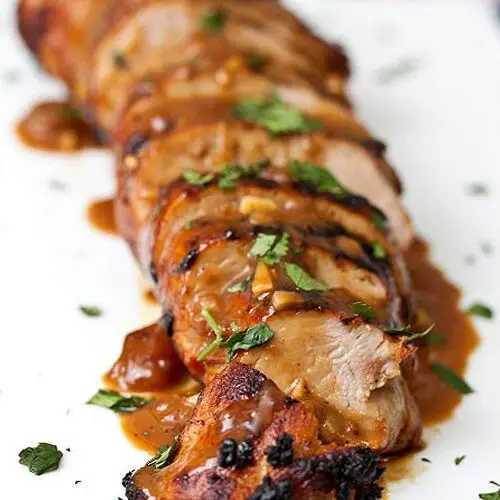 Easy Pork Tenderloin Recipe
Classic pork tenderloin recipe in the air fryer. Learn how to cook tender and juicy pork loin with herbs for your perfect dinner.
Ingredients  
1

pound

pork tenderloin

1

medium red or yellow pepper

sliced

1

large red onion

sliced

2

tablespoon

Provencal herbs

1

tablespoon

Olive oil

½

tablespoon

mustard

Ground black pepper

Salt

to taste
Instructions 
In the large bowl mix sliced pepper and onion, Provencal herbs, salt and ground pepper to taste. Also, add olive oil to this mixture.

Cut the pork tenderloin into 4-6 large pieces, scrub with salt, ground pepper, and mustard.

Preheat your Air Fryer to 370-390° F.

Place vegetable mixture to the air fryer.

Coat meat pieces with olive oil and place them up to the vegetables.

Cook for 15 minutes until meat and vegetables will become roasted.

Turn the meat and vegetable in the middle of cooking process.
The Bottom Line
I wrote a short review about best air fryer recipes for begginers in my own opinion. Hope that not only begginers but advances Air Fryer users will find something interesting to cook!
If you still have no Air Fryer in your kitchen it's highly recommended to check the list of Top-10 best air fryers every kitchen needs.

But if you are already have this wonderful and helpful appliance, maybe you'll be interesting in 16 air fryer tips every fryer owner should know. I'm sure some of them you didn't even hear about!
FAQ – Frequently Asked Questions
What Temperature Do You Cook Pork In An Air Fryer?

The average temperature of the air fryer should be 370-390 degrees Fahrenheit. I always recommend using a meat thermometer to guarantee you're cooking the pork at the correct temperature.

Can You Put Aluminum Foil In An Air Fryer?

Yes, you can! The air fryer is not actually cooking anything with oil; it uses the hot air to cook your food. So there are no worries about aluminum foil catching on fire, but please note that if you use aluminum foil, please be careful to remove it before your food is done, not to burn yourself.

How Do I Preheat My Air Fryer?

You must preheat your air fryer before dumping food into it. To preheat an air fryer, find the power button on the front of the appliance and press it. The power light will turn from red to green with a beep sound confirming that it has been turned on properly. Now go ahead and set your timer for 5 minutes and the temperature for about 300 degrees Fahrenheit, depending on what type of dish you are making.