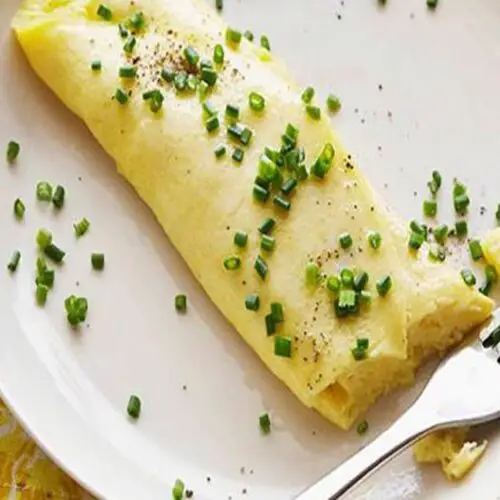 Classic French Omelette Recipe
A Classic French Omelette has a smooth, silky exterior with little to no browning that cradles a tender, moist, soft-scrambled interior. This is a perfect idea for your healthy breakfast or simple and quick snack.
Ingredients  
3

large eggs

Kosher salt and freshly ground white or black pepper

1

tablespoon

15g unsalted butter
Instructions 
In a medium bowl, beat eggs with fork. Season with salt and pepper.

In a 8-inch nonstick skillet, melt butter over medium heat, until fully melted but not browned. Add eggs and stir rapidly with fork, tines up, while shaking pan to agitate eggs; make sure to move fork all around pan to break up curds and scrape them from bottom of skillet as they form. Stop stirring as soon as eggs are very softly scrambled and creamy (but still loose enough to come together into a single mass), 1 to 2 minutes.

Using fork, gently spread egg in an even layer around skillet and scrape down any wispy bits around the edges. The top surface should be loose and creamy, but if it looks too liquid and raw, cook undisturbed for another few seconds. (If it still flows, you can swirl skillet to send loose egg to the edges, where it will set more quickly.)

Remove from heat, tilt skillet up by its handle, and, using fork, gently roll omelette down over itself until it is nearly folded in half. Using fork, push omelette to edge of skillet so that lower edge of egg begins to just barely overhang; use fork to fold overhanging edge of egg up, closing omelette.

Hold skillet right over plate and turn omelette out onto it.

Serve with toasts, cherry tomatoes, cheese, ham, and anything else you prefer.
Thank you for visiting my blog! Hope you will enjoy this recipe. If you have any questions or ideas just drop a line and I will answer quickly. You can also check other Breakfast and Brunch Recipes for home cooking.
I hasten to inform that I collect most interesting recipes and publish them in easy to follow recipe books. Please check my cookbook collection and choose the books you like the most.