Chocolate Chip Cookies Without Vanilla
What do you think of when you hear about chocolate chip cookies? Vanilla, right? Well, what if we told you that there is a way to make cookie dough without vanilla? We're not saying that these are our favorite cookies of all time – they have a lighter flavor, and some people prefer them. But they are perfect for someone with an allergy or in some other situation where they cannot consume any vanilla – but still want an addictive treat.
In this article, you can find chocolate chip cookies without vanilla recipe and a list of vanilla extract substitutes. These recipes should be experimented with, so the reader can find one they enjoy best.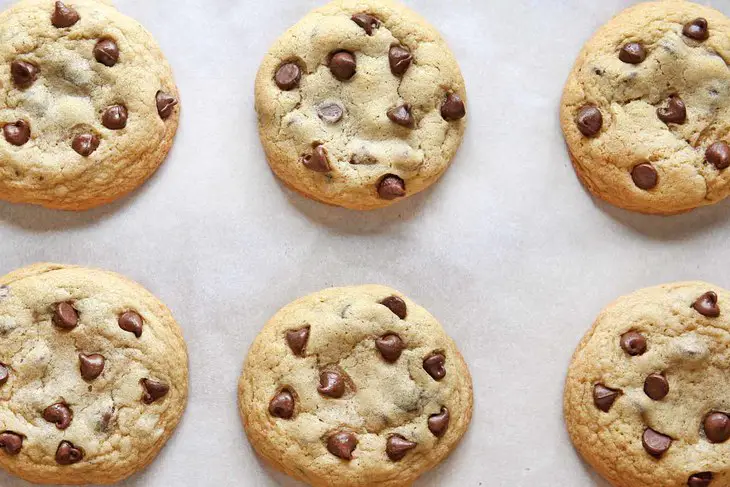 The post may contain affiliate links. For more information, check my disclosure.
Jump to Recipe
What Is A Vanilla Extract?
Vanilla extract is used as a flavoring agent in baked goods, sweets, and other foods. It is made out of vanilla beans, alcohol, and water. 
The process of creating the extract begins by soaking the vanilla beans in water and alcohol for a specified amount of time. Then they are removed from the liquid, and the remaining liquid has vanilla flavor added to it. This mixture is filtered and processed until it becomes a liquid extract that can be used for baking or other food preparation.
Related: Oatmeal Cookies Without Brown Sugar
Related: Banana Oatmeal Cookies Recipe
Substitutes For Vanilla Extract
The most popular substitutes for vanilla extract are the following.
Maple Syrup
Maple syrup is used to create a substitute for vanilla extract in some recipes. It's a natural sweetener that can be found in many grocery stores, and it is made from maple tree sap that has been boiled and then evaporated by heat. To achieve the desired effect, maple syrup can be substituted up to 3 tablespoons for each 1 tablespoon of vanilla extract needed to replace it in a recipe.
Almond Extract
Almond extract was created in the early 20th century as a safer alternative to real vanilla extract made with alcohol because it only contains pure almond oil instead of alcohol.
Bourbon Or Brandy
Vanilla extract can be substituted with alcohol, such as bourbon or brandy. These options make a less potent extract than pure vanilla extract. To replace the vanilla extract with bourbon, use the same amount of alcohol as vanilla extract (1 teaspoon). Brandy is equally effective if substituted with 1 tablespoon per teaspoon of vanilla extract in a recipe.
Honey
Honey is an alternative to pure vanilla extract when baking sweets and other items. Vanilla extract can be substituted with more or less honey in a recipe. It's best to use about 1 tablespoon for each teaspoon of vanilla extract needed in a recipe.
Agave Syrup
Agave syrup is a liquid sweetener that comes from the agave cactus. It doesn't have any distinct taste, but it can be used as a substitute for vanilla extract in recipes when you desire a little bit of flavor without making it too strong or overpowering the recipe's flavor. To substitute agave syrup, use the same amount as you would vanilla extract in recipes that need it (1 teaspoon per each teaspoon of vanilla extract).
Related: Breakfast Banana Cookies Recipe
Related: Sugar Cookies Without Butter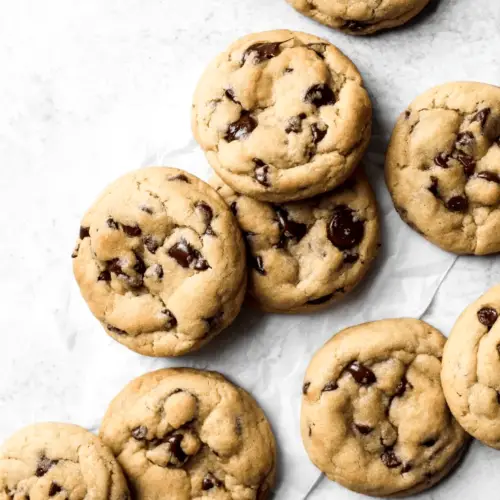 Chocolate Chip Cookies Without Vanilla Recipe
Ingredients  
2 1/4

cups

all-purpose white flour

1

tsp

baking soda

1/2

tsp

salt

1

cup

of softened butter

3/4

cup

white sugar

¾

cup

brown sugar

2

large eggs

1 12

oz

bag of semi-sweet chocolate chips
Instructions 
Preheat oven to 350 F.

Mix flour, baking soda and salt in a medium-sized bowl and set aside.

In a separate bowl add sugar and softened butter. Mix together with a wooden spoon until the mixture becomes creamy and smooth.

Add eggs, one at a time, to the butter mixture and blend thoroughly.

Add dry ingredients gradually to the creamed butter mixture until dough forms.

Mix chocolate chips into the dough.

Use a cookie scooper or tablespoon to drop dough onto a cookie sheet.

Bake for 10-12 minutes or until golden brown.
The Bottom Line
While most people might be unaware of this, making a batch of chocolate chip cookie dough without vanilla is possible. The best part is that you don't need to sacrifice the taste you love for the ingredients you can't have.
There are multiple substitutes for a vanilla extract that you can use to replace it in recipes and still end up with a recipe that tastes as good as all your others have. The substitutes aren't just corn syrup, either (though we'll throw corn syrup into the mix, it makes a good substitute if all else fails). Maple syrup is an excellent option because maple trees produce natural products, unlike alcohol. I hope this article gave you vast information about how to make chocolate chip cookies without vanilla at home.
FAQ – Frequently Asked Questions
Is It OK To Make Cookies Without Vanilla Extract?
It is not okay to make chocolate chip cookies without vanilla extract, but several flavorings can be substituted: maple syrup, almond extract, bourbon or brandy (or rum), and honey. If you don't have a bottle of vanilla extract in the cupboard, then this substitution will work fine in your kitchen.
What Can I Use If I Don't Have Vanilla For Chocolate Chip Cookies?
Chocolate chip cookies are a classic American recipe, and it's never been easier to add new flavors with substitutes for vanilla extract than it is today. There are many options when you want freshness in your baking without the vanilla flavor. You can easily substitute vanilla extract with maple syrup or almond extract.
What Can I Use In Place Of Vanilla Extract?
Maple syrup is a great replacement for vanilla extract. It has a similar taste but with a more robust maple flavor. This makes it perfect for cookies and other baked goods that require vanilla. Almond extract is also another alternative for substituting vanilla extract in your recipes.