Cheese And Bacon Muffins Recipe
The post may contain affiliate links. For more information, check my disclosure.
These muffins are perfect for breakfast, lunch, or dinner. The bacon makes them slightly salty, and the cheese gives them a slightly sweet flavor. These are easy to make and are great for your taste buds. Cook one of these today and see what you like!
The cheesy bacon muffins in the air fryer will not disappoint anyone passionate about their food choices because they have a lot of different flavors that come together to create a snappy snack. The savory aftertaste from the bacon sets the mood for this recipe as it embraces your tastebuds with its flavor profile.
Related: How To Choose An Air Fryer
Related: Best Air Fryer For Small Spaces
The savory aspect of the cheese and the bacon leave behind a subtle savory aftertaste. The warmness of the muffin will have you feeling as if you have just gone to a five-star restaurant for your brunch. This will be the perfect addition for a weekend morning meal or an afternoon snack on any day of the week!
The cheese and bacon are lovely to look at and highly appetizing in your mouth; using one muffin would be enough. Keep reading to learn how to make cheese and bacon muffins at home.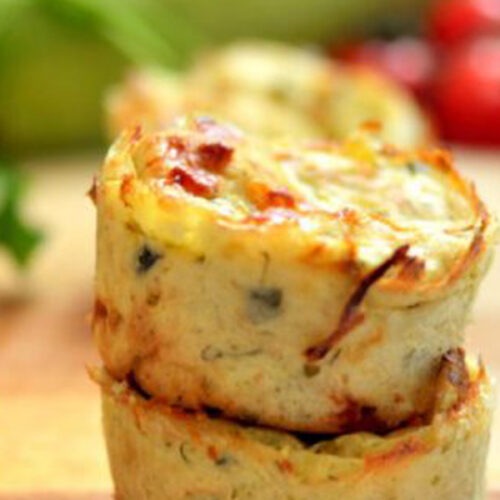 Cheese And Bacon Muffins Recipe
Quick and easy muffins make you life tastier. Most ingredients you can find in your kitchen. Just try it and surprise your family
Ingredients  
1½

cup

all-purpose flour

1

egg

beaten

3-4

bacon slices

1

small onion

sliced

½

cup

cheese

shredded

2

tsp

baking powder

2

tbsp

vegetable oil

1

cup

skimmed milk

1

tsp

dried parsley

crushed

⅛

tsp

black pepper

ground

A pinch of salt

to taste
Instructions 
Preheat the sauté pan over the medium-high heatand cook the bacon. When it's almost done add the onion and cook for coupleminutes, until transparent and set aside.

Combine parsley, baking powder, all-purpose flour, and grated cheese. Then add milk, vegetable oil, egg and cooked bacon with onion. Mix with the wooden spoon until it becomes a sticky to thick dough.

Drain the oil from your bacon and onion and also add to the mixture.

Preheat the Air Fryer to 390 F.Spoon the mixture into six medium sized muffin cases and cook in the Air Fryer for 20 minutes. Then, reduce the temperature to 350 F and cook additionally for 8-10 minutes to make sure they are cooked in the center. Work in batches to finish all muffins.
I wrote a short review about best air fryer recipes for begginers in my own opinion. Hope that not only begginers but advances Air Fryer users will find something interesting to cook!
If you still have no Air Fryer in your kitchen it's highly recommended to check the list of the 10 best air fryers to buy.

But if you are already have this wonderful and helpful appliance, maybe you'll be interesting in 16 air fryer tips every fryer owner should know. I'm sure some of them you didn't even hear about!
FAQ – Frequently Asked Questions
Are Cheese And Bacon Muffins Healthy?

Cheese and bacon muffins are healthy. They're all-natural, low in calories, and gluten-free. They are a healthy alternative for breakfast or brunch options since they have low points on the Glycemic Index. You can also make appetizers using these muffins recipes for parties or gatherings at home.

Is It Difficult To Make Cheese And Bacon Muffins In The Air Fryer?

The crisp and golden cheese and bacon muffins in the air fryer are a snap to make with an appliance that's quick, easy, and efficient. You can cook up a batch of these savory snacks in minutes; they're so crowd-pleasing you'll wonder how you ever lived without this dish.

Are Cheese And Bacon Muffins Keto-Friendly?

Cheese and Bacon Muffins are a low-carb, high-fat meal that can be consumed while following a keto diet. This is a great way to get the macronutrients you need when following this diet. These muffins contain a surprisingly high amount of fat, which this type of diet aims to achieve.