Char Siu Pork Recipe
The post may contain affiliate links. For more information, check my disclosure.
Char Siu Pork is a traditional Chinese dish of roast pork with an aromatic sauce. The sauce is made with garlic, ginger, salt, and Shaoxing wine and is usually served over steamed rice or buns in sandwiches. It's best paired with barbecued pork or chicken skin crisps. This dish has been enjoyed by meat lovers in China for centuries.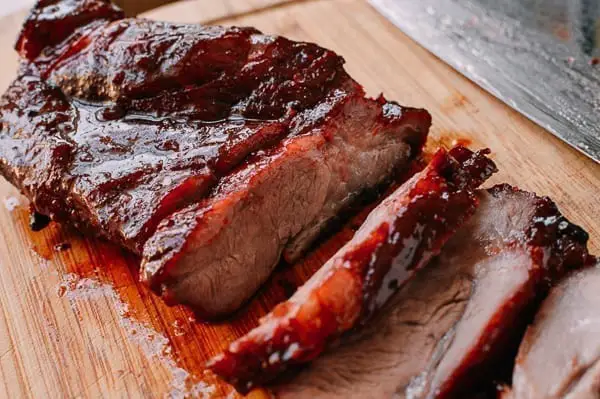 Char Siu Pork is made from marinated pork slices in a mixture of soy sauce, rice wine, honey, and five-spice powder, barbecuing them at high heat until the outside turns dark brown, but the inside remains juicy and tender. The pork is usually served in sandwiches or wraps with a special sauce and rice or pickled vegetables on top.
Related: Best Air Fryer For One Person
Related: Best Air Fryer For Large Family
In some parts of the world, there are bolder versions of Char Siu Pork which uses a special sauce made from fermented sticky rice and soy sauce. Generally, this dish is not eaten as a regular meal but as an accompaniment to other dishes like wok-fried noodles or slow-cooked duck. As such, the dish's ingredients are marinated in the liquid for several hours before it goes on the grill.
To make the traditional version of this dish, the meat is usually marinated in a mixture of soy sauce, honey, and five-spice powder for about 24 hours before being barbecued. The marinade also consists of sherry and cooking wine. There are also recipes that omit the five-spice powder and replace it with hoisin sauce. This dish has been enjoyed by meat lovers in China for centuries.
So, you can understand that there're various Char Siu Pork recipes available. Below you can find an easy Char Siu air fryer recipe that can be cooked in 30 minutes. Keep reading to learn more.
Char Siu Pork Recipe
Try this traditional Asias pork meal marinated in savory sauces and herbs.
Ingredients  
1

pound

pork tenderloin

3

tablespoon

hoisin sauce

3

tablespoon

sugar

3

tablespoon

soy sauce

2

tablespoon

corn syrup

2

tablespoon

mirin

2

tablespoon

olive oil

Salt and pepper to taste
Instructions 
Cut pork into 2-inch stripes.

Mix all ingredients besides oil together in a large bowl and then put the meat into marinade. Set aside at least for 40 minutes.

Discard marinade and sprinkle pork with olive oil.

Cook in the air fryer preheated to 380 F for 15 minutes.

Serve.
I wrote a short review about best air fryer recipes for begginers in my own opinion. Hope that not only begginers but advances Air Fryer users will find something interesting to cook!
FAQ – Frequently Asked Questions
What Is The Best Cut Of Pork For Char Siu?

A leaner cut of pork is best for char siu due to its low-fat content. However, marination of soy sauce and sugar can help render the fat from the meat as it braises. Many cookers prefer pork tenderloin for Char Siu.

What Is Char Siu Sauce Made Of?

Char Siu Pork (or "Chinese barbecue") is an authentic Chinese dish that has gained worldwide popularity for its smoky flavor and savory taste provided by the BBQ spices in the marinade. It is typically made of marinated pork, sugar, Worcestershire sauce, hoisin sauce, soy sauces, and oyster sauce.

Is Char Siu Pork Bad?

No, Char Siu Pork is one of the most healthiest forms of pork you can eat. It was developed by Chinese chefs who used it as a way to preserve the flavor of a pork dish. The real secret behind the dish is coal-cooking the meat for 12 hours and then slicing it thinly, which prevents excessive fat from melting during cooking.