Best Small And Compact Toasters
Every homemaker needs a reliable toaster. It's one of those kitchen appliances that can be used for various recipes made from different ingredients and can make your breakfast better, tastier, and healthier.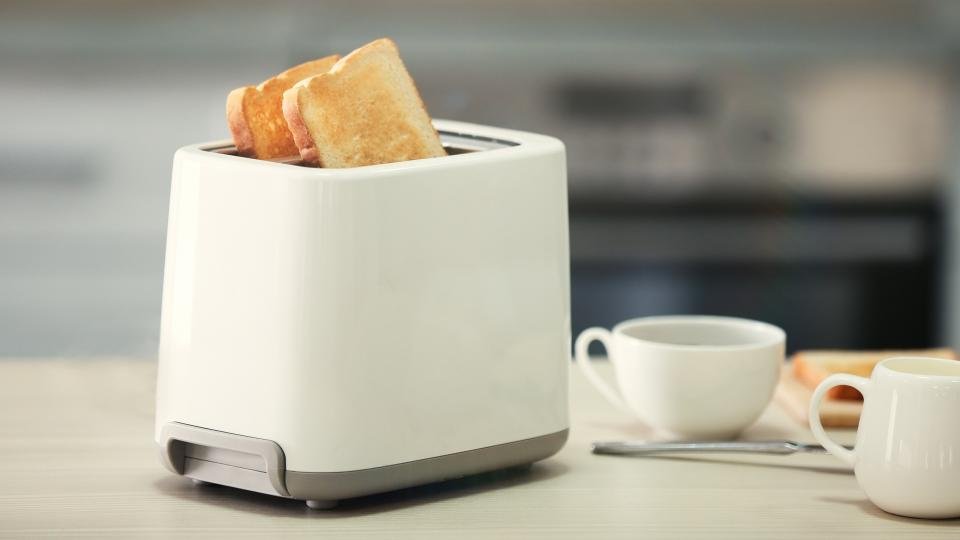 But not all toasters are the same, and choosing the best small compact toaster for your particular needs may lead you up a difficult hill because it's easy to be tricked by fancy packaging and popular marketing strategies. Follow this buyer's guide for tips on how to choose the best small and compact toaster for your needs, as well as sample products.
The post may contain affiliate links. For more information, check my disclosure.
Top 5 Small And Compact Toasters
If you're like most people these days, your abode is small, and space is at a premium. You also want something that does its job well without too much trouble. This Cuisinart 2-Slice Compact Plastic Toaster is the best option for folks who live in tight quarters and still want their toast on time.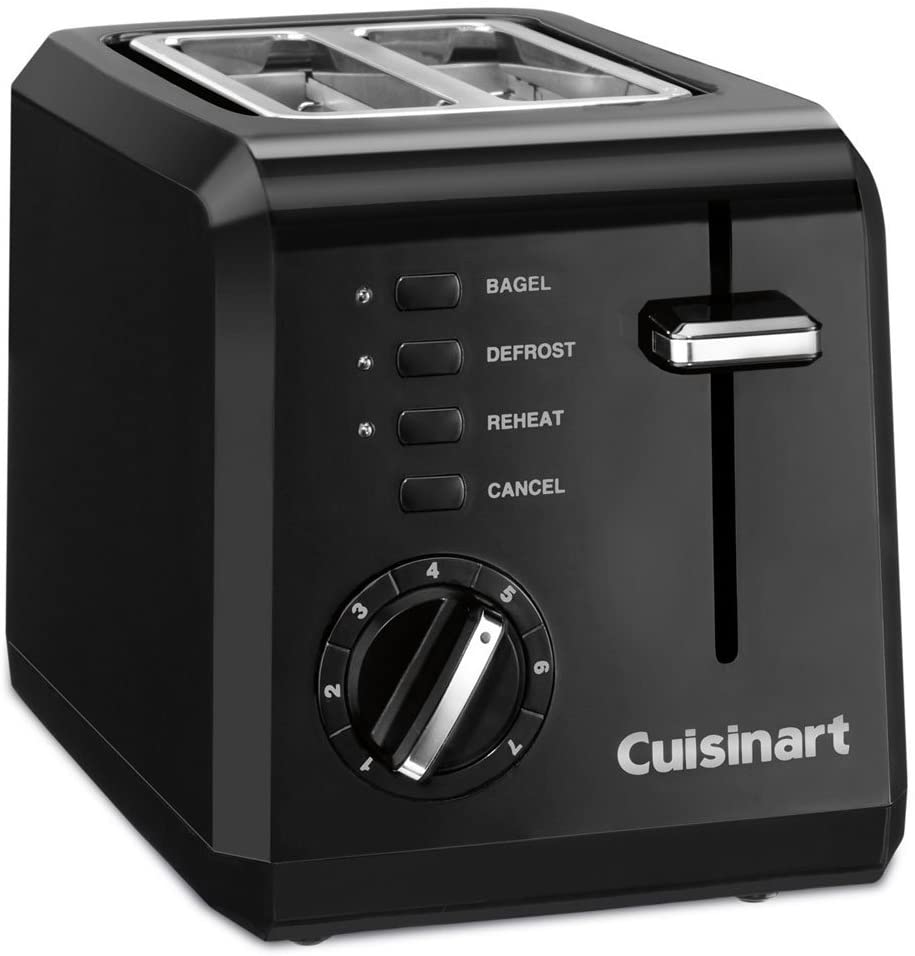 It has a sleek design that fits neatly into your kitchen decor and only takes up half the counter space of most other toasters. The toasting slot is small but still allows for a nice amount of toast to be cooked at once.
The exterior of the toaster is made of thick plastic. It's also easy to clean, so you don't have to worry about germs or crumbs getting the best of the appliance.
Besides the plastic construction, this Cuisinart 2-slice compact space-saving model also has seven settings, including a defrost mode and a bagel setting that works well on warm bread.
What I Like
The Cuisinart 2-Slice Compact Plastic Toaster is an excellent toaster for people who like toast but don't have a lot of counter space.
It is perfect for those who live in small apartments. 
This model is easy to use, even if you're not the most technologically advanced person.
The controls are simple; there aren't any unnecessary features that complicate the process of using it for its intended purpose – making toast or bagels.
If you're looking for a small, compact toaster with wide slots and adjustable guides, the Lofter Long Slot Toaster might be just what you need. With its two basic functions, defrosting and reheating, this device is great for any kitchen. Moreover, all bread crumbs are collected in a removable tray at the bottom of the toaster, so this appliance has everything you could ask for.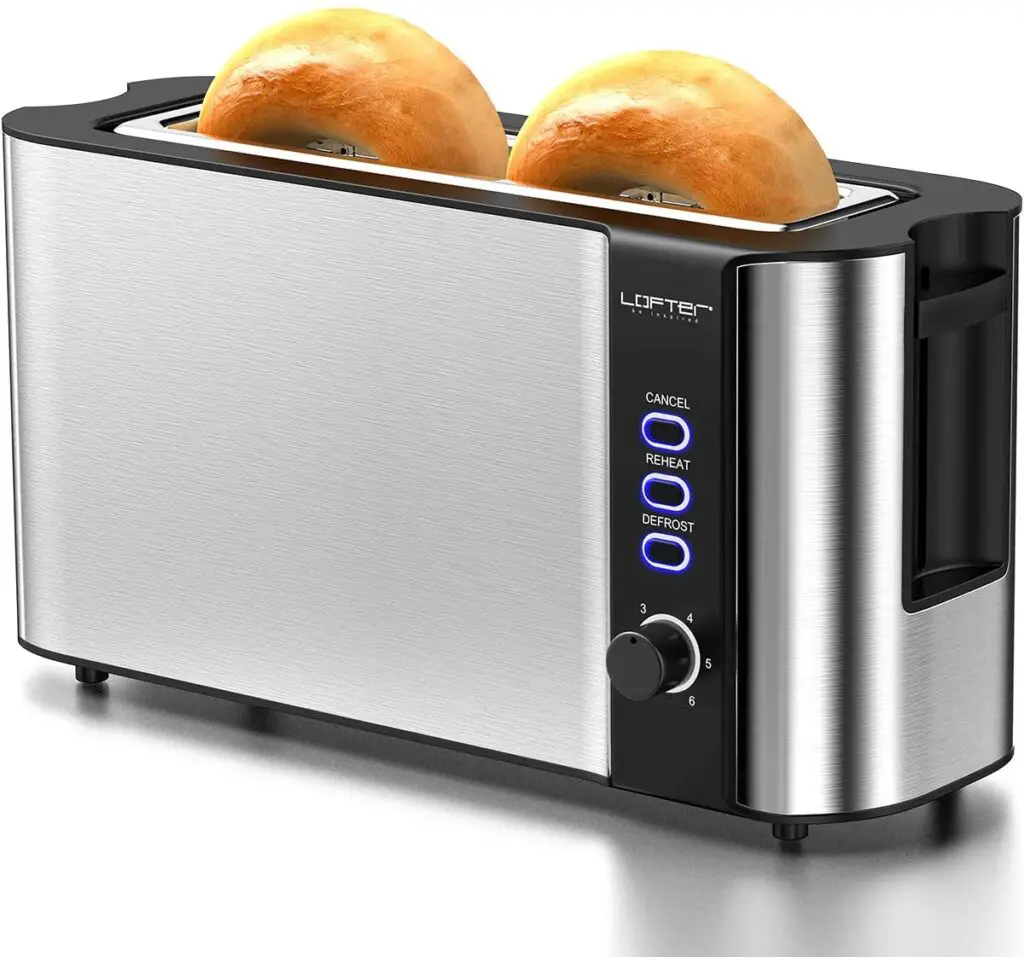 The long slots make this economical toaster suitable for all types of bread, while its quick heat-up function gives your toast or bagels the perfect texture every time. The short cord might not suit everyone's needs, but it doesn't take up too much counter space either, so this is definitely worth considering if you're on a budget or have limited room in your kitchen.
What I Like
It has wide slots and adjustable guides, suitable for various bread types.
3 basic functions, defrost, reheat and cancel, provide you with different options on how you want your slice of bread to be cooked.
Bread crumbs are collected in a removable tray at the bottom of the toaster, easy to clean. 
If you're looking for a toaster that does it all, iFedio Best Rated Prime 2 Slice Toaster is the one. With its wide 1.5 inch slots, this toasting machine will easily accommodate thicker slices of bread, bagels, or crumpets.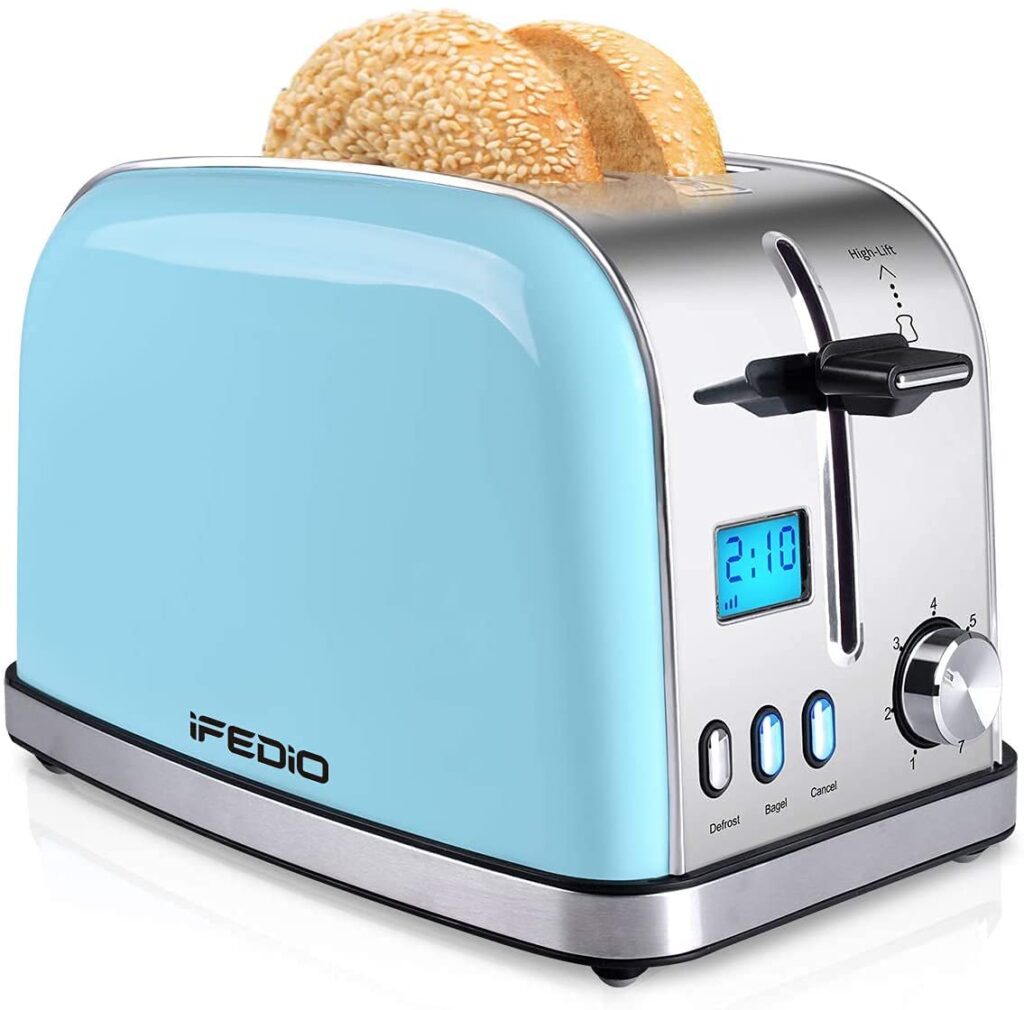 The toast pops right up automatically, so you don't have to worry about getting burned fingers! The LCD screen lets you see the progress of your toast making, and if you're one of those people who can never remember what setting they use for bagels, there are seven different settings to choose from. No more burnt fingers or greasy dishes!
The toaster has a cord storage bin that makes it easy to keep your cord out of the way while you're using the toaster, and the crumb trays are completely removable for cleaning. 
What I Like
You can set up different features for different slices of bread.
The design of the toaster is much better than before, the outer case is made from aluminum alloy material which is anti-skid, and the color will not fade away or chip easily after a long time of using it.
The size of the bread slot is big enough to meet our daily use requirements and easy to clean too when we use it with good cleaning tools.
Everyone loves toast in the morning with a cup of coffee, but not everyone has a big enough toaster for a large loaf. The iSiLER 2 Slice Toaster is the solution. Meet the smallest toasters on the market – perfect for singles, families, and small households!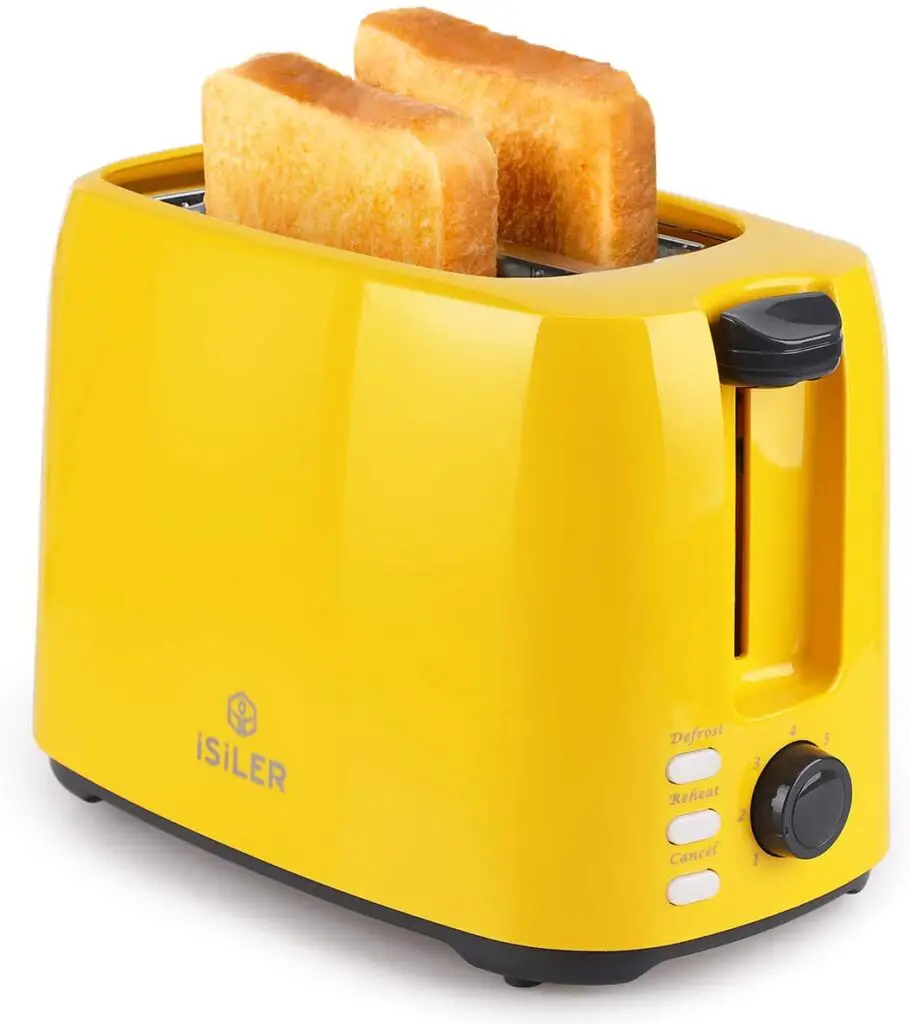 This toaster got all the necessary features to get the job done: defrost, reheat and cancel functions, easy-to-read LED screen with warming progress bar, high lift design to remove smaller pieces of bread, adjustable browning control dial with seven settings. Also, it's small enough to slip under the counter in between uses.
The iSiLER 2 Slice Toaster is small enough for even the smallest kitchen or apartment, yet it can handle just about any type of bread you want to toast: thick or golden brown for large loaves and thin slices for bagels.
What I Like
Intelligent design combined with overheating thermostat automatically shut down the toaster when warm bread is removed.
The non-stick coating enhances toasting performance and prevents unwanted oils from causing the bread to stick to the inside of the toaster.
The removable warmer tray shield makes it easy to wipe off any excess crumbs left by the bread or condiments.
Smeg is a well-known Italian appliance company which has the reputation of being one of the most popular makers of kitchen equipment. Their products are innovative and high quality, and their toasters are no exception: this Smeg Retro Style Aesthetic 2 Slice Toaster is a perfect example.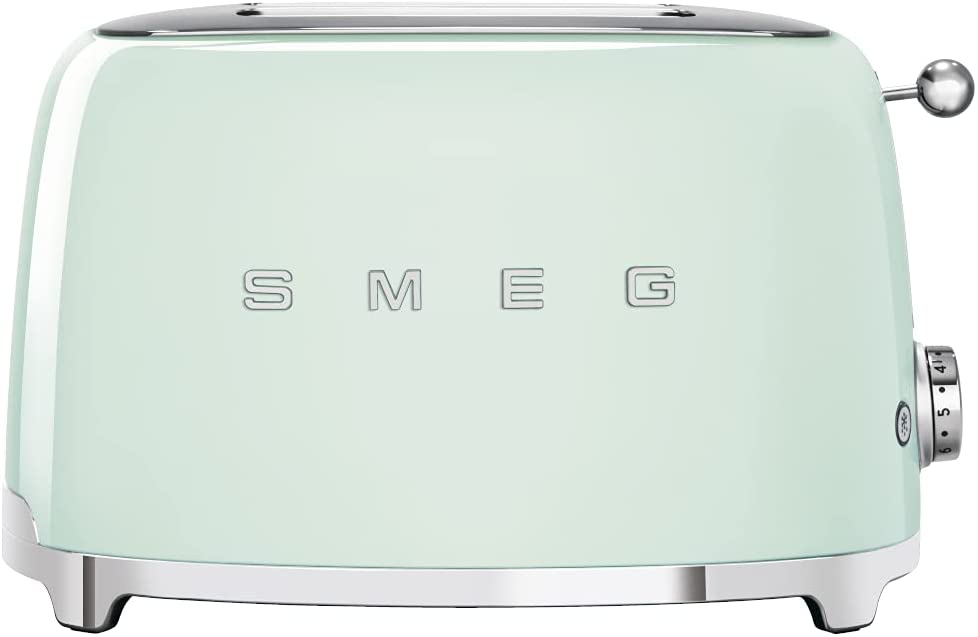 The Retro Style Toaster can be used for toasting bread, bagels, and English muffins with two wide slots that accommodate extra-thick slices. The self-centering rack ensures uniform browning across single or double offerings.
An automatic slice pop-up function and power with 950 W provides three pre-set programs: reheat, defrost, and bagel. The removable stainless steel crumb tray is handy in cleaning.
The high gloss, gorgeous white, and black aesthetic is a beautiful addition to any kitchen. The wide slots are enough to handle two bread slices. A long cord allows you to place this appliance conveniently on your countertop.
What I Like
The Smeg Retro Style Toaster offers a very sleek and sophisticated design.
The toaster offers wide slots which perfectly fit the biggest slices of bread.
The self-centering racks ensure uniform browning across single or double offerings.
Buyer's Guide
Design and material are the first two things to consider when picking a toaster. A small compact toaster is a more versatile option when no space is available for an extra appliance. It's also convenient to use on smaller kitchen countertops where some may not have enough space for a full-sized device. Keep reading to learn what to consider when buying a small toaster for your needs.
What Is A Compact Toaster?
A compact toaster is a kitchen appliance used for different brown foods such as bread, waffles, marshmallows, or vegetables. It has a long slot at the top, which allows you to put in your food.
That slot is heated by electrical coils, and they stay on until an indicator on top of the appliance indicates it's time to pull out what you have cooked. Different settings can be selected depending on how rare or well-done you want your toast.
Related: The 5 Best Bread Machines To Buy
How To Choose The Best Small Toaster?
There are so many small compact toaster models on the market that it can be challenging to decide which one will work best for you. To choose the best small compact toaster, you must consider such factors as price, features, and warranties.
Toasting Levels
Different toaster types have different toasting levels. For example, a full-sized toaster makes bigger slices of bread more thoroughly and evenly while a half-sized one performs the same task but less time. Toaster ovens have up to seven different preset functions that enable you to easily and uniformly toast your bread slices.
Number Of Slices
While perfectly shaped slices of bread and baked goods are essential for your toast texture, the number of slots for different-sized slices of bread is also important when choosing a small compact toaster model. If you bake a lot of bread in your home, you need a toaster that can accommodate more slices at once, like 2-4 or even 6.
Reheat And Defrost Settings
Some people say that less is more for a compact toaster, and it is! It means that if you choose a small compact toaster, probably the best one will feature just a couple of reheat and defrost settings. 
However, if you plan to toast frozen bread or bagels, you should choose a toaster with defrost function. If your small compact toaster has special express buttons that let you cook bread as quickly as possible, they are not as good as really high-quality and reliable ones.
Cleaning
Toasters are usually not a very messy appliance, and in most models, the cable is detachable. That is why it is important to choose a model that is easy to clean and maintain. However, it is still recommended to clean them after every use. The wipes and spray for the defrosting function can prevent the formation of permanent stains on the wires.
Best Compact Toaster Oven Air Fryer Combo
Many compact toasters, small compact ones, come with their ovens and air fryers, but this model is unique. It's different from other models because it has a fan, which uses a convection heating system and makes the process much faster.
The air fryer often has a timer function, and this is the best compact toaster oven combo because it can cook and reheat foods without burning them.
Best Bread Recipes
The Bottom Line
There are so many toasters on the market that it may be easy to get confused when you're trying to pick one that will suit your needs. However, you can choose carefully, take your time comparing different toaster ovens with their features, decide which of them works best for your needs, and spend less money on a model that actually meets your expectations.
FAQ – Frequently Asked Questions
Which 2 Slice Toaster Is The Best?

The Hamilton Beach Gold Coast 2-Slice Toaster is one of the best small and compact options you will find in stores today. It has a clean, modern look with an LED indicator light that shows when it is ready for your toast. Its simple design makes it more durable for everyday use and long-term cooking needs.

Are Smeg Toasters Worth The Money?

Yes, they are worth the money. Smeg toasters are made of more durable materials and feature better designs than other toasters of their type. They're one of our favorite choices for the best small compact toaster available on the market today.

Are There One Slice Toasters?

Yes, there are one-slice toasters. Typically, they are for smaller breakfasts that don't take up too much space on the counter. But if you like to make toast for yourself on busy mornings (or even if you cook French toast), it may be worth investing in this single-slice appliance.