Best Single-Serve Coffee Maker
Coffee is the one thing that everybody loves to drink. It has a special power to make you feel better. But if you are not a coffee expert, it is tough for you to brew the perfect cup of coffee for your taste. Here's where the best single-serve coffee maker comes in.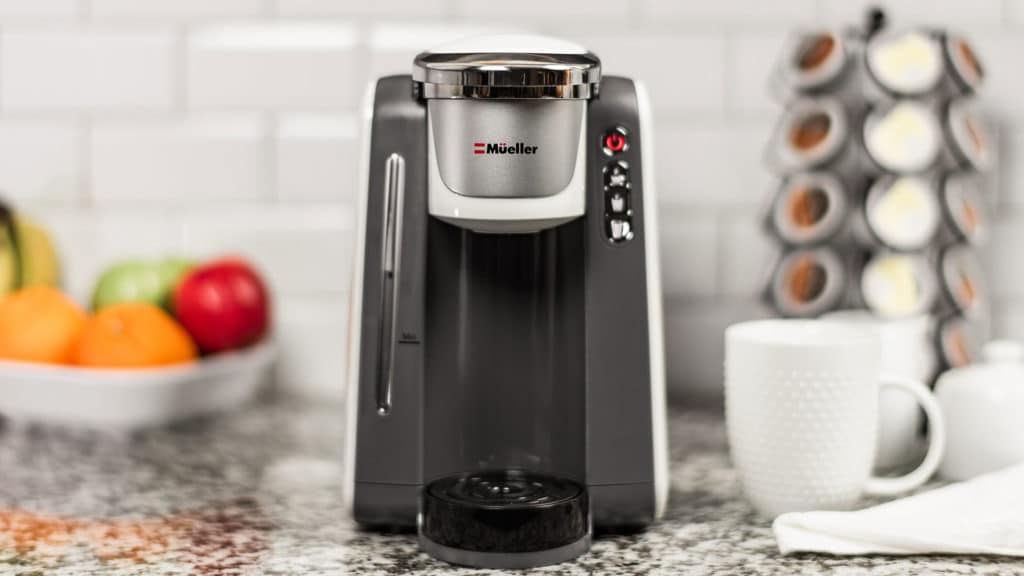 This machine brews your favorite beverage at just the press of a button, quickly and conveniently, without any mess or hassle, because it's designed with few parts that are easy to clean up afterward. Below you can find the list of the best single-serve coffee makers with their benefits and things to consider when choosing the proper coffee maker for your needs.
The post may contain affiliate links. For more information, check my disclosure.
Top 5 Single-Serve Coffee Makers
The Breville Vertuo coffee and espresso machine is an advanced single-serve brewer. It is a compact machine for individual use that provides the convenience of single-cup brewing with the accuracy of high-quality brews.
With its precise extraction system, this machine recognizes each coffee blend automatically so you can provide your customers with their favorite flavors, no matter what kind of coffee they drink. This sleek device can create up to five different sizes as well as heat up milk in an easy way using the Aeroccino, which makes a frothy, perfect pour every time without any effort.
The foam of this coffee machine is good enough to be served straight, but it can also be used to create a delicious cappuccino or latte. It's easy to use and brews a cup of coffee in less than 60 seconds. This machine is easy to clean up, easy to use, and an excellent choice for any coffee lover. 
What I Like
Five cup dispensing options – This coffee maker can brew up to five cup sizes in an easy way.
Creates authentic espresso and brewed coffee – The Vertuo coffee maker allows you to serve authentic espresso with the convenience of one-touch brewing, from richly flavored lattes to creamy cappuccinos.
Automatic capsule ejection – The capsule is automatically ejected after brewing is complete, so you will never have to worry about leaks or spills when using this machine.
There are many coffee makers on the market, but there's only one with everything you want. You can brew yourself your favorite coffee with little work and effort – and without having to go through all the trouble of grinding and brewing it yourself.
The Keurig K-Classic is simple enough for anyone to use but gives you options for customizing your coffee taste from sweet to bold. It makes different cup sizes from 6 to 10 ounces, meaning you have room for everyone in your family. You can also choose from five different brew types.
This coffee maker is fast and efficient, brewing your coffee in just under a minute. The reservoir accommodates up to 48 ounces of water, meaning you won't have to fill it as often – and the automatic shut-off feature means you never have to worry about leaving it on either.
If there's one downside, it's that the Keurig K-Classic isn't the cheapest coffee maker in the world – but with everything it offers, you'd be hard-pressed to find a better deal. It comes with a 12-cup sample pack of delicious coffees, so you can test them out for yourself before committing to a full box.
What I Like
It has a 48-ounce reservoir, so you don't have to fill it as often.
You can brew different cup sizes, from 6 to 10 ounces.
It's simple enough for anyone to use while still giving you options to customize your coffee taste.
It's fast and efficient, brewing your coffee in just under a minute.
If you are a coffee enthusiast, you know many ways to appreciate your favorite beverage. One of the latest coffee trends is cold brew, boiled at a lower temperature to produce an ultra-smooth cup with less acidity than traditional coffee. Enter Takeya's Deluxe Cold Brew Coffee Maker!
The Deluxe Cold Brew Coffee Maker is made of durable BPA-free Tritan material. It has an airtight lid and features silicone grips on the bottom and handle, making it easy to pour out the smooth cold brew in 4 servings without spilling or getting your hands wet. The lid also has a handy measurement label for how many cups each batch will make.
The brewer is easy to clean, too. All you need to do is unscrew the included filter, rinse it under hot water, and place it back on the brewer. The filter basket can be easily removed and washed in the dishwasher.
To make your favorite coffee beans into cold brew, simply use any grind size, fill up the stainless steel filter basket with ground coffee following the brewing instructions included in your package of coffee beans, pour water into the pitcher at least one hour before brewing time and give your cold brew maker a gentle shake.
What I Like
Takeya's Deluxe Cold Brew Coffee Maker is made of BPA-free Tritan material that is durable, dishwasher safe, and shatter-proof.
The lid features an airtight seal to prevent the cold brew from evaporating, and the filters are removable for easy cleaning.
This single-serve coffee maker is especially great for parties! It's perfect for large gatherings because it makes four servings at once and keeps the coffee fresh due to the airtight seal.
We're coffee experts – just like you. And we've got the resources to show you the best way to make your single-serve coffee taste richer, cleaner, and better than ever before. Coffee Gator Pour Over Travel Mug has a stainless steel mesh filter that delivers a cleaner taste and is kinder to the environment.
It's also easy to use with its BPA-free, heat-resistant glass and cool touch collar for easy handling. Built with high standards in mind – this pour-over drip brewer is perfect for any home or office setting. And best of all, it comes with a stainless steel cone filter so that you can make coffee just like your favorite barista.
What I Like
The product is made of premium Stainless Steel and BPA-free, heat-resistant glass. When choosing this coffee maker, you can be sure that the product's construction is durable and reliable.
Coffee Gator Pour Over Travel Mug costs less than most other premium single-serve makers – without cutting corners on quality or durability.
Black+Decker Personal Coffee Maker With Travel Mug is a great product for smaller kitchens, apartments, or dorm rooms; this coffee maker is a great way to brew coffee in the morning. It takes up very little space and is compact enough to leave on a kitchen counter or dining table. The permanent grounds filter ensures that you get the most out of your beans by maximizing your extraction time.
The automatic shutoff prevents accidental spills and over-extraction of your beverage – making it safe for anyone to use. You can also enjoy a cup on the go without having to worry about making too much mess in your car with this travel mug! Its built-in handle also makes it easy for you to carry around with you throughout the day.
What I Like
A perfect coffee machine for the smaller kitchen/dining area.
This coffee maker has a removable water tank, which is highly convenient.
In addition, this coffee maker has a two-hour automatic shutoff switch that prevents the burning of coffee.
Buyer's Guide
There is a spectrum of options in the world of single-serve coffee machines. Depending on your needs and your personal preference in terms of brew speed and cup size, you'll have no problem finding just what you're looking for. For instance, if you want something that makes one cup at a time but has faster brewing speeds than average – say five minutes – then check out our recommendations below.
What Is Single-Serve Coffee Maker?
A single-serve coffee maker is a device that brews coffee in a single-cup size using pods or ground coffee. It differs from other types of machines that you might have seen and used before by brewing in a small amount at a time.
Why Should You Use Single-Serve Coffee Maker?
There are three major reasons why you should use a single-serve coffee maker:
Cleaner
This is because with a traditional machine when there are no pods left in the machine, it boils water and then expels it into the environment with the grounds so that the grounds get wet and dilute the flavor – a thing which single-serve machines don't do.
Convenience
With a single-serve machine, you need to buy the pods or ground coffee in small packs which might not be so convenient. It also stops you from having to waste any leftover brewed coffee every time.
Budget Conscious
With a single-serve machine, there is no need to buy multiple pots and mugs at once, and you can use one pot or mug for all of your friends with ease. This saves money because it means fewer pots and mugs mean less washing up on a day-to-day basis.
Related: How To Make Coffee Without A Coffee Machine
Benefits Of The Best Single-Serve Coffee Maker
There are some benefits of using the best single-serve coffee maker. These machines are known for being quick to make a single cup of coffee. You can also choose how strong or weak you want your coffee to be.
Additionally, you don't have to buy preground pods or packs. This gives you the flexibility to grind your own beans, which is pretty cool because all you need to do is put the ground beans into the machine, and away you go! It doesn't give you any excuse not to have a great cup of coffee in no time.
Another great benefit of using a single-serve machine is less coffee waste. If you are living in an apartment or don't have a big kitchen, you may end up wasting lots of coffee grounds on the grounds with traditional coffee makers due to the large number of cafes that you have to go through just to get to one little cup.
With single-serve machines, you can carry on with your day without having to worry about what you're going to do with those beans after brewing. No need for worrying about all those other people over at your house drinking the same stuff and wasting their money too!
What To Consider When Buying Single-Serve Coffee Maker
If you are to buy a single-serve machine for yourself, here are some things that you should consider before you decide to do so.
Pods Vs. Ground Coffee
There is a big divide between pods and ground coffee. This can be pretty confusing if you're not completely sure of your best bet is, however, there are some great reasons why using pods vs. ground coffee may be the best choice for you when buying a single-serve machine.
For beginners, pod coffee machines are usually cheaper than grinders, and the coffee they use tends to be cheaper in quality and price. This is because ground coffee doesn't need a machine to grind it into a fine powder, which generally takes something like a traditional coffee grinder to do. However, when you buy single-serve pods for extra strength or for those who prefer their coffee to have an intense kick brewed at the same time as other stronger drinks such as alcohol or tea.
Brewing Options
The other major difference between pods and ground coffee is that pod machines come with various options. Some models can include brewing in a personal brew, French press, auto-push function, easy tilt handle, and even hot water dispenser.
When buying single-serve pods or ground coffee, it can be more expensive and slightly more challenging to take the normal brewing process up a notch if you want to use these different methods.
Brew Speed
This is another important factor that you need to consider before buying a single-serve machine for yourself, whether for yourself or others on your own time.
Size
You might not be looking for something that will fit in the corner of your kitchen and take up some valuable space, so you should always do a little bit of research and see if you can find something that is a little bit smaller than other single-serve machines. This may require an additional expense or even buying something that is altogether different, but it will be worth it if you have the right size to suit your requirements.
Best Single Serve Coffee Maker No Pods
For those who like their coffee, but want something a little bit different than the norm; or someone who regularly likes to host a coffee night and prefers not to let their guests go through the hassles of measuring and brewing coffee; then you really cannot go past this little gem of a machine. It's extremely easy to use, with instructions that are very clear and easy to understand; it's also extremely easy to clean up after use, as it's made from all stainless steel and is also dishwasher safe.
Best Single Serve Coffee Maker With Grinder
For those who are a little bit more experienced in the world of coffee making and are a little bit more of an expert in coffee making and what makes a good coffee; then this is the perfect machine for you. It comes with an integrated burr grinder, meaning that you can literally grind your own beans on your own time with the press of a button instead of having to buy already ground coffee or pods.
Best Single Serve Coffee Maker For Ground Coffee
For those who are a little bit more on the simple side and do not want to deal with the hassle of grinding their own beans or having to choose between a pod or ground coffee; but still love the taste of coffee, then this is the machine for you. It comes with a choice of four different cup sizes, so if you're in a huge hurry, you can even make your own espresso in no time.
Best Single-Serve Coffee Maker For Tea & K-Cups
For those who are looking for the perfect gift for a friend or family member who has been wanting to buy a single-serve machine for themselves, then you really cannot go wrong with this little beauty. It comes with great features and it even includes a drip tray, so you don't have to worry about making yourself a fantastic cup of tea after your coffee.
So, now you know what to look out for when buying a single-serve machine for both yourself and others on your own time; you shouldn't have any problems choosing one that will suit your needs and preferences perfectly.
The Bottom Line
When you buy a single-serve machine for yourself, you can still experience the joy that comes from having your home-brewed coffee at your disposal. However, you do not have to worry about wasting as much of it to get through the day and decide for yourself if this is something that you will be able to stick with.
FAQ – Frequently Asked Questions
What Is The Most Reliable Single Serve Coffee Maker?

When you are on the go and have to make a cup of coffee quickly, it is not feasible to take your larger machine with you. With that in mind, the most reliable single-serve coffee maker on the market right now is Coffee Gator Pour Over Travel Mug. It has a compact design that looks appealing on your countertop and allows frothing milk in just one minute.

Is Keurig Single Serve Good?

Yes, Keurig is a single-serve coffee maker that has won awards for its ability to produce an excellent cup of coffee quickly. The Keurig K55 will make you one cup of coffee at a time, and it's up to you to choose which type – the machine comes with different settings so there will always be something for everyone.

What Is The Healthiest Way To Make Coffee?

There are many ways to make coffee. Some methods require using a stovetop or espresso maker, whereas other methods such as Keurig require less effort. The best option is the single-serve coffee maker as they have become popular amongst consumers as they're easier to use and take up little space. The single-serve coffee maker is also better for your health than many other options because it doesn't require any filters, which can potentially cause a beach of dirty metals in your drink.