Best Pie Iron
If you love the smell of freshly baked pie, this is the best tool for your needs. The best pie iron can be used to bake crusts faster than an oven and still produce a flaky, melt-in-your-mouth crust with browned edges.
Many people think that it's almost impossible to make pies without an oven, but thanks to today's modern innovations in technology, there are many ways that one can now enjoy delicious desserts without using their oven. Keep reading to learn more about the best pie iron available on the market, its benefits, and things to consider when buying a device for your needs.
The post may contain affiliate links. For more information, check my disclosure.
Our Top 5 Best Pie Iron
The world of cooking is full of tools that will help you out in the kitchen. Some are better suited for certain tasks than others, but the Rome's Pie Iron can do many things!
This remarkable piece of cooking equipment is designed for two people to cook two sandwiches at a time. But it can also be used to cook pasties, fish, or calzones! It features an 8-1/2 inch by 4-1/4 inch head which provides maximum versatility.
The 28″ overall length gives ample room for hotdogs and other items too! Double-sized cast-iron means that this product will last you a lifetime with its durable construction and quality craftsmanship.
It can be used on the stovetop or over an open flame (like a fireplace). The inside is generously coated with enamel giving it even heat distribution. The 2 handles provide both comfort and mobility for you to move the pie iron around the kitchen. The overall quality of the product is second to none.
What I Like
More than one person can use it at once.
It's very versatile since it can be used on the stovetop or over an open flame (like a fireplace).
It heats up really fast because of its 2-sided design and tall size. 
It allows you to cook two sandwiches at a time. This is great for those large family gatherings over the holiday season.
it makes a good weapon if you ever find yourself in a fight 🙂
The Coghlan's Pie Iron is the perfect addition to any car camping, RV trailers, or motor home. This cast iron cooker comes with a two-part hinge and 27-inch handle, great for toasting sandwiches, grilling meat, and cooking desserts over an open fire. The affordable price cannot be beaten for this essential gear.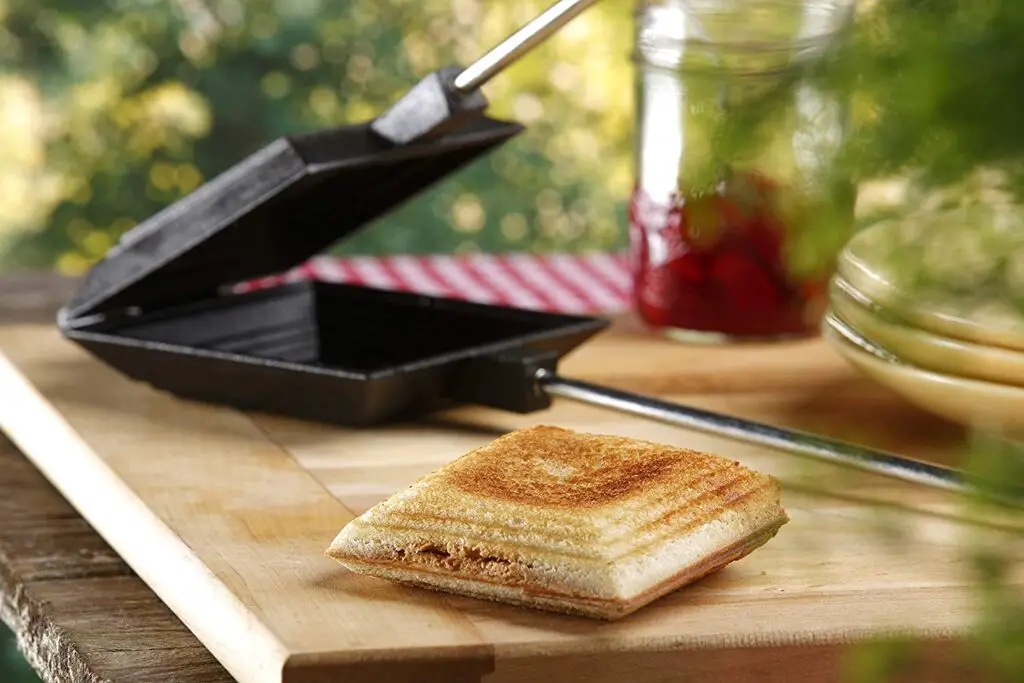 There are two parts to this cast iron cooker. The bottom part has a prong on the bottom, while the top part has a hole. Both of these pieces can be placed over the flame or nestled between coals. This cast-iron cooker is not only practical; it is also portable, which makes it an ideal camping item to bring along for breakfast or lunch, or even dinner.
The Coghlan's Pie Iron is reliable camping cookware. Its durable materials and excellent heat distribution make it an essential item for car camping. Its ability to withstand the elements while lightweight makes it a versatile accessory for any outdoor cooking needs. The Coghlan's Pie Iron is an excellent addition to your gear for any outdoor adventures.
What I Like
Affordable price.
Two-part hinge and 27-inch handle.
Cast iron cookware for camping.
Portable and durable materials for outdoor cooking.
Versatile outdoor cooking accessory for camping, motor home, caravan, camper, or RV.
Best Lightweight And Versatile Pie Iron: Toas-Tite Pie Iron
Toas-Tite Pie Iron is an elegant bit of equipment that will allow you to prepare quick, satisfying meals for your family or friends all in one easy step. With this multipurpose tool, you can easily create delicious grilled cheese sandwiches, omelets, pizza pockets, and more like a professional chef with little effort.
The Toas-Tite Pie Iron is a lightweight, portable, and versatile cooking device made of tough cast aluminum with steel rods and hardwood handles. This pie iron is compatible with both gas stoves and electric stoves. It also works well in the fire pit or outdoor grill.
The Toas-Tite Pie Iron is an excellent combination of functionality and aesthetics that will give you a stylish addition to your kitchen that will provide valuable service time and again. This cooking appliance is easy to clean. It can be hand washed with hot water and dish soap.
What I Like
Easy to make grilled cheese sandwiches, pizza pockets.
No non-stick coating.
Easy to clean – this tool also works well in the fire pit or outdoor grill.
It is made out of tough cast aluminum with steel rods and hardwood handles.
Compatible with both gas and electric stoves, it also works well in the fire pit or outdoor grill.
The Camp Chef Pie Iron is a cast iron pie iron that takes seconds to heat up and cook your masterpiece. Pie irons are very popular for cooking pies, even though there are other methods of making pies. This particular pie iron has the typical addition of the handle, which allows you to either use it as a traditional oven or over an open fire. The handles are both made out of cast aluminum, making them lightweight, durable, and easy to clean at the end of the day.
This pie iron can be used with any kind of campfire, including gas logs. The Camp Chef Pie Iron is true seasoned cast iron, making this item ready to use right out of the box. While open-fire cooks are increasing in popularity on the internet, the reality remains that most people enjoy their campfires for cooking over an open flame slowly over several hours. Only more advanced chefs have their own working ovens suitable for baking pies of all kinds.
What I Like
True seasoned cast iron.
Easy to clean.
Lightweight, which makes it suitable for long portages.
The handles are made of aluminum, making them easier to transport than old-fashioned cast iron handles that are hard to pick up.
It is suitable for open fire, camp stove, or in your oven at home when you get back from the forest.
Best Pie Iron For Sandwich Seal: Palmer Pie Iron
This Palmer Pie Iron is a square cast iron toaster with ribs inside. Castings are heavy to hold a steady heat and seal all ingredients in 2 slices of bread.
The 18-inch overall length is great for cooking when you're away from home camping or when out fishing. The rust-proof handles are made of cast iron and have a non-stick surface. This product comes with a full USA warranty.
What I Like
The iron can be used in a wide range of uses, such as toasting bread, making dishes, and cooking meat.
This pie iron is made from USA materials.
It is easy to heat the bread when the bread slices are frozen, especially when you need to make sandwiches or pizza.
Buyer's Guide
The best pie iron is easy to use and produces delicious pies in less than half the time that it would typically take. When choosing the best pie iron, you must first consider its size, your oven size, and where you will be using it most often. This guide will show you how to choose the best pie iron for your needs.
What Is A Pie Iron?
If you enjoy making pies but do not like using your oven to do so, this versatile appliance is the perfect tool for baking pies quickly and conveniently. It has a small container of dough on one side and a container of filling on the other side. 
The two containers are separated by an iron cover preheated on top of a stove or fire source before being placed over the dough side of the pie iron to bake it. The iron "takes the heat" and cooks the pie evenly without adding extra heat to the bottom of the pan. This way, your pies will be smooth, flaky, and delicious every time!
The best pie iron has a unique design that makes it efficient and easy to use. Its small size allows you to store it easily in your kitchen or other room. When ready to use your pie iron for cooking pies, simply preheat it over any heat source (stovetop, fire pit, etc.). This will keep your pie shape warm during cooking without adding additional heat to your oven.
How To Use A Pie Iron?
Before cooking your pies, you must first preheat your pie iron. Some manufacturers advise that you preheat the pie iron for approximately 10 minutes over medium heat before placing your pies inside to bake. Be sure to check the manufacturer's instructions for your specific model for the best results. 
Once it has reached the proper temperature, place your doughy side of the pie iron on top of the ironing surface while spreading your filling on top of the dough.
The next step is to fold down both ends of the pie iron while pushing them together to close it. This will seal in all of the juices and flavors while cooking your pies evenly. After closing the pie iron, place it on the ironing surface and cook over medium heat.
Benefits Of The Best Pie Iron
The best pie iron has several benefits to offer. Some of these benefits are listed below.
It's Easy To Work With
Many bakers complain that making pies with a regular oven is very time-consuming and challenging. However, using a pie iron is easy and convenient because it is portable, affordable, safe to use, and easy to clean up.
You can make more than one pie simultaneously, which saves time for everyone involved. No additional work is required, either; all you have to do is place the two halves back together.
It's Cheap
The best pie iron is very affordable and is easy to use. You can cook more than one pie at a time with only one pie iron. Not only that, but you can wash this appliance as often as you like without worrying about it ruining your other kitchen appliances or damaging your home's interior paint.
In other words, this appliance is perfect for those who have simple needs and wants from their devices.
It's Versatile
Another benefit that this product offers is that it's very versatile. You can use it for cooking pies and other dishes, such as quiches, hot pockets, and many others.
It's Portable
This appliance is small enough to carry with you anywhere you go. This means that you can take your pie iron to picnics, camping trips, or even during your next family reunion to make the best pies for everyone who attends.
It's Safe To Use
The best pie iron is safe when used correctly. It's easy to clean, and you can have your home's interior paintwork, as well as your family's health, preserved from inhaling any harmful fumes from the appliance.
It Produces Delicious Pies
Even though the appliance is small, it still produces delicious pies that are made from scratch. You can choose from several different kinds of toppings or fillings for your pies to find out which one you like the best until you find a menu that fits all of your taste buds.
Things To Consider When Choosing The Best Pie Iron
No matter what type of pie you want to make, several different types of pie irons are available on the market. When choosing the best pie iron, you must first consider its size, your oven size, and where you will be using it most often. Some examples of different pie irons are listed below.
Size
The standard size for the best pie iron is 6 inches in diameter with an overall length of 9 inches. If this is not what you are looking for, then you can look into 6-inch mini irons that can cook twice as many pies as their standard size counterpart at half the time for the same price.
Type
There are a wide variety of pie irons that come in a variety of shapes and designs. The most common styles include wooden handles, stainless steel handles, and ergonomic plastic handles. This will depend on the type you prefer when using your pie iron. The design of the handles or knobs will also determine if you can cook both sides at once or only one side at a time.
Size Of Container
The best pie iron comes with a small container for your doughy side to separate from the larger one for your filling side. The container's size may be important to you when you want to make a large pie or if you prefer to use and buy larger fillings in your pies.
Materials
The materials that the best pie iron is made from will also include your budget. The different fabrics include aluminum, cast iron, chrome-plated steel, and stainless steel. For example, aluminum is cheaper than cast iron or stainless steel but requires more care when cleaning or storing it because it could easily dent or rust with time.
Best Pie Iron Meals
Pizza Dough
Pie Dough
English Muffins
Scones
Tortilla Wraps
Waffle Or Cake Batter
Cinnamon Roll Dough
The Bottom Line
While pie irons might seem old-fashioned, they can still be used to cook delicious pies for your family and guests. The best pie iron for your needs is easy to operate, affordable, and versatile. It's also very portable and safe to use.
This means that you could make the best pies for picnics or parties at any location without worrying about the mess or cleanup because this appliance is straightforward to clean and store. It can also be used as a substitute oven in case your oven breaks down, but it's beneficial if you're cooking for a large group of people and don't want to spend time preparing meals in advance or waiting around for your dish to finish cooking.
FAQ – Frequently Asked Questions
Where Are Rome Pie Irons Made?
Rome pie irons are manufactured in Italy. This cookware is made from non-toxic materials but is not dishwasher safe. Rome pie irons are the best bakeware for pizzas, tarts, pies, and much more! They have a flared edge that fits into your pan or dish to use as a guide for cooking with the lid on.
What Is A Cast Iron Pie Iron?
A cast iron pie iron is an outdoor cooking gadget that can cook various foods on its flat, grill-like surface. It's shaped like a miniature Dutch oven with two long handles. The griddle side of the pan is coated in a nonstick material, so food doesn't get stuck.
Can You Use A Pie Iron On An Electric Stove?
Yes, you can. I recommend using an electric stove without any high-heat cooking elements to use a pie iron. You could also use one on induction or ceramic cooktop, but they are not common enough to warrant their own paragraph here.