The 5 Best NuWave Pressure Cookers To Buy
NuWave produces kitchen appliances that change people's lives. It may sounds not true it really is. The company is a leader in the manufacture of small kitchen appliances. NuWave is the first company that successfully combined three cooking methods at once: infrared, convection and heat conductivity, and created a simple tabletop oven for fast, healthy cooking. Learn how to choose the best NuWave Pressure cooker for your kitchen.

One of the company's flagship products is NuWave Electric Pressure Cooker. This device allows you to cook food in a very short time, while making the dish juicy and preserving natural flavors and vitamins.

The secret of cooking is to use high pressure inside the device. This allows you to significantly increase the cooking speed. At the same time, meat and other products become tender in just 20-40 minutes.

We've created the list of Best NuWave Pressure Cooker Reviews to help you choose the kitchen appliance that suits you best.
Post may contain affiliate links. For more information, check my disclosure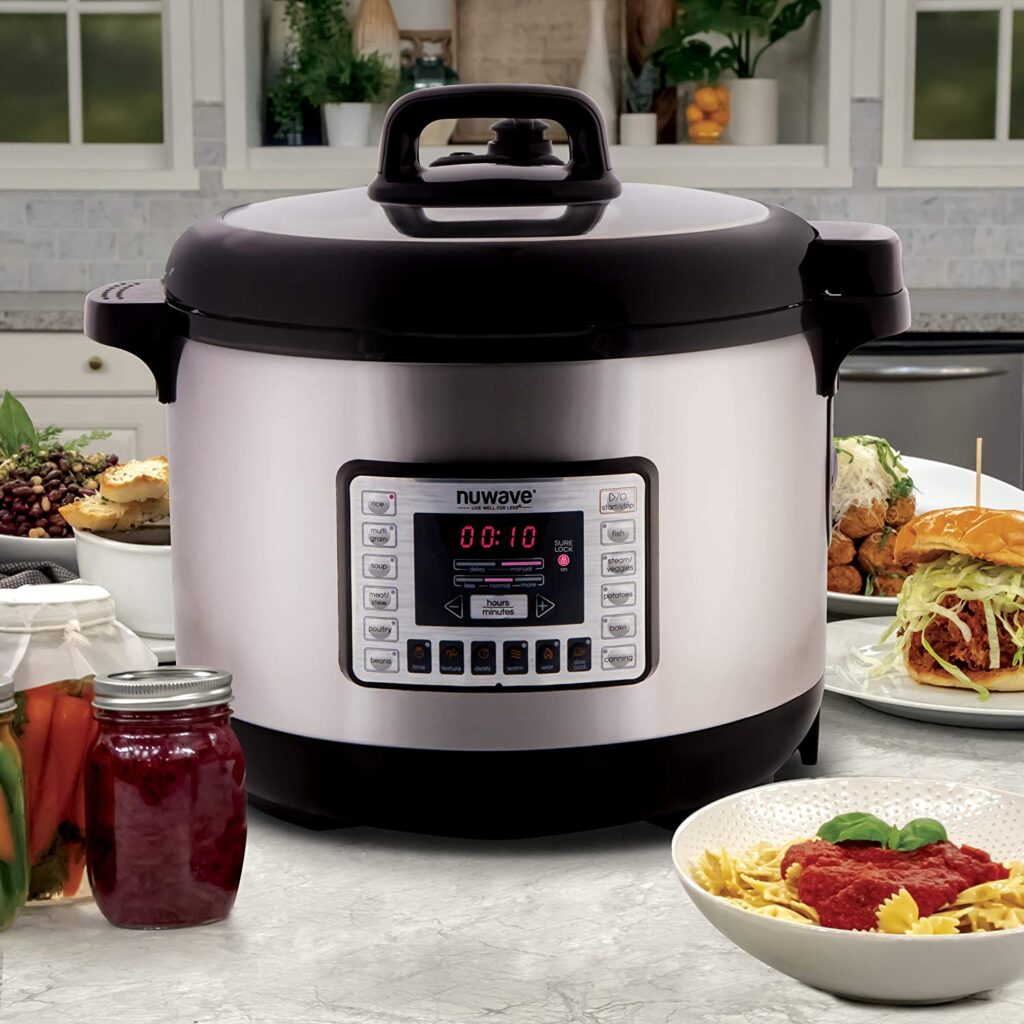 This amazing NuWave Pressure Cooker has sure-lock safety System which will help you to cook quickly and stay safe. The appliance supplies with dishwasher-safe non-stick inner pot, glass lid for slow cooking, cooking rack.

For easy set-and-forget cooking you can use 1 of 11 pre-programmed presets. Moreover, when you'll purchase this pressure cooker you'll receive cookbook with 200 chef-tested pressure cooker recipes.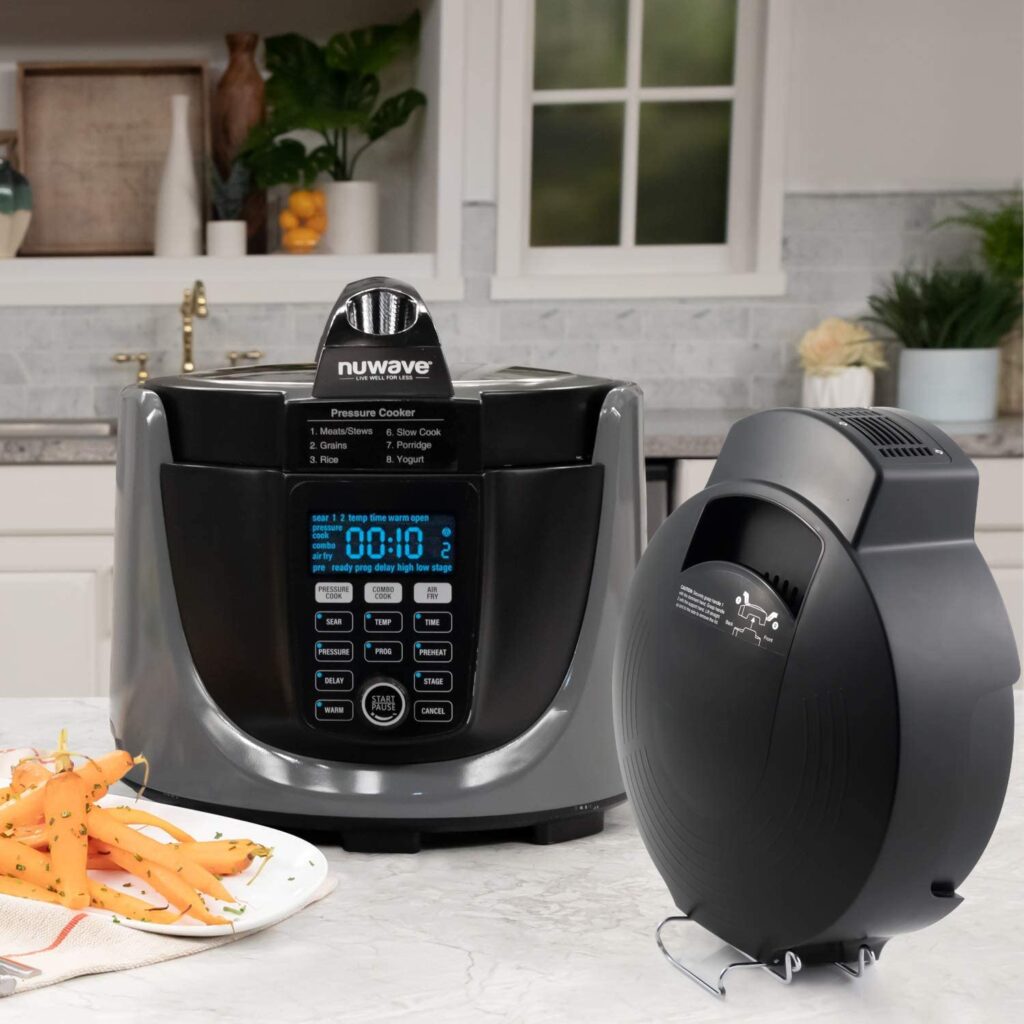 This is valuable purchase because this NuWave appliance combines both pressure cooker and air fryer in one unit! Just imagine that it can be used as a stand-alone 6-quart pressure cooker or a 4-quart air fryer! And of course, combine to get the benefits of both in one, easy to use appliance. The NuWave DUET also features over 300 pre-programmed presets, so your favorite meals are done with just the press of a button.

This kitchen appliance has numerous benefits: preheat, delay start, stage cooking, auto warm mode and others. You can also save and store 240 of your own favorite recipes to recall any time. That sounds great, doesn't it?
Stop wasting your time in the kitchen and stress over dinner. With the power of super-heated steam, now cook healthy, homemade meals in 70% LESS TIME. Better than broiling, baking, boiling or grilling, meals made in the NutriPot NuWave Pressure Cooker have more nutrients, more flavor and more juices in less time. Perfect for busy households on the go!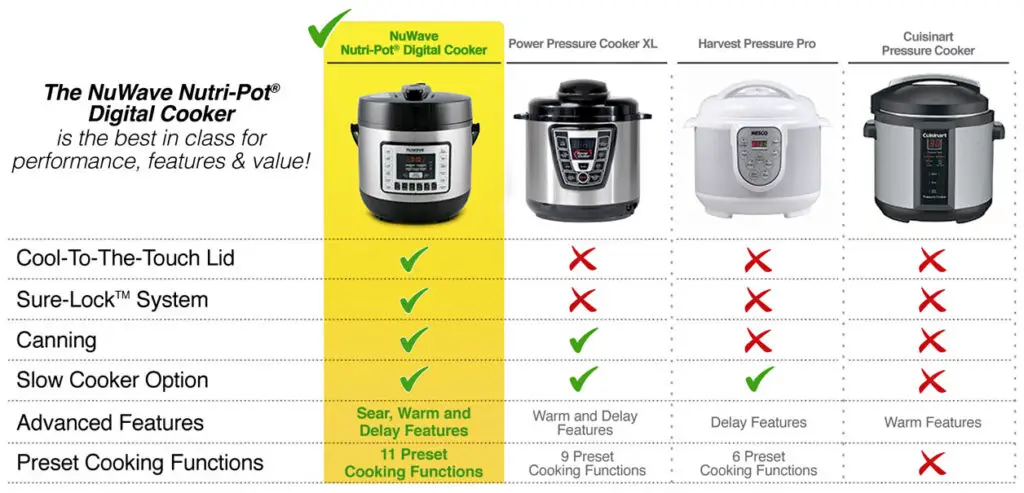 It's time to cook favorite meals with new technologies! This isn't your grandmothers pressure cooker! With a digital control panel, 11 digital cooking presets, Sure-Lock Technology with multiple levels of safety built-in, and advanced features like delay, warm, sear and others. Fast, easy, safe and healthy… this is the next generation in cooking.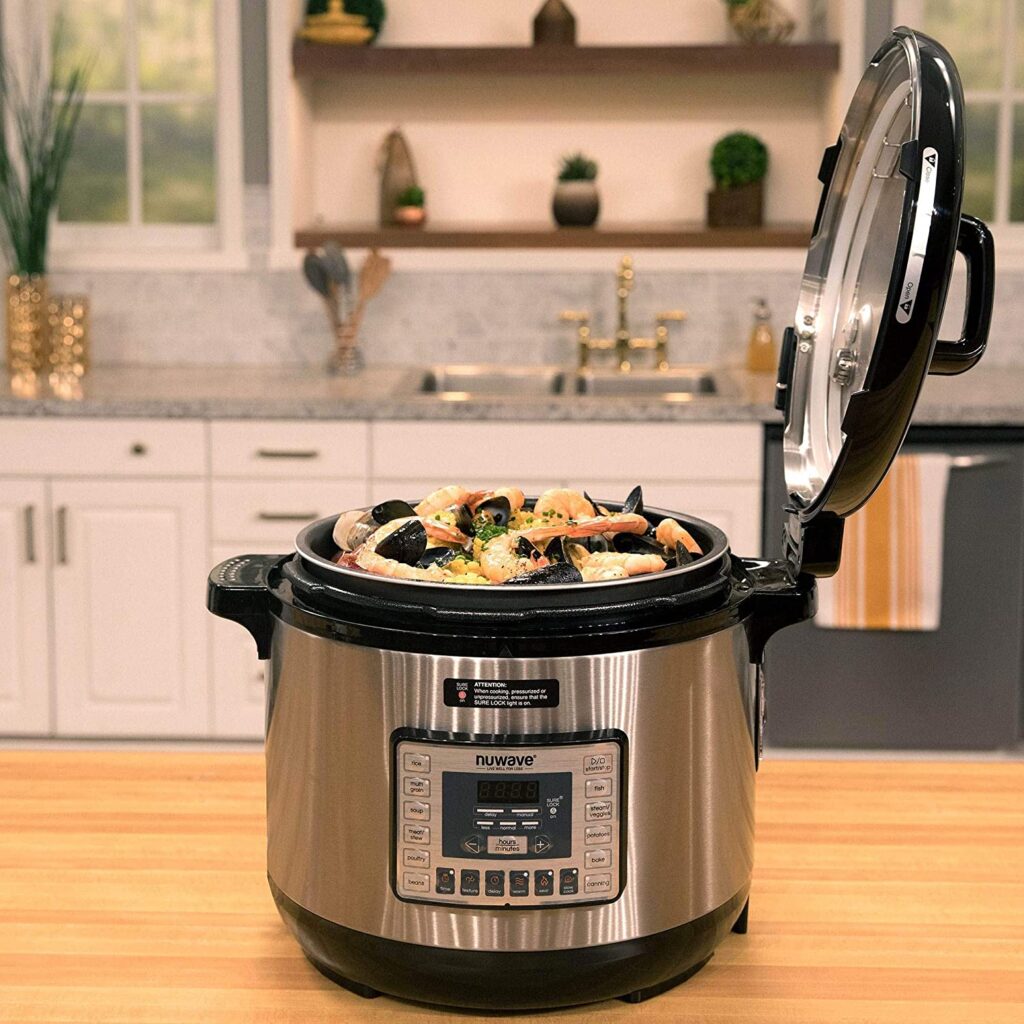 Ready to cook any food you prefer in just 20-30 minutes? And you don't need to waste this time in the kitchen, just spend it with your family and friends! Rice, multigrain, soup, meat/stew, poultry, beans, fish, steam/veggies, potatoes, bake, canning pre-set settings. Everything you need.

This NuWave Pressure Cooker Nutri-Pot suits all families who want to cook healthy meals without wasting time.