10 Best Knife Sharpeners To Buy
You cannot use just any knife sharpener and expect decent results from it. To find the best knife sharpener, you will have to consider the sharpness level along with the time and effort required to get these results. Some sharpeners work only on specific types of knives and it gets tricky to find the right one. So, let's look at the main types of sharpening devices to find the one that will do the job for your knife.
The post may contain affiliate links. For more information, check my disclosure
Types Of Knife Sharpeners
Knife sharpeners has different types. Some of the most popular types are honing rod, whetstones, electric device along with abrasive belts and pull-through sharpener. Below we will discuss the aspects you should know about knives and sharpeners which will help us select the best one.
Grit Abrasive
Grits are small and hard sand-sized abrasive particles made of diamond, sand, or other materials. The number of grits on a sharpener indicates how finely it can sharp a surface. If a sharpener has a low number of grits, it will remove more particles from the blade and make it rough. These types of sharpeners are used to renovate and repair the old and damaged knives. In the same way, if a sharpener has a large amount of grit, it will finely sharp the blade and make it good as new. 
Sharpeners that use grit abrasive are whetstones, sandpaper, and abrasive belts. However, the sharpeners do not come with clear grit numbers so it is important to follow the instructions provided by the manufacturers to pick the best one. Pull-through sharpeners can also be multi-staged in which the first stage is usually the coarsest and used to refine the damaged blade while the later stages are used to finely sharpening the blade.
Blade Grind And Knife-Edge
Blade grind is the cross-sectional shape of the blade that is used to produce the cutting edge. The most common edge styles include flat, taper, hollow, chisel, and convex. It is important to understand the blade grind of your knife before you buy any sharpener because there are different types of sharpeners for different blade grind. You can choose the most efficient one depending upon which knife you have. In case you have different blade grinds, the best option will be to choose the one which is useful for the majority of your knives.
Edge angle, also known as edge bevel, is an angle in which the cutting edge is cut to form a sharp tip of the blade.  The most common styles of edge angle for chef knives are Asian and western. Asian knives are designed for cutting fish and vegetables. These knives have a finer angle between 13-15 degrees which allows precise slicing and detailed trimming. The western style has 20 degrees wide-angle edge blades that are useful for cutting meat and tough vegetables. Finer angles are fragile, and the edge can roll to the side after heavy use. Whereas, wider angles are stronger and used for cutting and splitting tougher foods.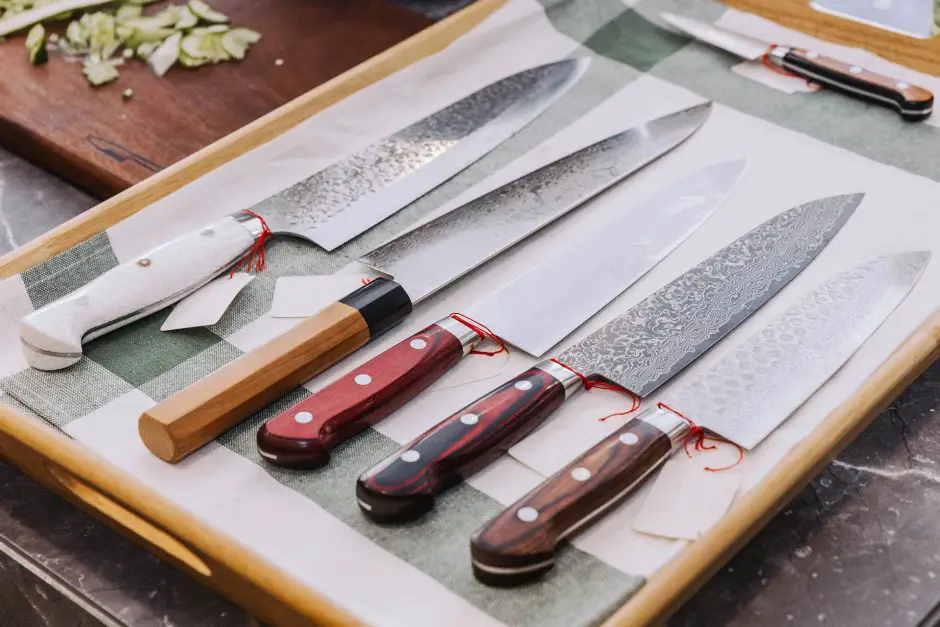 In an ideal case, all of your knives should belong to either Asian or western style with the same blade grind so you could simply choose the one that is designed for that particular type. However, that is not the case as most people keep different knives for different purposes, in that case, you have probably need to buy more than one pull-through sharpener. Additionally, you can also use a semi-manual or manual tools like waterstones, oilstones, or any other full sharpening tool for all of your knives.
Serrated Knives
Serrated knives have toothlike edges and are used for cutting foods that have a hard exterior and a soft interior. Such knives do not require sharpening on a regular basis but when they do, it is not easy due to their structure. A pull-through and stone sharpener can be used to sharpen the edges a little bit, but it may require another sharpener to sharpening the spaces in-between the teeth.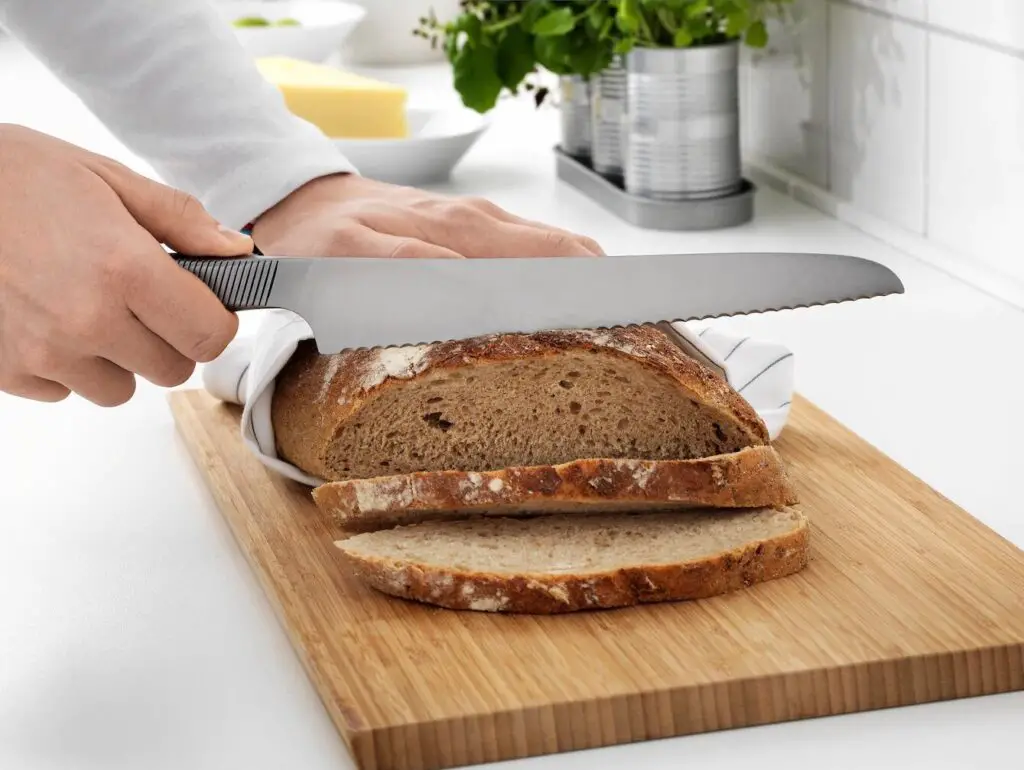 We cannot determine the exact time to sharpen a knife as it depends upon different factors including the type of sharpening device, the type, size, material, and roughness of the knife, as well as the desired sharpness level. Here is an estimated time to sharpening a knife to its maximum level depending upon the type of sharpener used.
Time Required To Sharpen A Knife
We cannot determine the exact time to sharpen a knife as it depends upon different factors including the type of sharpening device, the type, size, material, and roughness of the knife, as well as the desired sharpness level. Here is an estimated time to sharpening a knife to its maximum level depending upon the type of sharpener used:
Sharpening Tool
Time Required
Honing Rod
1-3 minutes
Pull-through Sharpener
3-4 minutes
Electric Pull-through Sharpener
3-4 minutes
Electric Sharpener
(with multiple abrasive belts)
10-15 minutes
Manual Sharpening Stone
15-30 minutes (depending upon skills)
Best Knife Sharpeners Review Guide
We looked through the most popular propositions on the market and took 10 best knife sharpeners for the kitchen.
So let's us introduce our best knife sharpener list.
Made from aluminum oxide (corundum) material, provides a perfect two side grit combination to sharpen you're knives and tools in a short time. Two stones for cost of one.
1000 Grit: Your go-to sharpening stone. If your knives have lost their edge and need a good sharpen, then this is the grit you should start with.
6000 Grit: Acts as a bridge between sharpening and superfine finishing. Used for super-fine finishing and to refine your knife edge.
Save hundreds of dollars in the purchase of new knives by revitalizing your existing ones. Whether you are a professional or occasional chef, an active outdoor/camping person this is one of the must-have tool. A sharp blade is predictable. When it strikes or is drawn across the food's surface, it won't slip. With a dull knife, it's only a matter of time until you badly cut yourself.
A dull knife slows you down, while a sharp knife makes prep easier and more enjoyable.
Pros
Include 2 different stones
Ebook guide included
Good customer service
Cons
High hardness may scratch your knives
The steel rod is made of carbon steel and plated with nickel-chrome; the fine surface of the steel rod prevents the cutting edge from damage during sharpening.
Quick at Work
Who doesn't like spending lesser time in the Kitchen? Make it possible now by using the perfect knives that have been sharpened with the steel knife sharpening rod.
Easy and Safe to Use
Now much less effort is needed to sharpen your knives with this rod because its ergonomic handle fits all hands, whether you are right or left handed, making it easy to use.
Care Instructions:
Please use non-woven oil cloth soaked with cooking oil to wipe the body of the sharpening rod and dry it. When washed with water, make sure to wipe it completely dry after washing.
Pros
Quick at work
Easy to work with
Safe
Cons
Get your best edge yet with the Chef'sChoice ProntoPro 4643 Diamond Hone Manual Knife Sharpener. The Chef'sChoice 4643 is the perfect addition to any household and an ideal partner for both Asian style and European/Western style quality knives. It's the fastest manual sharpener available for sharpening both 15-degree and 20-degree knife edges.
All three stages use:
Precise bevel angle control
Diamond abrasive wheels
CrissCross sharpening technology
Together, these features combine to apply a razor sharp, arch-shaped edge that is stronger and lasts longer. The diamond abrasive wheels hold their shape indefinitely and the durable diamond abrasives last and last.
Pros
Easy to use
Sharpens and hones straight and serrated knives
Cons
Smith's Diamond Retractable Sharpener makes it easy to sharpen all kinds of knives, including those with serrations, and fish hooks. This writing pen size sharpener uses an unbreakable diamond-coated steel rod to quickly and effectively sharpen single or double-bevel pocket, sport, or tactical knives. The sharpening rod is coated with multiple layers of micron-sized, monocrystalline diamonds to make sharpening quick and easy, while still giving you that razor sharp edge on your knife, tool, or fish hook.
The specially designed sharpening rod featured in the Smith's DRET is half-round on one end with a flat surface for standard edges and tapered on the other end for even the smallest of serrations. On the back of the diamond rod is the hook sharpening groove. In addition, it can be adjusted to various lengths, and when not in use, the sharpening rod stores in the handle. It is lightweight, compact, easy to use, and comes with a pocket clip for easy storage.
Pros
Can be used with straight and serrated knives
Coarse abrasive diamond dust (400 grit)
Retractable
Portable
Cons
Not efficient for big knives
Since all knives dull with use, it's important to protect your cutlery investments with the right maintenance tools. A knife's long-term performance depends on how it is resharpened. Knives made of the finest steel will hold an edge longer, but even the best of knives dull with use- and the initial factory edge only lasts for the first few days or weeks of use.
Than for more than 99% of a knife's useful life, it's edge performance depends on how it is resharpened. Replicating the initial factory edge is not particularly relevant, especially since today's modern sharpeners can apply a better factory edge on every knife.
Stage 1:
Diamond abrasives on the conical disks in Stage 1 create extremely fine 'micro-grooves' on the facets on both sides of the edge. It simultaneously creates the first major bevel of the arch-shaped edge at about a 15-degree angle. These micro-grooves on the edge facets give the knife more 'bite.'

Stage 2:
Even finer diamond abrasives on the conical disks in Stage 2 shape the second and smaller bevel of the arch-shaped edge simultaneously creating even finer micro-grooves on the second bevel of the razor-sharp edge (at a slightly larger angle).
Stage3:
Uses the patented flexible abrasive stropping disk system―to create a microscopically smooth, non-serrated ultra-sharp edge. It creates the third and still smaller bevel of the arch-shaped edge. The stropping action of Stage 3 further polishes the micro-grooves, formed on the edge facets in Stages 1 and 2, to create micro-flutes along the edges of the micro-grooves that assist in the cutting action of an edge of unprecedented sharpness, performance and durability.
Pros
Easy to use
Sharpens and hones straight and serrated knives
Cons
Replaceable abrasive grit belts. Won't burn or damage blade steel. Precision sharpening guides for kitchen, pocket, hunting, and serrated knives. 6 foot power cord. Three belts (P80-coarse, P220-Medium, and 6000-Fine).
Pros
Don't damage blade steel
Can be used for kitchen, hunting, and serrated knifes
3 belts included
DVD guide included
Cons
Sleek and slim, ideal for outdoorsmen who want to ensure their blades are always sharp. The Pocket Pal features a fold out, tapered round diamond coated rod for sharpening serrated and standard edges, pre-set carbide blades for quickly restoring a dull edge, and specifically shaped ceramic stones for a razor-sharp finish. The carbide blades provide quick edge setting capability for dull or damaged knives, blades are designed for use on straight edges only. Ceramic stones provide a smooth, polished edge for already sharp knives and can be used on serrated or standard blades. Both the carbide blades and ceramic stones are reversible and replaceable for extended sharpening life.
The Pocket Pal measures 3-1/2 inches long and 1 inch wide, and it weights just 1 ounce. Always clean your sharpener with a damp cloth after use and towel dry. Do not rinse with water.
Pros
Cons
Hard to use with large knives
The USA made Lansky system is perfect for outdoor sporting, kitchen or workshop knives, and Lansky offers the widest range of accessories available. In production for over 35 years, the Lansky Sharpening System has been the preferred sharpening system for DIY and cutlery enthusiasts worldwide.
Angle constancy is the most critical and the most elusive element of hand sharpening – and the Lansky Controlled-Angle System ensures that your knife edge sharpens to the exact bevel you specify. Designed to give your blade a professional, razor sharp edge every time, regardless of your sharpening ability. Excellent for beginners and advanced users alike. The original and legendary Controlled-Angle System is the ultimate in Knife Sharpening technology.
Pros
Made in USA
Easy to use
Affordable
Cons
Knife Sharpener for kitchen, utility, folding, hunting knives, scissors and screwdrivers. Engineered to both hone and polish simultaneously, with in-built auto angle, this electric knife sharpener machine brings sharpness and new life back to your knife blades, metal screwdrivers and scissor blades.
MINIMUM EFFORTS, FAST RESULT
Stop fumbling around with that clunky old knife sharpening grinding wheel and whetstone.
GA electric sharpener for knives sharpens blades in no time. All you have to do is insert your blade into the slot and press the power button.
Pros
Small and compact
Good for knives, scissors, screwdrivers
Affordable
Cons
Remember when your blades could cut? Create the sharpest edges known to man with the WEN 10-Inch Two-Direction Water Cooled Wet and Dry Sharpening System. Boasting a 10-inch by 2-inch 220 grit wet sharpening stone and an 8-inch by 1-1/8-inch leather stropping wheel, you'll have everything you need to bring old dull tools and knives back to life.
The heavy-duty 1.6A motor quietly rotates the wheels at an earnest 115 RPM for maximum precision during operation. Once the edge is nice and sharp, polish and finish the surface on the leather stropping wheel with the included honing compound. Resuscitate dull blades, wood chisels, carving tools, scissors, screwdrivers, lathe tools, axes and more. Reverse the rotational direction with the simple flip of a switch to meet the needs of any task. The universal support adjusts to both horizontal and vertical positions, allowing for jigs and other accessories to be utilized with the machine.
The WEN 10-inch Wet/Dry Sharpener also includes an angle guide, a height adjustable water reservoir, and a jig for sharpening planer blades and chisels. The WEN 42704B 4-Piece Sharpening Accessory Kit is also available for sharpening other blade styles. The onboard carrying handle makes transportation easier than ever while the mounting brackets combined with the sturdy base prevent walking and wobbling during operation. And, because its a WEN product, your 10-Inch Wet and Dry Sharpening System comes backed by a two year warranty, a nationwide network of skilled service technicians and a friendly customer phone line. Remember when your knives could cut through anything? Remember WEN.
Pros
Fast and effective
2-year warranty
Two-direction
Carrying handle
Cons
We hope the article was helpful to you in your pursuit of a solution to choose best knife sharpener. Within the scope of a post, we know we can't cover all the information you may need; but we will be happy to answer any question you may have about the best knife sharpenres. Drop us a line in the comment section – we will get back to you real quick!