Best Fresh Ginger Substitute
With its unique flavor and spicy zing, ginger is a versatile spice that adds flavor to various dishes. Ginger offers anti-inflammatory properties that aid in digestive relief and aids in the treatment of cardiovascular disease by assisting cholesterol levels.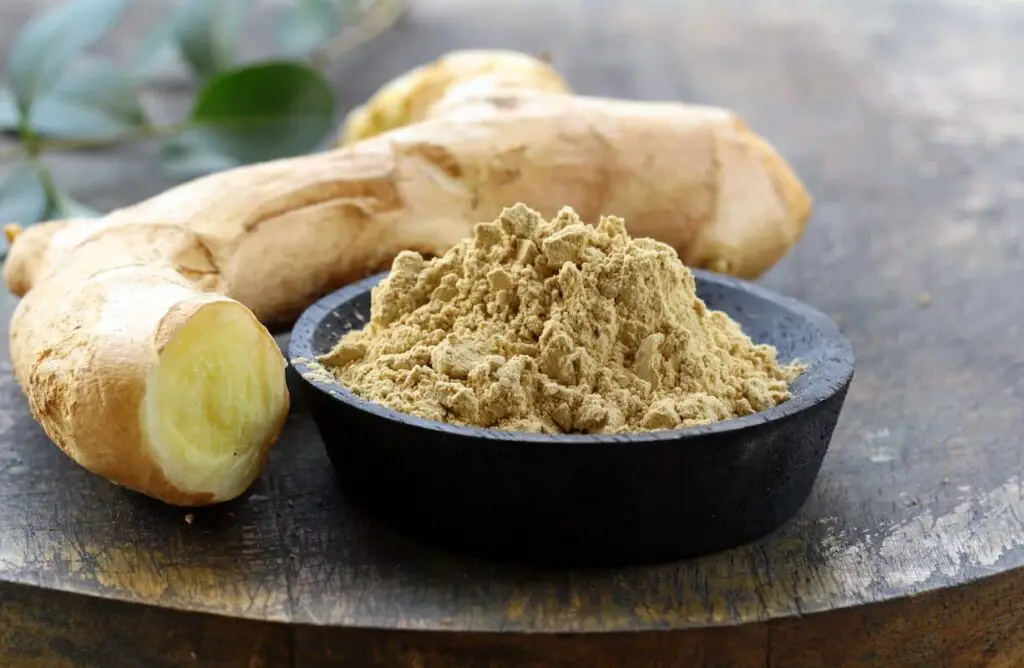 It's no surprise many people prefer to add it to their diet. However, fresh ginger can be hard to find at times, so if you want the freshest taste, get the best fresh ginger substitute from ingredients you already have on hand. This article will give you vast information about fresh ginger substitutes and the most valuable products available on the market today.
The post may contain affiliate links. For more information, check my disclosure.
Benefits Of Fresh Ginger
Ginger is a useful ingredient that you can find at almost any supermarket. It is an excellent addition to your cooking, especially during the holiday season. Ginger can be used in various dishes and is known for its potent spicy flavor and ability to soothe digestive issues and pain. Here are some of the top benefits of ginger.
Alleviates Upset Stomach
Ginger can be used as an ingredient in teas and other drinks for those dealing with upset stomachs. This makes it easy to ward off nausea, heartburn, or other minor ailments associated with food poisoning or motion sickness. It also helps to reduce nausea during pregnancy. Making ginger tea is an easy way to get this benefit without the use of medications.
Shows Potential Anti-Cancer Properties
In a 2012 study from the Memorial Sloan Kettering Cancer Center in New York, it was suggested that the components in ginger might fight cancer. The primary compound that researchers focused on was 6-gingerol, which has been shown to kill leukemia cells and slow tumor growth.
While there is no definite link between ginger and cancer prevention, establishing a connection between these compounds could lead to new types of treatment for certain forms of cancer in the future.
Fights Inflammation
As an anti-inflammatory, ginger can fight the pain associated with arthritis, fibromyalgia, and other conditions caused by inflammation and irritation of the muscles and joints. Doctors suggest that ginger may help reduce swelling and stiffness that come along with the illnesses mentioned above.
Assists In Digestive Relief
As mentioned above, fresh ginger is often used in food for its ability to soothe digestion problems. This is due to the presence of a compound known as gingerol. This compound helps to treat nausea, motion sickness, and other stomach ailments by inhibiting particular enzymes in your stomach.
Reduces Cholesterol
At least one study has shown that ginger has the potential to lower cholesterol, especially when combined with black pepper.
Where Can You Use Fresh Ginger?
Ginger is a versatile spice that works well in many dishes. Whether you are looking for a quick appetizer or main course, you have options for how to use fresh ginger. From breakfast to dinner, try different dishes for the added benefit of ginger. Here are some of the most common dishes that use fresh ginger.
Side Вish
Try adding ginger to vegetable stir-fry or stew for extra zing and flavor during the holiday season. It is also a great addition to salads such as Asian or Thai salad since it is stronger than other spices.
Pickling
Make your own pickled ginger by adding fresh ginger root to your pickling mixture for sandwiches and sushi rolls.
Sushi
Use fresh ginger in your sushi rolls or even in teriyaki sauce for an added kick and extra flavor.
Soup
Make a homemade chicken noodle soup during the winter months by adding fresh ginger to give it a nice kick and extra flavor. This works well with vegetable soup too.
Related: Best Coconut Flour Substitutes
The 5 Best Substitutes For Fresh Ginger
The Simply Organic Ground Ginger Root is a product that you should go out and buy. It is spicy, sweet, and also ground for ease of use. The ginger root is grown in Peru, which makes it kosher certified organic, and non-irradiated. This means that the ginger has no artificial additives or chemicals used.
Ginger has been used for centuries as an ingredient in both food recipes, including desserts and teas, to relieve nausea or stomach upset due to illness or pregnancy. This product has many health benefits, including the ability to relieve nausea and to boost your immune system, and help in lowering blood pressure.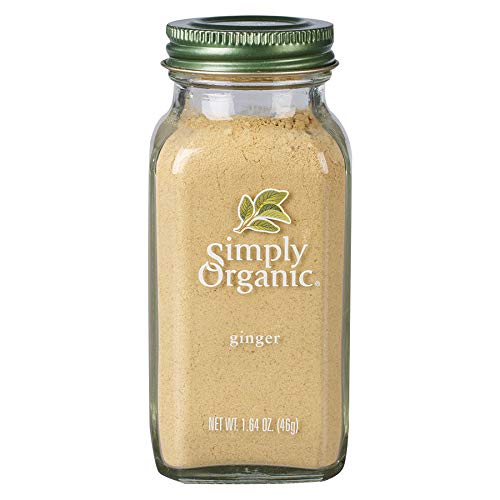 Simply Organic Ground Ginger Root could help in the fight against cancer because it helps in our bodies' ability to boost our defenses during cancer-fighting times. This ginger root also helps the digestive system, helping people who suffer from irritable bowel syndrome or IBS.
The ginger root is finely ground for ease of use and is non-irradiated, so no toxic pesticides, irradiation, or GMOs are used. It is kosher certified organic, and non-irradiated, which allows us to know that we are getting what we pay for when we purchase this product.
What I Like
This product is pure organic ground ginger root.
It is used as a spice; therefore, it is pure, and it is very healthy.
It contains no artificial additives or chemicals. 
The Simply Organic Ground Ginger Root has many benefits: the benefits of being non-irradiated, kosher certified organic, and being pure ground ginger root.
If you're looking for an alternative to fresh ginger, you should know that there are several different options. It can be very tedious and time-consuming to consistently peel and grate gingerly, which is the most common wat in cooking.
If this is the case for you, it may be time to explore your other options! One of these is Spice World Squeeze Ginger. This product comes in a tube with a very simple design that labels what kind of product it is on one side with instructions on how to use it on the other side. This product is designed for baking, marinades, and meat dishes, such as roast beef.
Spice World Squeeze Ginger is very easy to use; all you need to do is cut off the top of the tube, peel off the plastic safety seal and press the tube onto your food. Make sure you don't squeeze it too hard because otherwise, you'll end up with a mess.
This product also works well if you simply want to add fresh ginger flavor to something without adding texture or having it stick to your hands. If you are concerned about your health, you should know that this product contains no artificial colors or preservatives, making it very safe for cooking purposes.
What I Like
It is very easy to use and convenient for people who don't like the texture of ginger.
If you're sick, you can still enjoy spice world squeeze ginger because it's cook-friendly.
There aren't any artificial colors or preservatives, making it cook-safe and healthy to use.
It's affordable so that you can buy it frequently.
Ginger people have come up with a new and interesting product: a fresh ginger substitute. This product is unlike anything we've seen before and gives fresh ginger a run for its money. So what can this product do for you? It goes well in marinades, dressings, and sauces! It's also organic and ready to use right out of the bag. Minced Ginger by Ginger People Organic is essential to your pantry! Be sure to get your hands on some today!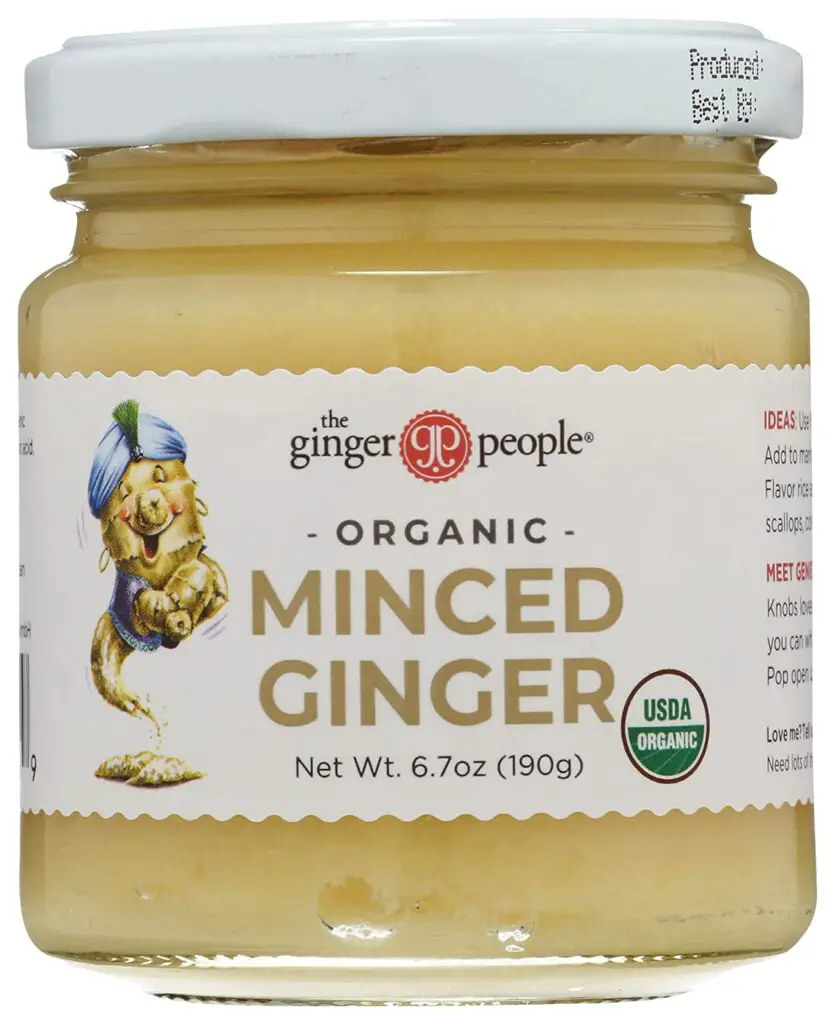 Here at OneDollarKitchen, we believe that every foodie should know how to make fresh ingredients from scratch. We are experts in the kitchen, and we see some food experts who are, and they let us know what to pick up and what to make at the supermarket. One of our favorite ingredients is ginger. There's nothing like a little fresh ginger in some dipping sauce or some marinade for meat! Ginger people believe that ginger's goodness should be available daily for all to enjoy.
What I Like
Organic 100% pure minced ginger.
Fresh, great taste.
Versatile, great for sauces and marinades.
Great to use as a spice in baking or cooking.
The use of ginger in cooking varies greatly across countries and regions. For example, Chinese red-cooked chicken is often seasoned with grated ginger, while Japanese sushi is flavored with pickled ginger. The Ginger People Organic Grated Ginger is an excellent option for this and other dishes. 
Extracting this organic ingredient from its root might take hours while making it easy to use the time for cooking or barbecuing can take only minutes with no hassle whatsoever.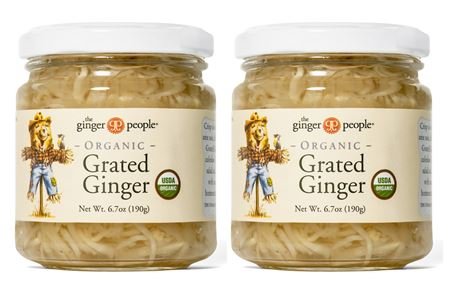 Grated ginger is one of the oldest spices globally that is known to possess many medicinal properties. It relieves nausea and vomiting, reduces pain caused by arthritis and muscle soreness, lowers cholesterol levels, fights inflammation, aids digestion, boosts the immune system, promotes blood circulation, and clears congestion. Furthermore, it eases colds and flu symptoms while improving respiratory function.
With Grated Ginger by The Ginger People Organic, every meal will be savory and delicious.
What I Like
The company claims that the product is organic, gluten-free, non-GMO, kosher, and vegan. 
It contains no artificial colors or flavors.
This product has a fresh aroma that provides tasty meals in minutes. Your guests will love it in your drinks and desserts because it adds pizzazz to every bite of their meal.
If you're looking for a fresh ginger substitute, D'allesandro Crystallized Ginger is an excellent option. These sugar-coated ginger pieces are perfect for adding a touch of sweet, peppery flavor to your favorite recipes or enjoying them as chewy candy.
You can enjoy them for an immune-boosting snack or chop and use them in baking, such as gingerbread, cakes, and cookies. D'allesandro Crystallized Ginger is gluten-free and kosher certified.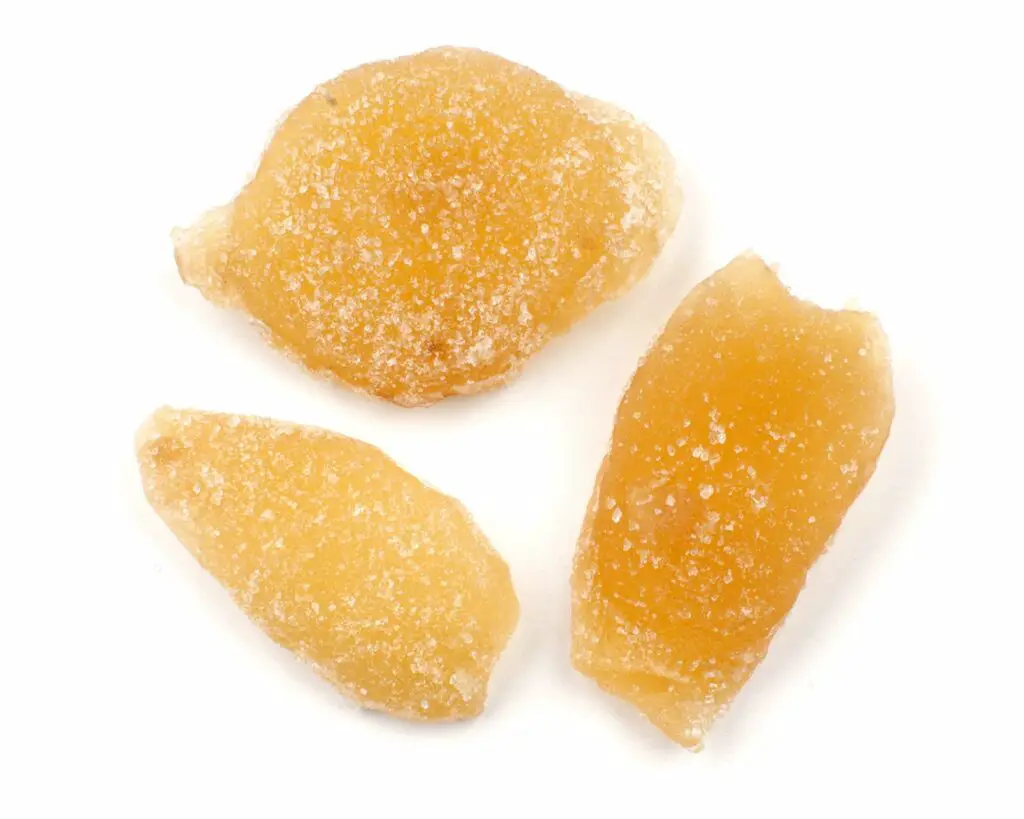 D'allesandro Crystallized Ginger is made from the finest ginger, cultivated and processed exclusively on the Italian island of Sicily. The resulting product possesses a full-bodied flavor and a natural, unblemished appearance. D'allesandro Crystallized Ginger comes in convenient packaging and is ready to use as soon as it is opened.
D'allesandro Crystallized Ginger can be used in any recipe that calls for fresh ginger, but you will want to increase the amount by one-third to one-half. For larger amounts, use no more than 1/4 teaspoon per serving.
What I Like
D'allesandro Crystallized Ginger contains all-natural ingredients and no artificial flavors or preservatives.
You can use it in baking and recipes that call for fresh ginger, but you will want to increase the amount.
You can enjoy this crystallized ginger as a healthy snack or chopped up in fried rice for a hint of sweet heat.
Fresh Ginger Substitute Cooking
Traditionally, if you cannot find fresh ginger root in the grocery store, you can opt for dried ground ginger instead. Dried ground ginger is easily found and less expensive than fresh root. However, dried ground ginger has the same taste as the fresh ginger root, so if that's not enough of a difference for you, then use fresh ginger root.
Ginger is a spice to mess up when cooking. It does not lend itself to be confused with other spices such as nutmeg, clove, or cinnamon. Use it for soups and stews to add flavor and zing. You can even use it as a marinade and rub it on your meat before grilling or roasting it for added flavor.
Chefs use ginger in many dishes. You can incorporate fresh ginger into your dish by using it as an ingredient in the recipe instead of the traditional way. One easy way to do this is to substitute fresh ginger with ground ginger, easily found at stores. Most people prefer to use ground ginger on its own, but even it works well when used as a substitute for fresh ginger.
Fresh Ginger Substitute Curry
Ginger lends itself well to be used in curry dishes. It has a strong flavor that adds spice to your curry dish without overpowering other ingredients. You can use ginger as a substitute if you do not have fresh ginger root on hand, need to make a recipe, and do not want to delay cooking.
If you live in an area where fresh ginger is not readily available, dried ground ginger can be easily substituted with fresh or dried ground garlic or onion powder. You can substitute this for one teaspoon of the dry spice by using 1/2 teaspoon of finely grated fresh ginger root.
Fresh Ginger Substitute Cookies
If you are looking for a quick cookie recipe that your whole family will enjoy, try a simple recipe for ginger cookies full of flavor and make a great holiday gift for kids and neighbors.
As mentioned above, ginger has a good amount of flavor and can substitute many different spices and herbs that you would typically use. Try using it as a replacement for fresh ginger in your baking to add an extra boost of flavor. Because it is not as sweet as regular sugar, you can also try using it as an ingredient in your cookie recipe, such as ginger cookies.
Fresh Ginger Substitute In Soup
Vegetable soup is an excellent choice for a meal to warm you up on a cold winter's day. It is also a great way to use up vegetables from your garden before the season ends. It can be simple to make using any ingredients that you have on hand, but there are specific steps you can take to add some extra flavor to your dish.
If you lack fresh ginger root, you can choose to use dried ground ginger instead since it has the same taste as fresh ginger. However, if that isn't an option, then dried ground ginger delivers the same thing without much difference in taste or smell.
Fresh Ginger Substitute Stir Fry
Stir-fry dishes are one of the most popular ways to cook Chinese cuisine. This dish can be made in various styles, but the basic idea is that you are cooking meat or vegetables quickly in a wok or skillet. This cooking method allows you to utilize fresh ingredients while creating complex flavors in your dish with different seasonings and sauces.
Fresh ginger substitute works well when added to stir-fry dishes because it adds some spice and flavor while still letting the other ingredients be the main attraction on the dish.
This spice also helps give your sauce a little kick by adding some extra flavor, while it helps keep your meat from drying out on the grill when used as a marinade.
The Bottom Line
Ginger is a versatile spice that you can use in the kitchen and also in your diet. It has a strong flavor, but it is still easy to enjoy when used fresh or substitutes for other herbs and flavors. It adds zing and flavor to most dishes without overwhelming the ingredients or menu items.
If you cannot find fresh ginger root in the store, try using dried ground ginger instead. Just remember that there are many options for substitution when it comes to fresh ingredients. You can use other spices such as garlic, onion powder, or even just salt if you prefer.
FAQ – Frequently Asked Questions
How Much Ground Ginger Replaces Fresh Ginger?

The answer to this question is that there is no exact or standard equivalent amount of freshly ground ginger or ginger paste in one tablespoon. However, if you need one teaspoon of freshly grated ginger flavor in your recipe, add about 1/2 teaspoon when using dried ground ginger.

Can I Use Ground Ginger Instead Of Fresh Ginger?

Yes. You can substitute about 3 tablespoons of ground ginger for 1 tablespoon of fresh in most recipes, or substitute ¼ teaspoon of ground ginger for ¼ teaspoon of fresh in most recipes. Ground ginger is more potent than its fresher counterpart, so you may want to use it less in some instances. 

What Can I Substitute For Ginger In Stir Fry?

You can substitute the fresh ginger in stir-fries with any of these ingredients: grated ginger root, powdered dried ginger root, dried onion flakes, or granules added with 1 tablespoon sugar to make a sweet rub for beef, pork, lamb, chicken, turkey.