Best Electric Griddles
If you are a big fan of cooking at your home, you will know that many things can go wrong in the process. One such thing is the frying pan. Unless you have a gas stovetop, a frying pan will not provide you with all the benefits that the best electric griddle would offer.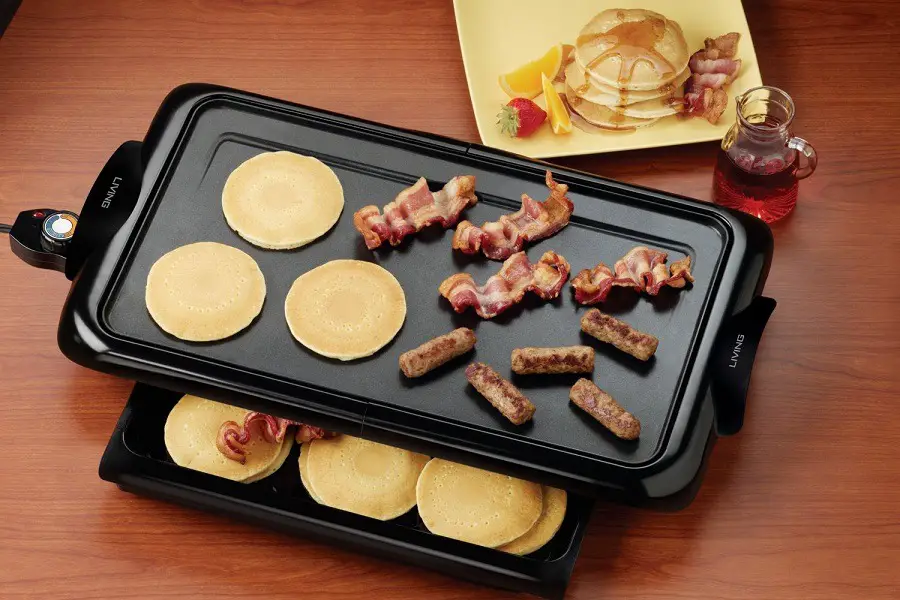 Electric griddles are now the most popular cooking utensils, mainly due to their portability and versatility. Keep reading to learn more about the best electric griddle, its benefits, and features, things to consider while choosing a kitchen appliance for your needs.
The post may contain affiliate links. For more information, check my disclosure.
Top 5 Electric Griddles
The 19-inch tilt-n-fold electric griddle from Presto is an excellent appliance for every meal: breakfast, lunch, and dinner. It has a level cooking surface for eggs and pancakes that can be adjusted to a tilted surface for meats. The legs fold in, and the drip tray locks in place when in storage.
The heavy cast aluminum base with a large 254-square inch cooking surface allows you to cook anywhere and whatever you want, even for a large family. The Presto 19-inch electric griddle is a good addition to your kitchen.
This electric griddle is made of cast aluminum, is of excellent quality, and the surface is nonstick. The heating element is strong and efficient. This electric griddle is very easy to clean and maintain. It has a big cooking surface for you to cook food for a large family.
The price of the product is affordable compared to other models with similar features and specifications. It can be used on tabletops as well as flat or smooth surfaces, such as on top of a stove or countertop. It will help you save more space as it provides a full cooking surface without taking up too much space in your kitchen cabinets or under your counters.
What I Like
The griddle has a large cooking surface that allows you to cook for a large family.
It has a nonstick coating that prevents the food from sticking.
The Presto 19-inch electric griddle is durable and made with quality materials resistant to rust, staining, or warping.
It has detachable legs that fold in for compact storage and to make it easier to handle.
The product is easy to maintain and clean.
Electric griddles typically have a large cooking surface, adjustable temperatures, and easy-to-clean ceramic surfaces with titanium enhanced nonstick coatings. The Zojirushi 19″ Gourmet Sizzler model is an excellent choice to improve your cooking experience.
The Zojirushi electric griddle has an impressive 19″ x 12.5″ cooking surface that's plenty big enough for making your favorite breakfast dishes or huge batches of food at once. It's large enough to cook pancakes, eggs, bacon, and sausages all at once.
The variable heat settings allow you to change the temperature according to the food you're cooking. The cooking surface has a durable and easy-to-clean ceramic coating for superior nonstick performance.
What I Like
Stovetop and oven use: You can easily change your Zojirushi electric griddle from stovetop to oven and vice versa safely and in a jiffy.
Versatile cooking surface: 19″ x 12.5," the Zojirushi Gourmet Sizzler electric griddle provides enough space for preparing more than one dish at a time.
Easy clean-up: A removable body guard and cooking plate allow you to wash your Zojirushi electric griddle easily.
Titanium enhanced non-stick surface: Ceramic waffle grids ensure superior non-stick performance on the Zojirushi Gourmet Sizzler electric griddle's 19″ x 12.5″ cooking surface.
Sturdy construction: A heavy-duty stainless steel base ensures the Zojirushi Gourmet Sizzler's durability.
Power up your breakfast routine with the compact Presto Griddle Electric Griddle. This electric griddle has an 8″ X 10″ nonstick cooking surface made of cast aluminum that resists warping and distributes heat evenly.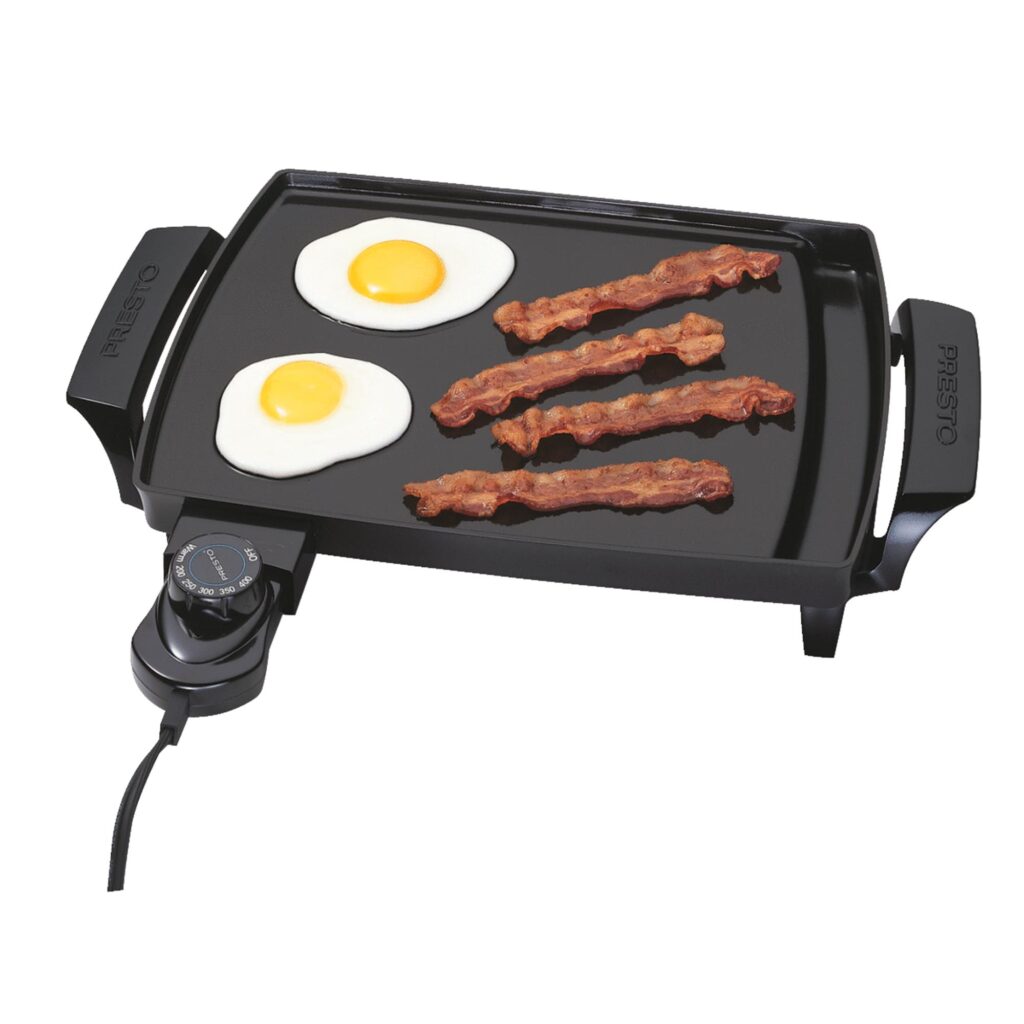 It's also able to maintain temperatures ranging from warm to 400 degrees F automatically. The Presto Griddle features a removable grid for cleaning, extra holes for air circulation, and a convenient on/off switch for ease of use at any time.
What I Like
The electric griddle is a smaller version of a full-sized griddle, allowing for a faster and more efficient way to cook your favorite foods.
It has a heating element that provides even cooking and browning of food.
A removable grid allows users to clean the inside of the electric griddle easily, resulting in longer product life with little maintenance required over time.
A stainless steel design allows for easy cleaning, which prevents contamination from previous foods cooked on the device from affecting the flavor of the food being cooked in it at present.
A small size of the griddle makes it ideal for cooking multiple servings of food at once.
Hamilton Beach 3-in-1 Electric Indoor Grill + Griddle is a great kitchen appliance for everyday cooking. Now you will spend less time hunting for items in your kitchen drawer and more time cooking with the Hamilton Beach 3-in-1 Electric Indoor Grill + Griddle. 
Its built-in griddle makes it easy to cook delicious bacon without splatters or mess. It's also great for cooking breakfast, grilled sandwiches, and other dishes like fish fillets. Store it easily on your countertop without taking up space like a traditional grill. This versatile appliance offers various cooking options for any mealtime need.
What I Like
Made of durable ABS plastic for easy clean-up.
The grill plate rotates 180 degrees for cooking pancakes and eggs.
Meat thermometer/securer allows you to ensure meals are cooked properly.
Two nonstick grill plates with crisscross design for evenly cooking food.
Temperature control allows you to set your desired temperatures. It has pre-programmed settings for meat cooking, fish and egg meals.
The Secura Smokeless Indoor Grill 1800 W Electric Griddle is a multifunctional gadget for all sorts of culinary needs. The reversible, non-stick cooking plate measuring 15.5 x 11.5 inches – about 180 square inches – means you'll have plenty of surface area to cook on and won't be confined to a small piece of counter space. 
The removable heavy-duty tri-ply cooking plate with the heating element sandwiched between the grill plate and griddle plate lets you alternate between grilled cheese sandwiches, crispy bacon, and eggs without breaking a sweat.
A two-in-one grill/griddle combo machine with a removable glass lid prevents splatter and retains heat while barbecuing. An easy-to-use control dial along with indicator lights make this griddle simple to control and easy to clean. Secura Smokeless Indoor Grill 1800 W Electric Griddle is made of a non-stick surface for oil-free healthy cooking.
The Secura Smokeless Indoor Grill 1800 W Electric Griddle cooks fast and evenly for maximum results in minimum time. The ceramic heating components eliminate the need for grease or oils to prevent sticking and burning, making food content healthier and easier to clean up.
What I Like
Cleaning is easy.
Rely on healthy cooking oil-free.
Cook healthy with the grill side and the griddle side can use two different function materials of different quality, of excellent quality.
All the cooking food of different types, of good quality. When you need a wonderful dinner to enjoy a special occasion, of course, it is a good product for a gift to buy. This product has a new design, and it's easy to clean up when you're done using it.
Buyer's Guide
Electric griddles come in different shapes and sizes depending on your needs and purposes for buying them. If you want a portable electric griddle for camping, you will have to check the shape and dimensions of the stove. In general, the best electric griddles for campers would be small, compact, and foldable in size.
There are also indoor electric griddles available on the market today. This guide provides the vast information about these cooking appliances that become more popular nowadays.
What Is Electric Griddle?
An electric griddle is an electric stovetop that can be used for frying or baking. It does not require any type of fuel to operate so you won't have to worry about running out of gas while you are using it. An electric griddle is perfect for cooking breakfast, lunch and dinner because you can heat it up fast and adjust the temperature according to your needs.
With the help of this appliance, you can easily cook pancakes, burgers, eggs, steaks, vegetables, and other delicious meals you prefer.
Related: Best Air Fryer For One Person
Related: Best Air Fryer For Large Family
Related: Best Air Fryer For Fish
Why Should You Use Electric Griddle?
You need an electric griddle if you want to prepare food quickly and efficiently. Cooking food on an electric griddle can be done in just a few minutes, especially when the temperature is manually controlled.
Cooking your food on an electric griddle is easy because all you have to do is simply set the desired temperature, and it will stay in that position no matter how long you keep it on the stovetop. It also offers the benefit of cost-efficient cooking because you don't have to run out of gas when preparing your food.
Benefits Of Using The Best Electric Griddle
Electric griddles are extremely convenient for homemakers, campers, and chefs because of the following benefits:
Easy To Use
An electric griddle is easy to use because it offers the convenience of manual temperature control. This way, you won't have to worry about overcooking or undercooking your food.
Cook More Than One Dish At A Time
A good electric griddle can allow you to cook more than one dish at a time while still ensuring that they are cooked evenly.
Cleaning Fast And Easy
Because an electric griddle does not require any type of fuel, you won't have to scrub or fry it before putting it in water for cleaning purposes. You simply have to wipe it off and dry it. It cuts down on the time you would spend cleaning a pan or a wok.
Cook Your Food Quickly
Because electric griddles are electric stoves, they are very good at getting your food cooked fast. You can enjoy perfectly cooked meals in just a few minutes.
What To Consider While Choosing Electric Griddle
You have to pay attention to many things if you want to purchase the best electric griddle for your needs and budget. These include:
Material Composition
The material composition of an electric griddle would determine whether it is suitable for use, how long it will last and how much energy it takes to operate. Since electric griddles are made from different materials, you should make sure that you know the ingredients before making a purchase.
Electric griddles are available in aluminum, cast iron, stainless steel, ceramic, and even carbon steel. But rusting can be a problem with some materials because you should not store the products in places where humidity is high or exposed to moisture.
Size
You should consider the size of your room before purchasing an electric griddle because you need to know if the stovetop will fit into your kitchen. It is also important to choose the size of your appliance if you are buying it for camping. You never know how big the campsite is so you should check the dimension of the electric griddle before taking it on your trip.
Thermostat Control
It does not matter what kind of stovetop you are using; you will always need a way to control its temperature. This can be done with an electric griddle by choosing a model that offers a thermostat control mechanism.
Temperature Range
There are many types of materials that can be used as an electric griddle, and each material has a different maximum temperature threshold under normal circumstances. You have to check the temperature range of the product you are interested in before purchasing.
Stainless Steel Electric Griddle
Stainless Steel Electric Griddle has a lovely smooth surface that is gentle in your hands. It is very easy to clean, and it does not require oiling, however, it can be wiped clean with a soft sponge.
The surface won't scratch like many other electric griddles, which means you get extended life out of it. It runs quietly on the surface of your stovetop without the worry of banging against the table or getting damaged while cooking on your stovetop.
The electric griddle is excellent for quiche and waffles because they are egg-based foods that do not require high heat to cook effectively.
Best Electric Griddle For Camping
If you like to camp and grill, this is one of the best electric griddles you can use for your meals. It is easy to pack and portable, and it comes with a handle that makes it easy to carry anywhere. This electric griddle is made from carbon steel which is a durable metal that will withstand any heat. The griddle has a non-stick surface, so your food will not stick on it.
Electric Griddle For Pancakes
This is a non-stick electric griddle that is suitable for cooking pancakes. The electric griddle has a heating element that has a power rating of 1200 watts. It can produce temperatures between 200 degrees Fahrenheit to 480 degrees Fahrenheit. The griddle has a power indicator light, and it cools off pretty quickly.
Electric Griddle For Burgers
This product is made from carbon steel, and it is non-stick so that you can use it for cooking hamburgers, omelets, pancakes, and all other types of foods. It has a power rating of 1200 watts, which explains why this electric griddle cooks things very quickly. You can adjust the temperature to your liking by using the two dials. The surface is non-stick so that you can cook foods safely.
Electric Griddle For Steaks
The electric steak griddle has a non-stick, so you'll never have to worry about using more than necessary when cooking items on this electric grill. It has an external temperature control system so you can adjust the temperature of your food. The heat is conveyed through the coils inside the pan, allowing you to cook with minimal fire risk. This steak griddle is easy to clean and cooks quickly with minimal energy consumption.
Electric Griddle With Lid
Electric griddles may have a detachable lids which are very useful when you want to keep your food warm while you prepare it. The lid also has hooks that attach easily to the electric griddle, allowing you to store it when not in use.
The appliance supports the base of the griddle itself, allowing for an even distribution of heat, ensuring that your food cooks evenly. This electric griddle is excellent for cooking eggs because it can cook them at a higher temperature. You can also use it for cooking potatoes or other vegetables which would require high heat in order for them to cook properly.
FAQ – Frequently Asked Questions
What Is The Best Electric Griddle?

The Presto 06857 EZ Clean Griddle is the best electric griddle because it cooks food evenly, and extra grease or oil can be wiped off easily. It has a large surface area which makes cooking breakfast for a family much easier.

Are Electric Griddles Worth It?

Electric griddles offer many advantages over a traditional stovetop, gas, and electric griddles. They're great for cooking pancakes, blueberry muffins, grilled cheese sandwiches, or any other dish you might typically cook on the griddle.

Is Electric Griddle Better Than Gas?

You can save money with an electric grill because they require less fuel and won't cost much to maintain. Electric griddles provide you with even heat distribution for even cooking, whereas gas models may result in charring your food if left unattended for too long.