Best Blenders For Home To Buy
A blender is a kitchen tool to provide you with fruit and vegetable smoothies, cream soups, sorbets, mousses, minced meat, whipped cream, ground coffee and crushed ice. In this guide we will tell you how to choose a blender for your home and which device is best for you.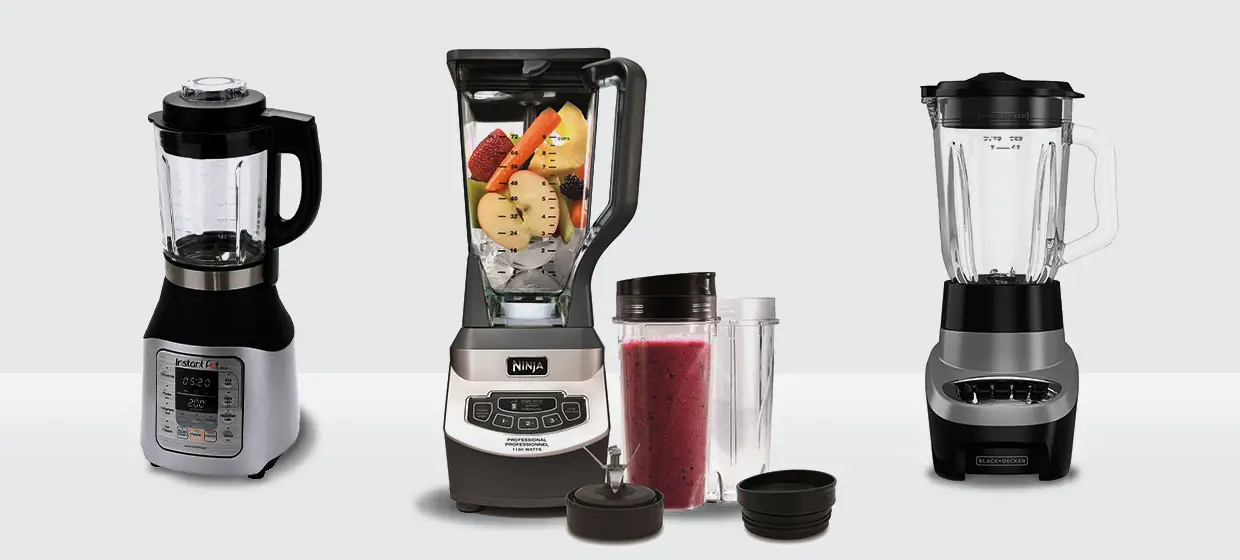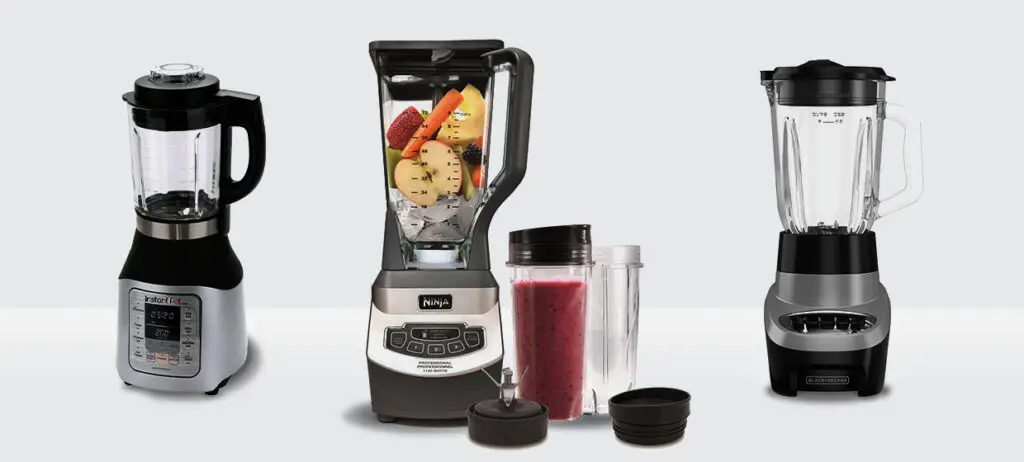 The post may contain affiliate links. For more information, check my disclosure
How To Choose A Blender
Classic blenders consist of a jug with a knife at the bottom and a base with a motor.
Pros
The work of the

blender

requires minimum engagement.
Convenient to prepare smoothies and drinks for several people at once.
Cheaper than other devices.
It's easier to take care of.
Cons
The main disadvantage is the inability to cook small portions (most often the volume of the product should be more than 8 fl oz).
Has a large size.
Who Should Choose A Best Blender For Home
Those who often make cocktails and smoothies, and in large quantities. For athletes, vegetarians and people who follow a healthy lifestyle, this device is simply essential.
Below are some points that you should keep in mind when looking for a blender.
Power
The first thing to pay attention to when choosing a best blender for home is power. Most blenders have 500-900 watts of power, but some home models have 1200-1350 watts. The higher the motor power the better the blender. At the same time, its make more noise and more expensive.
The powerful models from 750 to 900 watts are capable of handling nuts, frozen fruit/berries, ice making, smoothies and cream of thick consistency. Models with more than 1000 watts are needed for whipping dough. If you most often do not cook frozen soft fruits and vegetables, you should not overpay for high power, and a blender 600 watts will do most of the tasks.
Knives
This is the most important blender part after power. The blender can have 1 or 2 knives (with crossed blades). The more blades available, the faster the blender will grind the food. Knives come in many different shapes, but in general they can be divided into curved and straight blades. Curved knives grind and mix products more thoroughly and evenly than straight knives. It is desirable that the knives are large, made of high quality and strong stainless steel.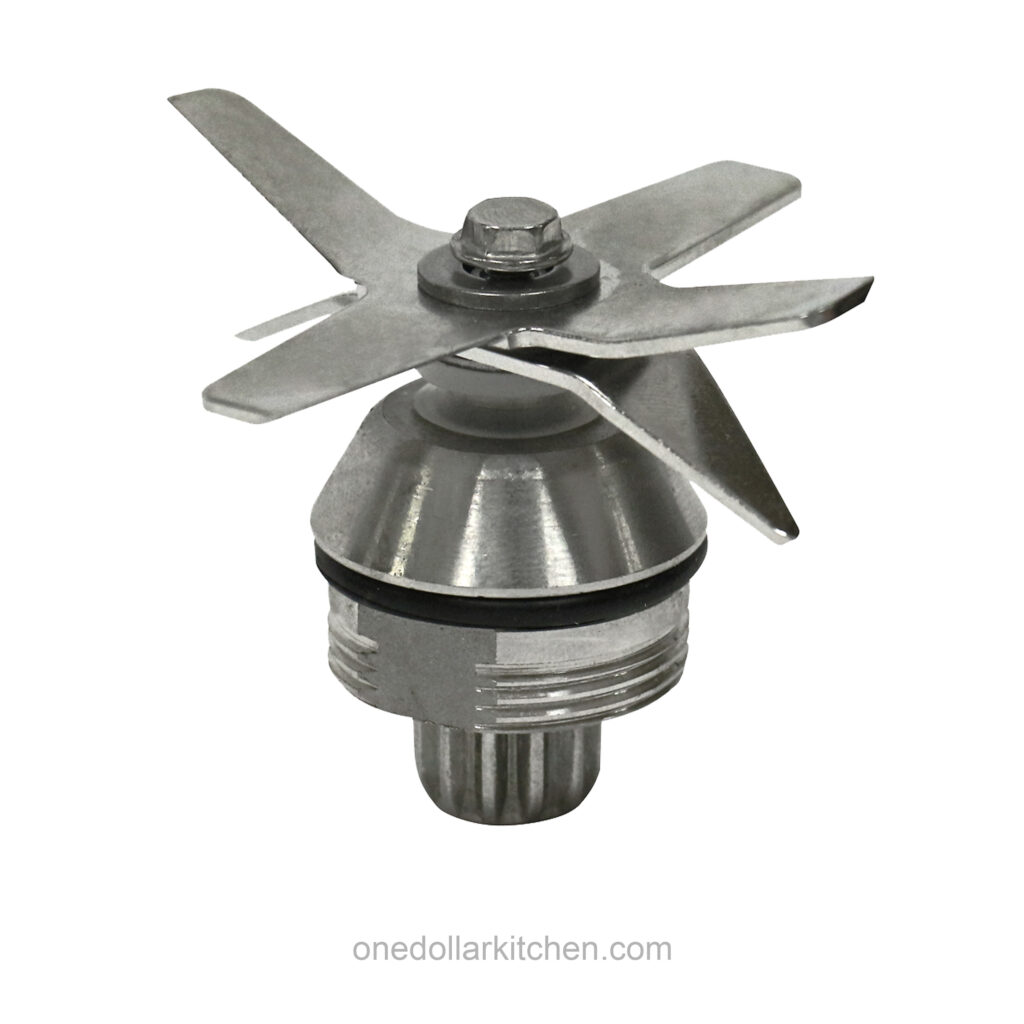 Jar Volume
The size of the pitcher shows the maximum amount of food you can cook at a time. Depending on your needs, you can choose an appliance with a capacity from 4 to 8 cups. Keep in mind that the useful volume of the pitcher is 8-10 fl oz less than the indicated total volume. A blender with a large jar of 6 to 8 cups allows you to prepare puree soups and cocktails for several people at once. Blender with 4 cups jar is suitable for making cocktails for two or three people and baby food.
Some manufacturers also specify the minimum weight that a blender can shred (usually 8 fl oz). If you load less weight/volume products into a bowl, the device will simply not be able to grind them, but will only soil the bowl. By the way, pay attention to the presence of a measuring scale on the jug. In addition, we advise you to choose a blender with a wider pitcher. It is more convenient to stir the contents in a wide jar, and it is also more convenient to wash it.
Materials
Now you need to decide on the material of the jug. The jug can be glass, plastic, metal or made of composite materials. Plastic is good because it is lightweight, easy to handle, reduces the cost of the device, but has the property to scratch and it cannot be processed hot products (unless it is a special thermoplastic). The glass jug is heavier and therefore easier to handle, in addition, it can be broken. But it looks more beautiful, does not scratch, and most importantly – allows the processing of hot products.
The metal bowl is good for everyone, but it is opaque and makes the device more expensive. An ideal jar can is made of composite materials. It is lightweight, comfortable, durable, heat-resistant, the only disadvantage is its high price. Whatever capacity you choose to use, make sure it is dishwasher safe.
Speed
Knife rotation speeds is another criteria for choosing a blender. Modern models can have from 1 to 20 speed modes. Some devices have up to 30 speeds. Why does a blender need so many different speed modes? The fact that the higher the speed of the knife, the faster and more thoroughly the blender crushes the product, but it is not always necessary.
So, for example, if you need to grind something to the state of homogeneous mashed potato, you should process the product at the highest speed. If it is necessary to get not large chopped pieces, it is better to start the device at a low speed. Thus, the more speed programs the device has, the more kinds of products it can process. However, an ordinary blender with 4-6 speeds can successfully handle most tasks.
In addition to speed modes, the blender can have turbo mode and pulse mode. Turbo mode crushes food at the highest speed. It is better to switch it on at the very end of processing to achieve homogeneous and delicate consistency. Pulse mode has almost all models, and some have only it. The peculiarity of pulse mode is that the knives rotate quickly and intensively, but with short pauses and only when the button is held down. Despite the speed and power of the motor during processing, say, the same ice, it does not overheat.
Control Panel
The control panel is not the most important part of the device, but it is also worth paying attention to. A blender with touch buttons is easier to keep clean, but it costs more. On the other hand, mechanical control is more convenient (especially in gear change) and for many people it is more usual.
Additional Bonuses
The pleasant bonuses of the blender include: a spout or faucet for direct product pouring from the jar, overheating shutdown system, self-cleaning system, etc.
Reviews of the Best Blenders in 2021
Let's take a look at some of the most promising models available now:
So let's us introduce our best blender list.
The NutriBullet is the fastest, easiest solution for making nutrient- packed smoothies. Load it up with your favorite whole foods like nuts, berries and spinach, then push, twist and blend your way to a healthier lifestyle. Powerful 600-watt motor and refined nutrient-extraction blades blend whole foods into liquid fuel for your body – in seconds.
Powerful stainless steel Extractor blades use Cyclonic action to break down tough ingredients. High-performance, BPA-free plastic cups are long lasting and durable. This appliance is easy to clean – just twist off the blade, rinse with soap and water or put the cups in the top rack of the dishwasher.
Pros
Fast & easy to use.
Powerful 600-watt motor.
1 year guarantee.
Built to North American & Canadian Electrical standards.
Recipe book included.
Cons
Suits for small batches only.
The Nutri Ninja Pro provides you with powerful Nutrient and Vitamin Extraction performance to extract hidden nutrition from whole fruits and veggies. 900 watts of professional power breaks down fruits and vegetables for nutrient-rich juices on the go. Ninja Pro Extractor Blades crush through ice, seeds, skins and stems for a smooth, even consistency. Twist on the Sip and Seal Lids and take your drinks with you. All parts are BPA free and dishwasher safe.
Pros
900 Watts motor.
Crushes ice, seeds, skins, stems.
BPA Free.
Dishwasher safe.
To Go cups included.
Cons
Not suitable for large vegetables.
Vitamix fuels passions. It's why we're the brand most trusted by professional chefs. But you won't just find us in restaurant kitchens. You'll also find us in home kitchens around the world. Because whether you're interested in the culinary arts, making healthier choices, or enjoying restaurant-quality smoothies at home — when you're ready to move on and move up, when you're ready to invest in your passion, you're ready for Vitamix.
Built to Last A bargain blender's not a bargain if it doesn't last. We know purchasing a Vitamix blender is an investment. But Vitamix blenders are built to last, helping you buy dependable, not disposable. Just blend warm water and a drop of dish soap at your machine's highest speed, and watch it self-clean in 60 seconds or less – no disassembly required. The difference is in the blend since the number-one reason people purchase a blender is to make smoothies, it's important to get them right.
Whether you prefer an icy blend or a perfectly smooth purée, nutrition-packed with veggies or a light, fruity treat, Vitamix smoothies give you a delicious, even blend in every sip. Power We don't aim to have the highest horsepower. You don't need more horses; you need trained ones. The focused power of our complete blending system causes every component of the Vitamix machine to work together, creating faster, smoother blends packed with flavor.
Pros
Ten variable speeds.
Best for smoothies and soups.
Large 64oz container.
Stainless-steel blades.
Self-cleaning system.
Cons
Looking for best hand blender for your kitchen? Just take a look on this appliance! Powerful 800-Watt cooper motor with speed control and pulse function. Convenient 360° seamless connection attaches with the press of a button and is more secure than a conventional rotary connection, keeping everything together at any speed and any angle.
This simple hand blender includes stainless blade which is partially covered by a bell shape stainless housing that keeps splashing to a minimum to keep you and your kitchen spotless. Golden cross Blade, anti-adhesion, stronger corrosion resistance.
Pros
800-Watt all-cooper motor.
12 speeds.
360° installation.
Anti-splash.
Titanium-reinforced blade.
Good price.
Cons
Doesn't suit for commercial usage.
The Ninja Professional Blender and Nutri Ninja Cups is a professional, high powered kitchen tool with 1100 watts of power. It has XL 72 oz. blender pitcher. Total Crushing blades that blast through ice and frozen fruit in seconds for perfect ice crushing, blending, and controlled processing. Plus, its 16 oz. Nutri Ninja Cups with To Go Lids make it easy to take delicious, nutrient rich juices on the go. All parts are BPA free and dishwasher safe.
Pros
1100-Watts motor.
Pulse function.
72 oz crushing pitcher.
Two 16 oz Nutri Ninja cups with lids included.
BPA Free parts.
Dishwasher safe.
Cons
Only 3 speeds.
No touchscreen display.
The Ninja mega kitchen system comes packed with 1500 watts of power to handle all of your drink and meal making needs. The XL 72 oz. blender pitcher features total crushing technology to blast through ice and frozen fruit. Two 16 oz. Nutri Ninja Cups with To Go lids are perfect for creating personalized, nutrient rich drinks to take on the go. The 8 Cup food Processor bowl comes equipped with a chopping blade for perfect, even results and a dough blade that can mix up to 2 lbs. of dough in 30 seconds.
Pros
1500 Watts.
72 ounce crushing pitcher.
Two 16 ounce Nutri Ninja cups.
BPA Free parts.
Best for smoothies, dough, soups.
Cons
This is Vitamix blender – the brand most trusted by professional chefs. But you won't just find us in restaurant kitchens. You'll also find us in home kitchens around the world. Because whether you're interested in the culinary arts, making healthier choices, or enjoying restaurant-quality smoothies at home—when you're ready to move on and move up, when you're ready to invest in your passion, you're ready for Vitamix.
With this universal tool you can make smoothies & juices, hot soups, flours & dough, nut butter, frozen desserts, batters, dressings & sauces, non-dairy milks, and more.
Pros
Variable speed control.
Can be used for large batches.
High-quality stainless steel blades.
Self-cleaning opportunities.
Includes DVD with recipes.
7 year warranty.
Cons
Blend your best-tasting smoothies with the Blender that delivers smoother results on tough ingredients compared to a leading competitor. This blender is great for all of your best-tasting creations with 3 preset recipe programs: ice crush, icy drinks, and smoothie. Or control the taste and texture to fit your personal preference with the 5-Speed variable speed dial. The soft start feature starts the motor at a slower speed to pull food into the blade then quickly increases to the selected speed setting to avoid splatter. It also features intelligent motor control, which senses contents and maintains the optimal speed to power through all ingredients.
Pros
Unique asymmetric blade.
3 preset recipe programs.
Soft start feature.
Cons
Only 5 speeds.
High price.
From the makers of Instant Pot, this durable and versatile blender makes meal prep a breeze. With 8 smart, one-touch programs and 3 manual speed settings you can quickly crush, grind and blend ingredients to prepare all your favorites. Easily and quickly make smoothies, icy treats, frozen desserts,  oat milk, soy milk and rice milk.
Or customize the cooking temperature for full control when cooking soups, purees, sauces and dips. Adjustments will be remembered automatically.  Four hot-blending programs turn fresh ingredients into chunky soups, smooth purees, sauces and more in no time. Four cold-blending programs make it easy to whip up tasty dips, milkshakes, smoothies and other cold beverages.
Unlike most other high-powered blenders, the instant Ace Nova has a concealed heating element so it can cook soups without having to puree them.  Enjoy the option of one-touch control as well as the flexibility to customize the cooking time and temperature for added control over cooking.
Pros
9-in-1 hot and cold blender.
Easily make frozen treats.
Best for breakfast pancake batter.
10-speed customizable countertop blender.
Suits for hot tasty soups.
Cons
No additional cups included.
The Hurricane Compact Juicing Blender with 1+ Peak HP motor breaks down whole fruits and vegetables in the streamlined BPA Free 32oz jar and minces herbs and spices in the 8oz BPA Free chopper cup for delicious nutrient-filled juices or smoothies. The Hurricane Compact blender has big-blender performance and blend in 'To Go' cup convenience. Included are two 16 oz travel cups with travel lids, one double wall and one single wall. Also included are 4 colorful, heavy-duty reusable straws!
Pros
32 oz BPA-free Tritan jar.
Two additional 16 oz travel cups.
8 oz chopper cup.
Includes 4 colorful reusable straws.
Cons
The Bottom Line
We hope the article was helpful to you in your pursuit of a solution to choose best blender. Within the scope of a post, we know we can't cover all the information you may need; but we will be happy to answer any question you may have about the best blender. Drop us a line in the comment section – we will get back to you real quick!
FAQ – Frequently Asked Questions
Which Brand Of Blender Is The Best?

It depends on what you want to make and your budget, but I would personally recommend the Vitamix 5300 or the Blendtec Designer Series. The Vitamix is a bit more expensive and has a slightly smaller container, while the Blendtec comes with a variable speed setting.

Are Ninja Blenders Good?

Ninja blenders are known for their speed and power. This is one of the reasons why they're such a popular choice with professional chefs today. The blades on these high-powered machines can chew through anything from ice to vegetables, so it's perfect for blending sauces or soup. Their power also makes them suitable for crushing ice and making frozen drinks like daiquiris and margaritas.

Is Ninja Or Vitamix Better?

There won't be a single answer because both Ninja and Vitamix are good blenders. They have different features, and they will serve you best under certain circumstances.

When comparing the two, we need to understand that Ninja and Vitamix are quality brand names with years of experience. Their blenders give consistent performance over time due to the design of their blades. If you want quality results, we recommend investing in one of these brands because they will last longer than your typical blender while giving you great control over how it performs every time.