Banana Oatmeal Cookies Recipe
Banana oatmeal cookies are a scrumptious way to start the day. Not only do they taste great, but they are also a healthy breakfast for kids and adults. Making them is as simple as mixing the ingredients together and then rolling them into balls to bake. Keep reading to learn how to make banana oatmeal cookies and the healthy banana oatmeal cookies recipe with no fuss.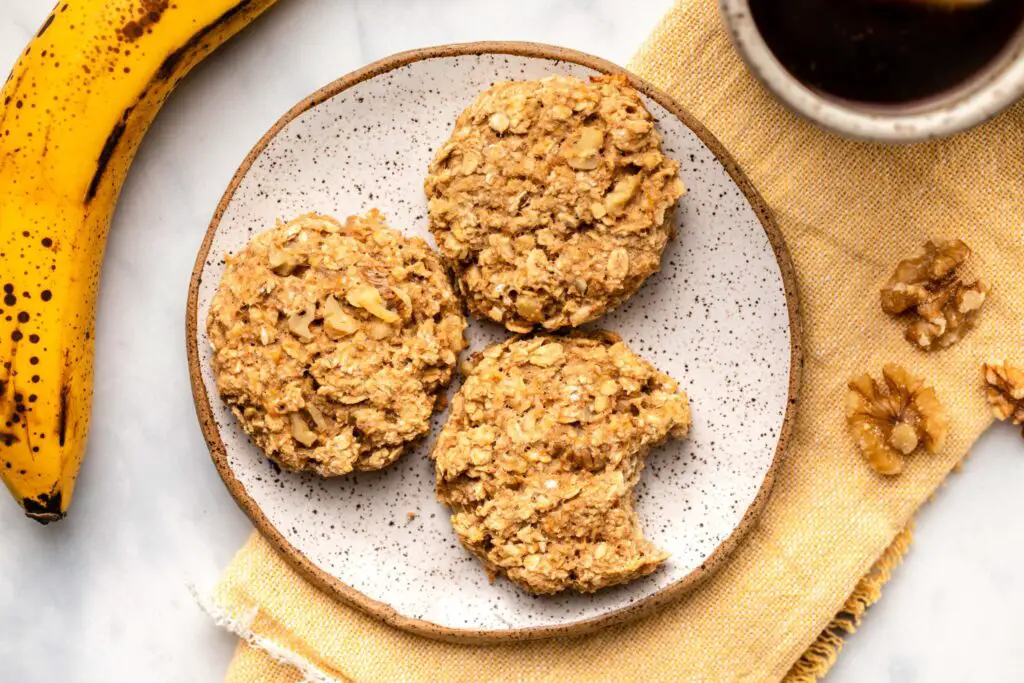 The post may contain affiliate links. For more information, check my disclosure.
Healthy Banana Oatmeal Cookies
Bananas and oatmeal are the most important ingredients in banana oatmeal cookies. Bananas are already healthy by themselves, but they also act as a thickener for the natural sweetener inside this treat.
Oatmeal is rich in fiber and protein, so it is excellent for breakfast or a hearty snack. You may also add almonds that contain vitamin E and magnesium, which help regulate blood pressure and help to lower the risk of high cholesterol.
These snacks will keep you full until lunchtime. They are also full of nutrients that promote healthier skin and hair. Nuts are low in calories compared to desserts, making this cookie a healthy afternoon snack that won't ruin your diet plan or leave you feeling guilty afterward.
The banana oatmeal cookies contain no added fat or sugar, and they are full of fiber and nutrients. One cookie contains only 70 calories, including the daily recommended amount of vitamin B6 and vitamin C. They can be squeezed in as a healthy snack during the day or even as breakfast on those days when time is short.
Banana Oatmeal Cookies Vegan
These cookies are completely vegan. This means there are no animal products involved, including no eggs or milk. This makes these cookies safe for everyone to enjoy, including people who have food allergies to dairy or eggs. The cookies can be enjoyed by vegans and alike. They are a great substitute for anyone who is lactose intolerant or has an egg allergy.
Banana Oatmeal Cookies No Flour
No flour is used in this cookie recipe, so it is gluten-free as well as refined-sugar-free. These are popular for being lower in carbs than most other cookies. They are also gluten-free, making them a great choice to eat if you or your family member has celiac disease or other food allergies to gluten. Since there are no flour pieces, the cookies are also safe for people on a wheat-free diet.
Banana Oatmeal Cookies Air Fryer
The banana oatmeal cookies can be prepared in the air fryer. Air fryers cook foods without adding open heat, which means fewer calories and even healthier meals. Air fryers use a technology similar to a convection oven where hot air circulates the food, so it gets cooked evenly and efficiently.
This means foods cook faster and still retain their taste and texture. Air fryers can be used for more than just cooking, though. They can also double as a grill or even as a steamer for vegetables.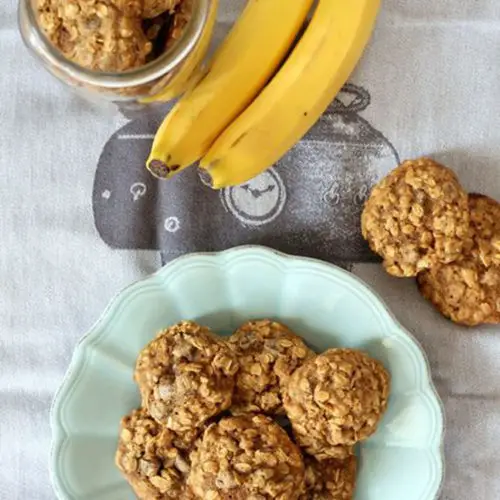 Banana Oatmeal Cookies Recipe
Quick and easy banana oats cookes are great for breakfast and will be loved by kids and adults. Healthy start of the day and perfect morning idea recipe.
Ingredients  
2

cups

quick oats

¼

cup

milk

4

ripe bananas

mashed

¼

cup

coconut shredded
Instructions 
Preheat the Air Fryer to 350F.

Add all ingredients into the bowl and mix well to combine.

Spoon cookie dough onto baking sheet and place in Air Fryer basket.

Bake cookies in preheated Air Fryer for 15 minutes.

Serve and enjoy.
FAQ – Frequently Asked Questions
Is Oatmeal With Banana Healthy?
Yes, oatmeal with banana is healthy. Eating the combo provides you with a whole serving of carbs, fiber, and protein. Eating either one alone would provide you with only one carbo-based nutrient. This means that oatmeal and banana are often quite filling without consuming breakfast meats like bacon or sausage.
Eating this combination can help regulate blood sugar levels because it includes complex carbs that are digested more slowly than your typical morning cereal or toast. The fruit will provide potassium which can help decrease your risk for stroke and high blood pressure while also helping control your heart rate and prevent irregular heartbeat thanks to its rich content of magnesium for relaxation purposes.
What Do Oatmeal Cookies Do To Your Body?
Oatmeal cookies are a whole grain that has decreased cholesterol in healthy adults when eaten consistently. In addition to the oats in the recipe itself, banana is often added for an extra punch of folate and iron. Additional raisins contain potassium and help bone health, while chocolate chips have antioxidants that help fight aging.
Are Oatmeal Cookies Actually Healthy?
Oatmeal cookies are, in fact, healthy. One is because oatmeal contains soluble fiber, which reduces cholesterol levels by preventing it from being absorbed into the bloodstream. Another reason is that oats contain antioxidants that help curb inflammation in the body to prevent heart disease and cancer.
I wrote a short review about Best Air Fryer Recipes for Begginers in my own opinion. Hope that not only begginers but advances Air Fryer users will find something interesting to cook!
If you still have no Air Fryer in your kitchen it's highly recommended to check the list of Top-10 Best Air Fryers every kitchen needs.

But if you are already have this wonderful and helpful appliance, maybe you'll be interesting in 16 Air Fryer Tips Every Fryer Owner Should Know. I'm sure some of them you didn't even hear about!