Banana Bread Without Baking Soda
Banana bread is one of those delicious traditions that's been passed down through the generations. Truthfully, if you haven't tried it yet, you're missing out on an easy and healthy recipe that your family will love. But what if you don't have baking soda in the house? You can use substitutes to make this perfect banana bread recipe with no fuss. Keep reading to learn how to make banana bread without baking soda.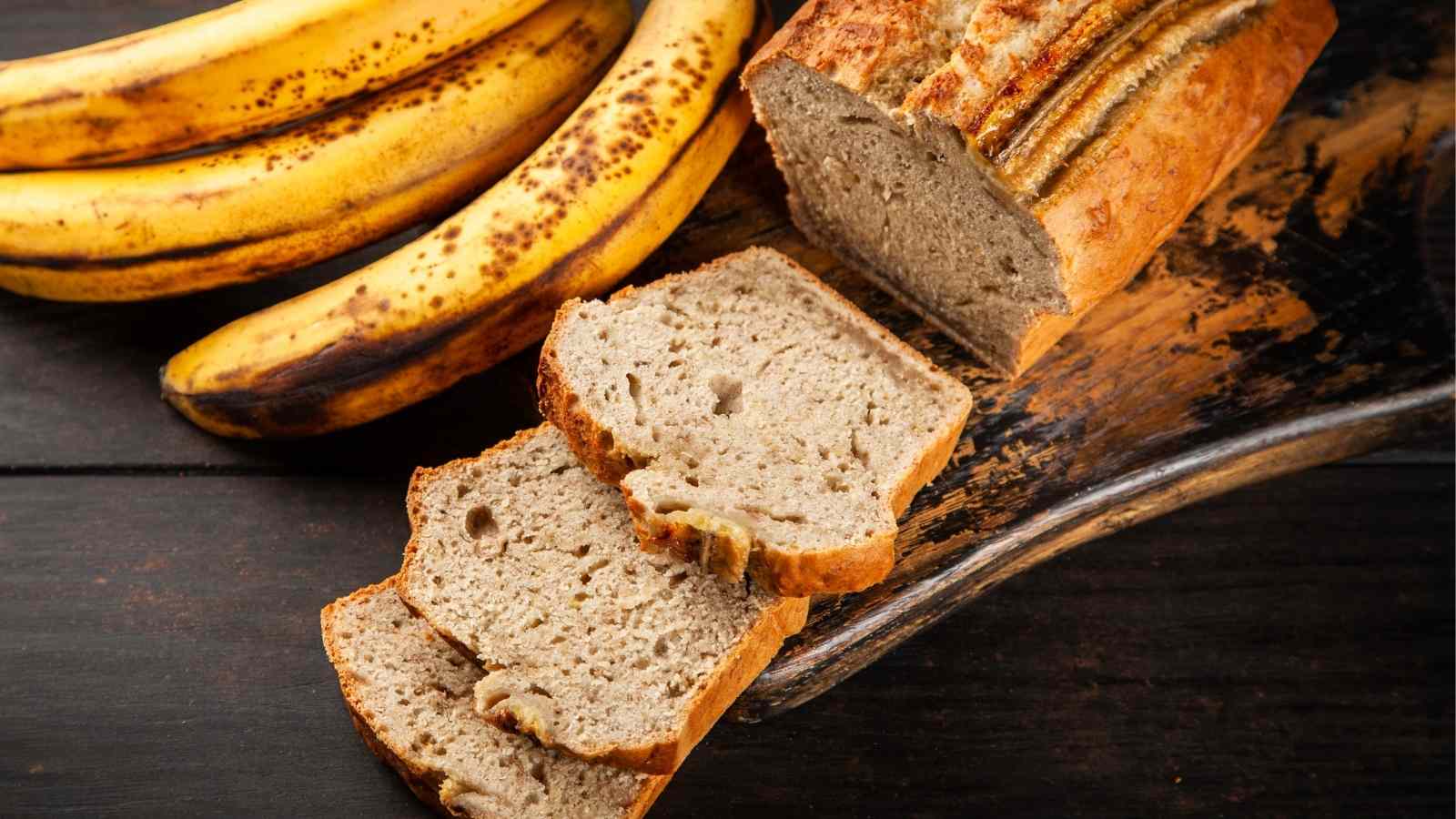 The post may contain affiliate links. For more information, check my disclosure.
Jump to Recipe
Does Banana Bread Without Baking Soda Worth It?
We need to think about what baking soda does for a recipe to answer this question. It helps the batter rise and create air bubbles as it bakes – these give the bread its fluffy consistency.
When you make banana bread without baking soda, can you still get fluffy bread? Without the proper ingredients, the lack of baking soda would mean your bread wouldn't rise very much at all. It may not even rise enough to develop that signature fluffy texture. That is why you can use baking soda substitutes to make a loaf of perfect banana bread.
Related: Banana Bread Recipe
Related: How to Cook Cinnamon Rolls in the Air Fryer
Substitutes For Baking Soda In Banana Bread
Fortunately for fans of this classic recipe, there are some entirely tastier ways to get that airy texture. The most obvious substitute is baking powder and yeast.
Baking Powder
Baking powder has the same ingredients like baking soda, but it's a little more gentle on your digestive system. It can also make your bread rise less than baking soda, so you may want to experiment with both to come up with the perfect recipe. 
Yeast
When you want to avoid the side effects of baking soda or choose not to use it in your recipe, yeast is a great choice. It's made from protein, which will make your bread rise without any acidity or hydration, and it gives it that airy texture.
Related: Best Small And Compact Toaster
Related: The 5 Best Bread Machines To Buy
Ingredients For Banana Bread Without Baking Soda
If you're using baking powder as a substitute for baking soda, combine it with your dry ingredients. Then, when you add the wet ingredients, mix the two together. Then add the mashed ripe bananas. When you're ready to bake it, add the yeast last to do its job in creating air bubbles in this banana bread without baking soda recipe! Below you can find the list of the ingredients for this recipe:
Banana Bread Without Baking Soda
Ingredients  
½

cup

butter

room temperature

1

cup

granulated sugar

2

large eggs

3-4

bananas

mashed

1

teaspoon

vanilla

1 ½

cups

all-purpose flour

1

teaspoon

cinnamon

½

teaspoon

salt
Instructions 
Preheat the oven to 350º F.

Grease and flour a loaf pan, or line with parchment paper.

Cream together butter and sugar with the whisk or paddle attachment in your mixer. Add eggs, vanilla, and crushed bananas. Mix until well combined.

In a separate bowl, mix together the flour, cinnamon, and salt until evenly combined.

Add to your creamed mixture until just combined. This is easiest done by hand using a spatula.

Pour into the prepared loaf pan. Add the toppings, if desired.

Bake at 350 for 55 minutes to 1 hour. You can gently press the top of your loaf to test doneness or use a toothpick – when inserted in the middle of the loaf it should come out clean.

Cool in the pan for 5 minutes and then on a wire cooling rack for at least 10 minutes before slicing.
The Bottom Line
This recipe is a perfect choice if you're looking for a baking soda-free alternative for your banana bread. The substitution of baking powder helps keep your digestive system healthy and regulates the pH levels in your stomach. Yeast is a great substitute for baking soda and is also made from protein which will make your bread rise without any acidity or hydration, and it gives it that airy texture.
FAQ – Frequently Asked Questions
What Can I Substitute For Baking Soda In Banana Bread?
Substitutions for baking soda in banana bread:
– Baking powder – add 1 teaspoon to the batter.
– Yeast – add 1/2 teaspoon to the recipe and let it proof for 5 minutes before adding it to the batter. This will give your banana bread a little more rise.
Is Baking Soda Essential For Banana Bread?
Baking soda is not an essential ingredient for baking banana bread. The baking soda reacts with the acid in the bananas to cause a chemical reaction called leavening which helps the cake rise. If you do not include it, your banana bread will still rise, but it will be denser and denser than it would be if you included it.
What Can I Use If I Don't Have Baking Soda?
You can use baking powder in place of baking soda in most recipes. It is for more neutral and produces a lot less gas than does baking soda. You can also use yeast as a substitute, but you have to put it into the batter before you add the liquid ingredients.