Au Gratin Potatoes Recipe
The post may contain affiliate links. For more information, check my disclosure.
Au gratin potatoes is a delicious dish from both the French and Swiss cuisines. Originating from Switzerland, this "gratinée" dish consists of thinly sliced potatoes layered in a baking dish with cream, cheese, and other ingredients. In France, another version of this dish known as "pommes dauphine" is made with rice rather than potatoes.
One of the most important aspects of au gratin potatoes is making them a day before cooking. The salt on the surface of the cut potatoes will draw out some of its moisture content, ensuring that they do not turn soggy during cooking time.
The pan should be lined with butter or oil to avoid sticking. Next, the ingredients such as potatoes, cheese, and butter should be spread evenly in the pan. You can also top it with some grated Parmesan cheese.
Related: Top 10 Best Air Fryers To Buy
Related: 16 Air Fryer Tips Every Fryer Owner Should Know
The dish takes approximately 30 minutes to cook until it is served and is ready to serve. Since this recipe calls for a baking dish, you can use either one that has an oven-safe handle or a dish that comes with a non-stick coating on the bottom. When you are ready to serve, use a fork or spatula to stir the ingredients together so that all of the seasonings will meld well together. Spoon it out on plates so that it will be easy for your guests to serve themselves.
Au gratin potatoes is best served with meat and vegetables. Try pairing it with juicy grilled chicken, fresh steamed broccoli, and mashed potatoes. You can also add a green salad to complete this meal.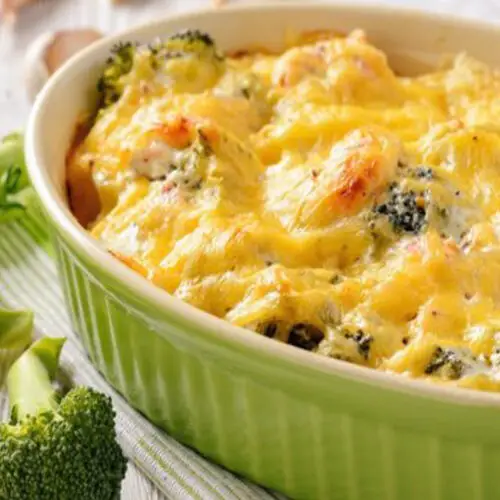 Au Gratin Potatoes Recipe
There's not enough time in the morning to cook long. But breakfast is very important and gives you energy for the whole day! Start you day with perfect Potato Gratin! Only half an hour and you'll revieve mouth-watering breakfast meal for your family and you.
Ingredients  
1

pound

potato

pilled

2

oz

milk

2

oz

heavy cream

1/4

tsp

ground pepper

1/4

tsp

nutmeg

2

oz

cheese

grated

1/2

tsp

salt
Instructions 
Take the large bowl and combine milk and cream. Season to taste with salt, ground pepper, and nutmeg.

Cover the potato slices with milk mixture.

Preheat the Air Fryer to 370°F.

Transfer covered potato slices to the quichepan. Pour the rest of the milk mixture on the top of the potatoes.

Evenly cover the potatoes with grated cheese.

Place the quiche pan into the Air Fryer and cook for 15-20 minutes until nicely golden.
I wrote a short review about best air fryer recipes for begginers in my own opinion. Hope that not only begginers but advances Air Fryer users will find something interesting to cook!
FAQ – Frequently Asked Questions
What Is The Difference Between Scalloped And Au Gratin Potatoes?

Au gratin potatoes are a classic dish that has been popularized in different countries such as the U.S., France, and Italy. The difference between scalloped and au gratin potatoes can be seen in the preparation. Scalloped potatoes are typically baked until golden brown and then topped with a white sauce made of cheese, milk, and butter. Au gratin is prepared in a dish and baked until it becomes brown on top with cheese melted over the top.

What Is The Preferred Cheese To Use For Au Gratin Cooking?

The cheese you use will depend on your taste, but it could be any white cheese. Gorgonzola would be a good choice, as well as cheddar, mozzarella, or Swiss cheese.

Should Potatoes Be Peeled For Au Gratin?

Peeling the potatoes is an opinionated matter and one of the most debatable questions in Au Gratin Potato history. Many people believe peeling them will make for a more crispy potato crust, but others say you should leave them unpeeled to avoid wasting nutrients.

Whatever your choice is for peeling potatoes, make sure to use Russet Potatoes for best results! White potatoes will not have a lot of flavors when cooked this way.