Alfredo Sauce With Milk Recipe (Without Heavy Cream)
Alfredo sauce is a staple in many kitchens because of the simple but delicious ingredient list. In order to make a truly rich and flavorful Alfredo sauce, butter and heavy cream are key ingredients. But many people are going to substitute heavy cream.
It becomes a lighter and healthier option for your pasta dishes with milk. Why make Alfredo sauce without heavy cream? It's healthier, and lactose intolerant or vegans can enjoy it. Keep reading to learn more about Alfredo sauce with milk recipe and without heavy cream.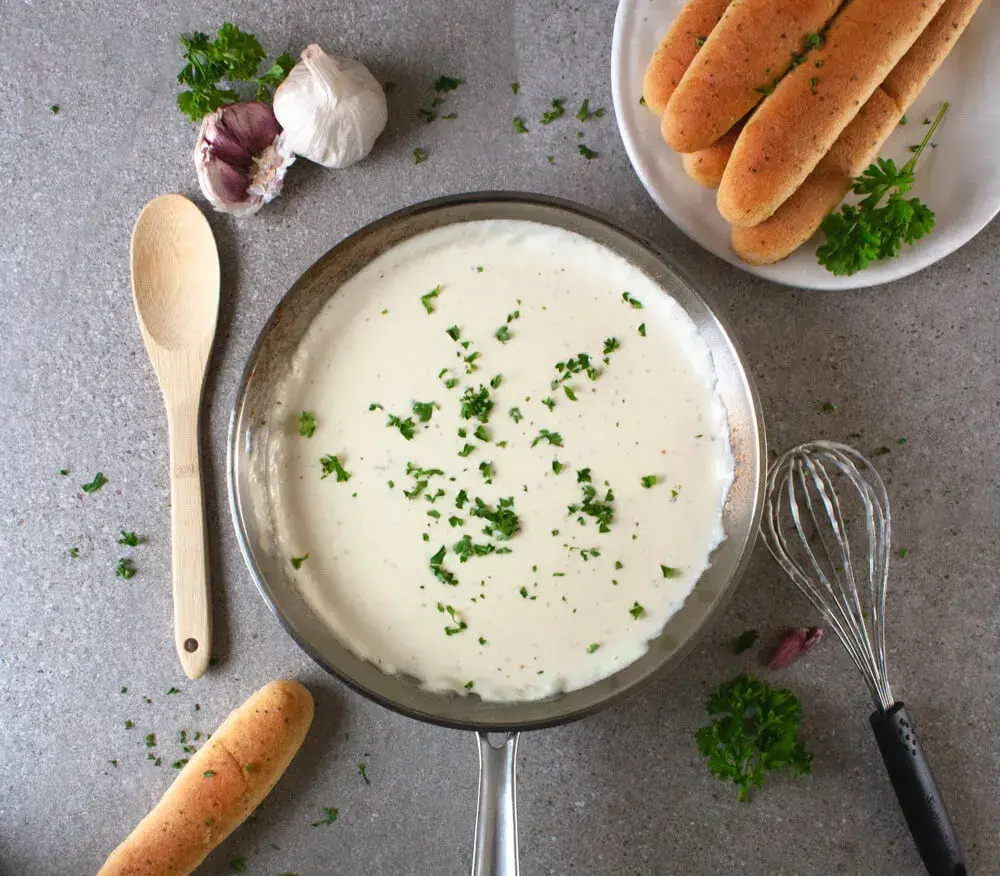 The post may contain affiliate links. For more information, check my disclosure.
What Is Alfredo Sauce
Alfredo sauce is an Italian sauce. It is a creamy, white, and rich sauce that is also very simple to make. You can use it for many of your favorite pasta dishes. Alfredo sauce is actually named after Alfredo Di Lelio, who invented the recipe for his wife's favorite dish, fettuccine al Forno (fettuccine pasta with butter). He added the cream to thicken it and the rest, as they say, is history.
Why Make Alfredo Sauce Without Heavy Cream?
Alfredo sauce with milk is a lighter and healthier option that works great for those who are lactose intolerant or vegan. It's still rich and creamy, but you can skip the butter, heavy cream, and cheese. Alfredo sauce makes a great appetizer before dinner or lunch alongside your favorite pasta.
Alfredo Sauce With Milk Ingredients
The main ingredients in this recipe are butter, milk, and Parmesan cheese. For a great taste, make sure to season your butter with dried oregano.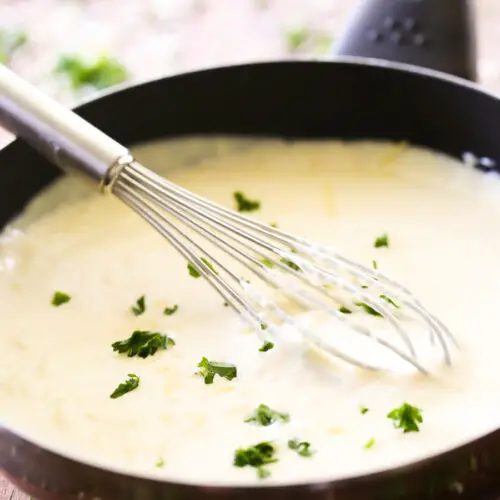 Alfredo Sauce With Milk Recipe (No Heavy Cream)
Ingredients  
2

cups

whole milk

½

cup

of wheat flour

½

cup

of butter

1

cup

of grated mozzarella cheese

½

cup

grated Parmesan cheese

1

tsp

oregano dried

A pinch of salt and white pepper to taste
Instructions 
Turn the stove on low heat, place the butter in the pot, and stir with a spoon until melted.

When all the butter is melted, add the sifted wheat flour. If you don't have a sieve, use a strainer.

Beat with a hand mixer until a paste-like mixture is obtained. Then add the first cup of liquid milk. Stir well until all lumps disappear and the flour is integrated, with the butter and milk. Add the second cup of milk as you stir.

While stirring, add the grated mozzarella and Parmesan cheese. Continue whisking until the mozzarella lumps are gone as well.

Add the oregano and stir for about five minutes until the alfredo sauce becomes thick.

When the sauce has acquired the desired creaminess you can turn it off and let it rest for a few minutes while preparing the fettuccine.

Serve while it's still very hot! You can also sprinkle on some parmesan cheese or parsley along with salt and pepper to taste.
The Bottom Line
If you're a regular at restaurants or just love eating pasta, make sure to make Alfredo sauce with milk a staple in your kitchen. It's quick and easy to prepare and gives you that rich flavor without using heavy cream.
Alfredo sauce with milk is a great alternative if you will make pasta without heavy cream. You can include it in your favorite recipes to add a rich layer of flavor to your dishes. Feel free to ask any questions and share your cooking experience below.
FAQ – Frequently Asked Questions
Can You Use Milk Instead Of Cream In Alfredo?
Alfredo sauce is typically composed of butter, cream, and parmesan cheese. By using milk instead of heavy cream in Alfredo sauce, you will have a thinner sauce that needs less cooking time. After making your Alfredo sauce without heavy cream, you should always test your finished product to ensure the consistency you need. If it's too thick after adding the milk, add more while stirring until the desired consistency is reached.
What Can I Use Instead Of Heavy Cream For Alfredo Sauce?
Alfredo sauce is a creamy, delicious sauce traditionally made using heavy cream, Parmesan cheese, and butter. However, you can make a vegan-friendly alternative to this recipe with plant-based milk to make it lighter.
Can You Thicken Alfredo Sauce With Milk?
You bet you can! I prefer not to use heavy cream because it is fattening, and some people are also allergic to it. You can thicken Alfredo sauce with whole milk, or 2% milk if you want a slightly creamier consistency.