Air Fryer Pork Chops Recipe
The post may contain affiliate links. For more information, check my disclosure.
I love to cook, but I've found that finding time to prepare new recipes can be difficult, especially if I'm in a hurry. Sometimes there's just too much on my plate, and my brain can't handle it all! When faced with this dilemma, many people resort to reheating pre-made entrees or grabbing something quick and unhealthy from the fast-food restaurant down the street.
What I like most about air fryers is they're fast, easy, and healthy because they use little oil or fat. My go-to recipe is this quick and flavorful air fryer pork chops when I want to get dinner on the table pronto.
Related: How To Choose An Air Fryer
Related: Best Air Fryer For Large Family
I always keep a bag of frozen pork chops in my freezer. Why? Because they're versatile and easy, I can always add them to a quick and healthy meal like air fryer pork chops. Chops can be grilled, fried, or sauteed, but you should never soak them first or cook them for long periods; otherwise, you will end up with dry, tough meat.
When using an air fryer for this recipe, make sure the air fryer is clean and free from any food residue. This will ensure good results with minimum oil usage. Set the temperature on your air fryer to 380 degrees. The higher the temperature, the faster the meat will cook.
I'm using a two-pound bag of frozen pork chops or four half-inch thick chops for this recipe. These are from a free-range farm and have no antibiotics or hormones. They're thin enough to cook quickly in my air fryer. I like to pat them dry with paper towels first because any moisture will cause them to steam instead of browning nicely in the small amount of oil that I use for this recipe. Keep reading to get a step-by-step guide about how to make air fryer pork chops at home with no fuss.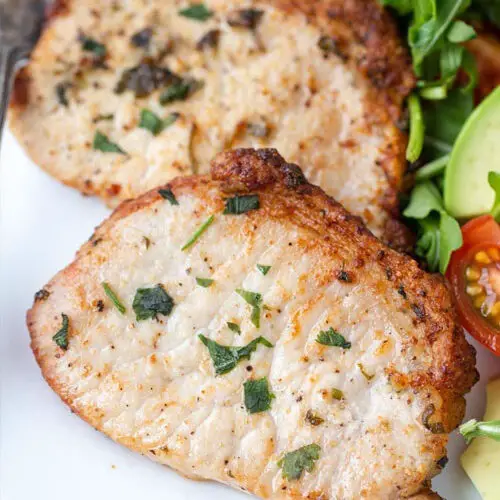 Air Fryer Pork Chops Recipe
Learn how to make easy and tender pork chops for two! Perfect meal for party dinner or other occasion. Serve with cooked rice, steamed veggies, or mashed potatoes.
Ingredients  
2

middle pieces pork chop

1

tablespoon

plain flour

1

egg

beaten

2

tablespoon

olive oil

3

tablespoon

breadcrumbs

Salt and ground pepper for seasoning
Instructions 
Season pork chop with salt and ground pepper from both sides.

In three different bowls place plain flour, beaten egg, and breadcrumbs.

Coat each pork chop from both sides first with flour then with egg and with breadcrumbs.

Preheat the Air Fryer to 380°F

Place coated pork chops into the Fryer and cook for 10 minutes from one side and 5 minutes from another side.

Serve with cooked rice and mashed potatoes.
The Bottom Line
I wrote a short review about best air fryer recipes for begginers in my own opinion. Hope that not only begginers but advances Air Fryer users will find something interesting to cook!
If you still have no Air Fryer in your kitchen it's highly recommended to check the list of top-10 best air fryers every kitchen needs.

But if you are already have this wonderful and helpful appliance, maybe you'll be interesting in 16 air fryer tips every fryer owner should know. I'm sure some of them you didn't even hear about!
FAQ – Frequently Asked Questions
How Long Does It Take For Pork Chops To Cook In Air Fryer?

The cooking process of pork chops in the air fryer takes approximately 15-20 minutes, depending on the size of your pork chops. You can cook chops for 10 minutes from one side and 5-7 minutes from another side.

What Temperature Do I Cook Pork Chops In The Air Fryer?

The temperature to cook pork chops in the air fryer is 380°F. Cooking time should be around 10 minutes (depending on thickness). Check to make sure they're cooked thoroughly by testing them with a meat thermometer. The safe internal temperature for pork chops is 145°F, and you'll know they're done when the thermometer reads 155°F.

Does Air Fryer Dry Out Pork Chops?

The pork chops won't dry out while cooking in an air fryer! Air fryers are actually designed to help cook your food more efficiently. The food circulation system moves hot air around your food while it cooks, which helps ensure even levels of crispness across your entire dish. You also don't have to worry about adding extra butter or oil to keep the meat moist, either – you just need a little olive oil for seasoning before cooking.