Air Fryer Hashbrown Recipe
The post may contain affiliate links. For more information, check my disclosure.
If you're like most people, you don't like to spend a lot of time in the kitchen. To make this process easier and faster, you might want to invest in an air fryer. These little kitchen appliances were designed for busy homeowners who want healthy food but don't have the patience or time for deep frying.
But what if I told you there is a way to make something really delicious and easy in your air fryer? I'm about air-fryer hash browns! With this new potato recipe, you can have crispy outside and fluffy inside – all without a lot of time or effort on your part. Follow these instructions and a potato lover (or two) will be thanking you.
Related: How To Choose An Air Fryer
Related: Best Air Fryer For Large Family
Related: Best Small And Compact Toaster
The idea behind preparing this recipe is to create a crispy outside, soft inside hashbrown. The key to this is using an air fryer. As the name suggests, an air fryer utilizes heat and air circulation to cook your food; you won't find any oil or grease in an air fryer. There are no messy pots or pans, just your handy-dandy little appliance. The final product will be incredible! You can sprinkle any kind of seasoning over your finished dish too if you so desire. Keep reading to learn how to make hash brown patties in an air fryer.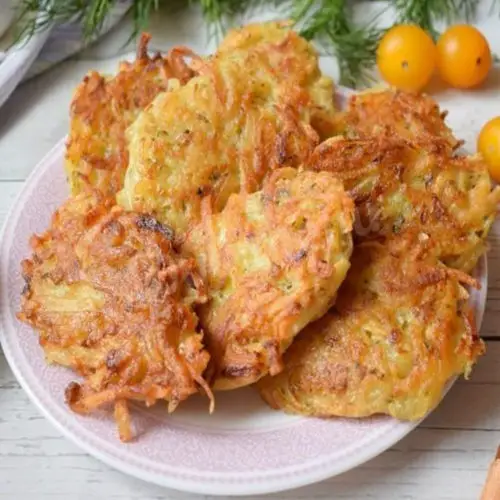 Air Fryer Hashbrown Recipe
Delicious and easy meal is perfect for quick breakfast or brunch and also good for lunch, dinner, or as an appetizer. Oil-free Air Fryer version.
Ingredients  
2

cups

cubed potatoes

2

garlic cloves

minced

2

tablespoons

of olive oil

Salt and black pepper

to taste

Sour cream for serving
Instructions 
Preheat the air fryer to 360 F.

Place the cubed potatoes in a bowl and sprinkle with olive oil. Stir to combine.

Add minced garlic and season with salt and pepper.

Make medium-sized hash browns and place them in the air fryer. Cook for about 13-16 minutes, turning once during cooking, until golden brown.

Serve with sour cream.
The Bottom Line
I wrote a short review about best air fryer recipes for begginers in my own opinion. Hope that not only begginers but advances Air Fryer users will find something interesting to cook!
Related: How To Bake Sweet Potatoes
If you still have no Air Fryer in your kitchen it's highly recommended to check the list of top-10 best air fryers every kitchen needs.

But if you are already have this wonderful and helpful appliance, maybe you'll be interesting in 16 air fryer tips every fryer owner should know. I'm sure some of them you didn't even hear about!
FAQ – Frequently Asked Questions
Can You Put Hashbrown Patties In The Air Fryer?

Putting hashbrown patties in the air fryer is a new way to cook them with a lot less fat and oil. The air fryer will help crispen the outside of the shirred potatoes without getting soggy underneath. Hashbrowns in an air fryer will cook more quickly than their traditional counterparts – about 9 minutes at 350 degrees Fahrenheit. 

How Do You Use Hash Browns In An Air Fryer?

Hash browns are typically deep-fried in a vat of oil to make them crisp, golden brown, and extra delicious. However, air frying with an air fryer will be much healthier than using the conventional method. An air fryer will allow you to make hash browns in a fraction of the time that it would take to use your deep fat fryer or oven. Plus, the final result is so crispy and crunchy that it's hard not to enjoy these fried-style potato tater rounds!

How Long Should I Cook Frozen Hash Browns?

You can cook frozen hash browns anywhere from 10-12 minutes. If you want them crispy, add 3-5 minutes to your cook time. If you want them softer, add 2-3 minutes to your cook time.